Read time 4 minutes
Summary: Kernel Outlook PST Viewer stands as the most popular free PST viewer tool on CNET, a prominent software sharing website. With a favorable 3-star rating, it enables users to access and view PST file content, including emails, contacts, calendars, and more, even from corrupted files, garnering trust among site visitors.
Kernel Outlook PST Viewer, a free utility for viewing PST file data, has achieved remarkable popularity on http://download.cnet.com/windows, a prominent software sharing website. Garnering numerous positive reviews, it boasts a respectable rating of 3 stars out of 5, indicative of its usefulness and the benefits users have derived from it.

Kernel Outlook PST Viewer
This tool facilitates the opening of PST files without the need for the MS Outlook application. It grants users the ability to access and view various elements within the PST mailbox, including emails, contacts, calendar entries, tasks, notes, and even items that have been deleted.
Unlike Outlook, which cannot open corrupt PST files and renders their content inaccessible, Kernel Outlook PST Viewer possesses the capability to open even corrupt and damaged PST files. With this tool, users can view emails and other items contained within these compromised PST files.
What makes Kernel Outlook PST Viewer different?
Kernel PST Viewer has earned the trust and confidence of cnet site visitors thanks to its advanced PST viewing features. Here are some of its notable features:
Allows accessing healthy as well as corrupted PST files
Displays the entire content of the mailbox (emails, contacts, journals, notes, calendar, etc.)
Maintains the integrity and hierarchical structure of mailbox items
Searches for individual items by To, From, Subject, Date, etc.
Password protected files are also accessible
Displays emails for a preview along with their attachments
Works with large PST files (also files damaged due to 2GB size issues)
Generates File Analysis Reports to provide an overview of the PST file content
Supports PST files created in all the versions of Outlook (including 2016)
It works on all Windows platforms (including Windows 10)
Due to these advanced features, Kernel PST Viewer has received many positive reviews from its users.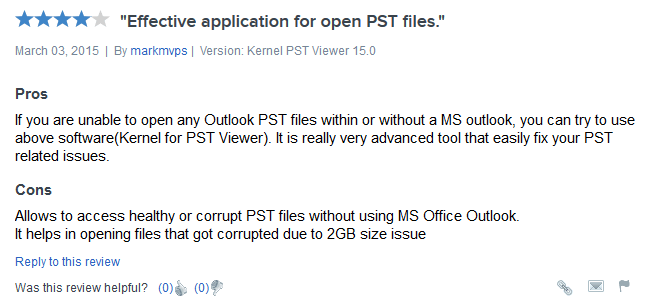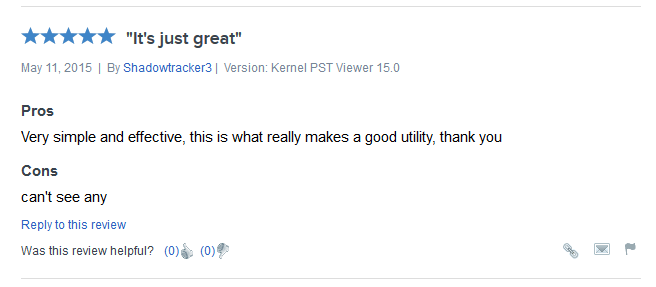 How does Kernel for PST Viewer work?
Kernel for PST Viewer makes accessing PST files a straightforward process. Here are the steps to use this tool:
Click Start>All Apps>Kernel Outlook PST Viewer>Kernel Outlook PST Viewer.

In the Source File Selection window, select the PST file you want to view. Click Next to move further.


Note: If you are not familiar with the location, use the Search button to search for PST files on the hard disk or drive.


The next window will tell you about all the features of the tool. Click Finish.

Now you can view the PST file content on the preview pane.

While you can view the complete PST data using Kernel PST Viewer, it doesn't provide the option to save the data. For saving and repairing PST files, you should consider using Kernel for PST Repair. This versatile tool allows you to repair PST files and save the data to various destinations, including PST (Outlook), Exchange Server, Office 365, and more.