Read time: 4 minutes
Kerio Connect is a mail server that provides an email communication facility. It has been installed by more than 30,000 companies all around the world.
This all-rounder collaboration application is a perfect mail server for small-sized firms and businesses. Its low cost and easy availability are what make it best for small business firms or start-ups.
Features of Keiro Mail
It is an email and instant messaging server that offers multiple distribution systems, web-based email access, and mobile device access. It is easy to install and comes with flexible features; it is compatible with Windows, Mac OS, and Linux.
Let's get into the brief features of Kerio Mail
External Device Support
Kerio Connect from GFI software offers hassle-free and seamless mobile device support. It comes with the best synchronization method so that all the device information is well synced with the information on the system.
Supports all mailbox items
Kerio Mail supports emails, calendars, contacts, tasks, notes, folders, and all the mailbox items. It is a perfect solution for all the medium-sized and small business companies that are otherwise unable to meet their requirements. It has an integrated communication feature wherein you can organize as groups and easily communicate with employees.
Assured Security
Kerio Mail has multi-security levels that protect the users and network from malicious and virus attacks. The spam filtering feature of the tool reduces the layers of unwanted messages, blocks IP addresses of suspicious accounts, and blocks entry of suspected attachments.
Easy installation
Kerio Mail can be installed in 10 minutes, and the user can begin its use in the next 10 minutes. Its easy installation is one of the attractive features for small and medium-sized firms.
Why Migrate from Kerio Mail to Office 365?
Kerio Connect is majorly for small and medium-sized businesses and organizations. Once these firms grow in size, their mailbox requirements increase. Hence the email platform which was suitable earlier will not work now. Large businesses require a more sophisticated email system with important features and integrated security options.
Through Kerio Connect is best suited for small scale businesses, but it comes with a few drawbacks making migration to Office 365 necessary :
Kerio Mail is primarily built for email collaboration, unlike Office 365, which includes other productivity applications as well.
Kerio does not integrate with Outlook so well as Exchange Online.
Kerio Mail does not get regularly updated in comparison to Office 365, which releases new versions regularly.
Migrate from Kerio Mail to Office 365
Office 365 (Exchange Online)is a Microsoft platform that is used worldwide. It is widely suited for large organizations because of its complexity and cost. However, no other platform can beat its features and reliability. That is why all organizations like to migrate to Office 365 at some point.
The organizational decision on migrating data from Kerio Mail to Office 365 depends on the volume of the data and the availability of integrated tools. The easiest method to transfer data from Kerio Mail to Office 365 is by using Exchange Online features. But migrating data through the administration center does not guarantee that the entire data is migrated. In order to tackle this situation and ensure that the data migration is successful, you can switch to professional tools. One of the most successful tools is Kernel IMAP to Office 365 which helps you to migrate IMAP emails to Office 365. It allows easy migration of Kerio Mail data to Office 365 without any limitations. You can easily select, map, filter, and migrate in easy steps. This tool supports all email servers, making the migration process easy. This Kerio Mail to Office 365 tool comes with a free trial version where you can migrate and download 10 items per folder.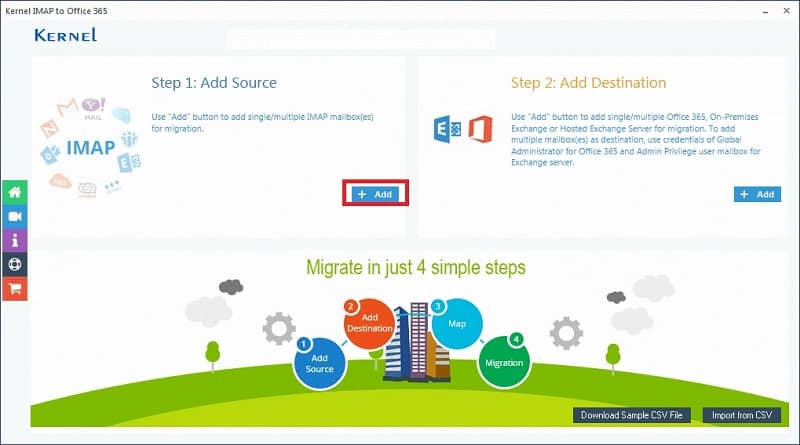 Summary
With Kernel IMAP to Office 365 migrating tool, you can successfully migrate the entire Kerio Mail mailbox data to Office 365 without any hassle. The software is a perfect solution for instant and effective data migration. More over it is also helpful equally when Gmail is out of space. You do not have to worry about Keiro Mail data getting lost or deleted because this tool maintains data integrity and also does not save any password and login credentials.