How to Resolve "Gmail is Out of Space" Issue?

Read time 9 minutes
Gmail is a popular email service with over 1.5 billion users worldwide. However, it isn't without its fair share of issues. Google provides 15 GB of storage to its users, which is shared among Gmail, Google Photos, and Google Drive. Now, it depends on the users how they use this storage. But, when this limit exceeds, you'll get an error message "Gmail Quota Exceeded." And when you receive this error, you won't be able to send or receive emails. So, it's important to manage your Gmail storage. Here are some ways that can help you manage Gmail storage.
Analyzing the Storage Space
To manage your Gmail account storage, it's necessary to analyze the storage space distribution, as the storage is distributed among Gmail, Google Photos, and Google Drive. To analyze the Gmail storage:
Go to the Drive storage page and select "View details." You'll be able to see the total storage and the used storage of your Gmail Account like this:

Now, you know which service is using the larger part of the storage. So, you can easily free space from that service.

Instant Solution
Download Kernel Gmail Backup tool to backup Gmail account emails to Outlook PST and other file formats to resolve your "Gmail is out of space issue" easily.



Solution to Resolve "Gmail is Out of Space" Issue
Since June 1, 2021, Google changed its storage policy related to Google Photos, and now new data will be occupying the same 15 GB space meant for all applications. Now Gmail will also become affected due to it, and there will be storage issues like the mentioned error.
Delete Unnecessary Mails, Files, and Attachments
The easiest method to free the space from a Gmail account is to delete unnecessary emails, photos, and attachments. If you use Gmail in the mobile app, then there are chances that Google Photos has auto-synced all your images and videos. So, remove the unnecessary images and videos from Google photos to free the space. Make sure you create a backup of your photos before removing them.

Open Google drive on your computer to view the listed files and remove unwanted files one by one.

Also, in your Gmail, delete the largest or oldest email files. To search for large and old files, type "Larger:5m," "Older_than:1y" in the search box, and then remove those files.

Once you're done removing all the unnecessary files, go to the "Trash" folder and delete all the files permanently to fix this error "Gmail Quota Exceeded"

Use Gmail to Gmail Migration Method
If all your Gmail messages are important and you don't want to lose any of them, then you can migrate them to another account for free. To migrate emails from One Gmail to another Gmail account, follow these steps;

Create a new Gmail account.
Now, go to the settings of the old Gmail account from which you want to migrate emails.
Now, click on "Forwarding and POP/IMAP" from the upper menu and enable POP for all mail, and choose "delete Gmail's copy" from the drop-down menu like this;

Now, open the new Gmail account and go to settings. Select "Accounts and Import" from the upper menu. Click "Import mail and contacts" in the menu.

A pop-up window will appear on your screen. Enter the email from which you want to import the email files and click Continue.

After this, another window will open to ask for your permission. Click "Allow" and then choose the import options and click the "Start Import" button.


Now, wait for Google to transfer all emails to your new account. Once the migration is done, you'll be able to see all your email in the new account like this:


One major issue with this method is that it can take days or sometimes even one week to transfer all emails to your new Gmail account.

Delete Old Emails
If you have a lot of old emails taking up space in your Gmail account, deleting them can free up some much-needed storage space. To delete old emails, log in to your Gmail account and click on the search bar at the top of the page. Then, enter "before: YYYY/MM/DD" (without the quotation marks) and press Enter. This will show you all emails that were sent before the date you specify. From here, you can delete any emails you don't need.
Archiving Gmail emails using the Google Takeout feature
To clear some space from the Gmail storage, users can take help from the inbuilt Google Takeout feature to archive the Gmail emails to a specific file format and save it to the system drive location. The necessary steps for this process are given below.

Go to this link Google Takeout and open it with your Gmail account sign-in credentials.
Now click on the Deselect all option to deselect the default selected options for backup.
Select the Mail checkbox and then click on the Next step.
Choose the backup frequency in the next step.
Continue with selecting the desired file type and size of the emails for backup. After this click on Create export.
The export process will be initiated. You need to wait for the completion as it will take time depending on the size of the emails in the Gmail account.
Once the export is completed, the data is ready to download to the system drive location. Click on the Download link to download the data and save it to the desired system drive location from the Downloads folder.

This manual method is effective for taking Gmail backup manually but the only limitation is non-flexibility in specific data backup, i.e. absence of filter options.

Kernel Gmail Backup
If you want to avoid the complex, unreliable and insecure manual solutions to fix "Gmail is out of space issue", then Kernel Gmail Backup is an alternative option for it. This Gmail Backup tool can help you backup your emails from Gmail to Outlook PST file format directly as a permanent record. It offers some great features to users, which includes:

Backup of multiple Gmail mailboxes using CSV file
Multiple filtering options for requirement-based backup
Provision to migrate to mailboxes, archive mailboxes, and public folder
Backup in multiple file formats – PST, HTML, MHT, DOCX, DOC, PDF, EML, MSF
Incremental migration with the backup report once the process is over

Video – How to Fix Gmail is Out of Space Issue With Simple Tips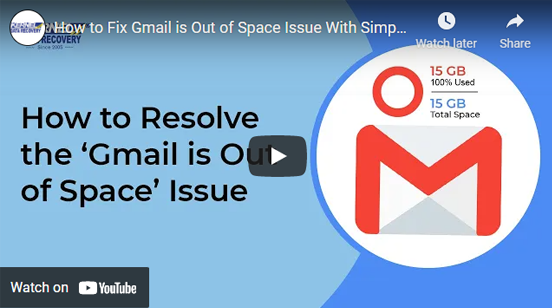 Final Words
If you are seeing the "Gmail is out of space" error message, there are a few things that you can do to try and resolve the issue. First, make sure that you have deleted any unnecessary messages and files from your account. You can also try using Kernel Gmail backup to create a copy of your mailbox on your computer. This will give you some extra storage space in case you need it. If all else fails, you may need to delete some of your older messages or upgrade to a paid account.