Easy Ways to Migrate Google Drive Data to Another Account

Read time 5 minutes
"The article consists of the best methods to migrate cloud data present between two Google Drive accounts. It gives the information of the migration process briefly and you can choose the suitable one for you. Apart from the manual process, there is an automated process with Kernel Migrator for SharePoint software that can migrate the cloud data easily."
Google Drive is an online file storage service provided by Google for all its Gmail users and comes with a free storage space of 15 GB. In Google Drive, you can store, share, create, and edit files in the cloud. The free storage space is divided amongst three services – Gmail, Google Photos, and Google Drive.
Thus, if it exceeds the storage limit, you'll either have to purchase more space on Google Drive or move your data to another account. Though paying for extra storage is not a viable option for everyone, people choose to move their data to another Google Drive account.
In this article, we will discuss the easy ways to move your data from one Google Drive account to another.

Instant Solution
Try Kernel Google Drive Migration tool to Migrate the complete Google Drive data including files, folder, subfolders along with their metadata, hierarchy, and user permissions.
Why Migrate Google Drive Data to Another Account?
There could be various reasons behind migrating Google drive data from one account to another, such as:
Current account is not working properly
You're using a professional email account, and there isn't enough space available
You want to move to another account for personal or professional use
You have some essential documents in a shared account and want to move them to a personal account
These are amongst the most common reasons to migrate data from one Google Drive account to another. Now, let's have a look at the methods that can be used to migrate Google Drive data to another account.
Methods to Migrate Google Drive Data
If we look at the manual processes, then there are very limited options available. Here we have discussed common methods to move data from Google Drive.
Method 1: Direct Transfer from One Account to Another
The simplest method to move data from Google Drive is to use the native features of your Gmail account shown below:
Sign-in to your Gmail account and go to Google Drive.
Select the specific documents/files that you want to migrate to another account.
Now, right-click on the files and click Share – a new wizard will appear on the screen.
Enter the account details for another Gmail account and click the Advanced settings. Make sure the change to access permission is set "To Owner," and then hit the Send button.
The files will be transferred to another Google Drive account; you can open that account and check your files there.
Method 2: Download & Upload
This method is convenient for those who find it difficult to transfer data from one drive to another. However, this method is easier than the previous one.
Go to Gmail and sign-in to your account.
Now, go to Google Drive and select the files that you want to migrate to another account.
Copy all the files and move them to a new folder and name that folder with Export. The folder will appear in your directory.
Now, you can easily download the Export folder and save all your selected files on your system.
Right-click on the folder and click the Download option. Google server will automatically compress all the files to the zip file.
Once downloaded, you can easily extract all the files from the single zip file.
After extracting the files, open another Google Drive account and click the "+" icon to upload the files and folders from another account.
Method 3: Use Google Takeout
Google Takeout is another service offered by Google to help users create an archive of their data so that it can be transferred to other accounts easily. It possesses a complicated process to transfer the data, as well as it will convert your files into another format. However, you can change the file formats with the settings while uploading your data to the new account.
Limitations of Manual Methods
Of course! Everyone would love to use manual methods, but don't you think the above methods are a bit complicated and require you to perform every step individually. Also, it will consume a lot of time, and if you don't have enough knowledge of Google Drive, you wouldn't be able to execute these methods easily.
But don't worry! We have an alternate solution for you – Kernel Google Drive Migration. It is an advanced software designed with advanced algorithms that allow quick migration of data from one Google Drive to another.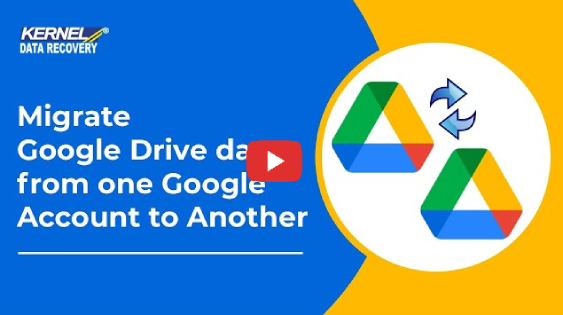 Conclusion
We often need to migrate data from one Google Drive account to another in various situations. But, most people don't understand the process of migration, which often leads to confusion. Therefore, to clear that confusion, we have mentioned the most effective methods to migrate data from one Google Drive account to another. Also, we provided a third-party solution for those who are unable to migrate their Google drive data with manual methods.