Read time 8 minutes
Summary: This article guides users on importing Outlook OLM files into Apple Mail. It outlines a manual method involving MBOX conversion with its limitations, recommending a professional tool for a more efficient process. The manual method has drawbacks like time consumption, potential data loss, and technical expertise required. A professional tool is advised for a smoother conversion process.
Outlook is a popular application that helps with the management of the user's emails and other information. It is available now for Windows as well as Mac operating systems. It was initially developed for Windows but later was developed for Mac, too, mainly to ensure Exchange connectivity. However, some users experience compatibility issues while working on Outlook for Mac on a Mac system. They do get errors related to Outlook is not working on macOS. And that is the reason they prefer to work on Mac's default email application known as Mail. Mail is a free email application that provides multiple features that can be used to customize items according to the user's preference. Both these platforms provide excellent email exchange services, but their manners differ a lot. Outlook for Mac saves all the user's data in an OLM file which needs to be imported if the user is planning to access it with the Mail application. If you are also looking for methods to import Outlook OLM files into Apple Mail, then you are in the right space. Read along to get into more details about the same.
What is an OLM file?
The OLM format for Outlook on Mac serves a similar purpose as the PST format does for Outlook on Windows.
It was introduced concurrently with Outlook for Mac 2011 as the designated container for preserving local data. This file format acts as the primary storage repository for all mailbox data, encompassing elements such as emails, contacts, tasks, notes, calendars, journals, and more. Each folder and its subfolders are organized within a single file in a sequential order. Presently, all versions of Mac Outlook offer robust support for OLM files.
Method to import Outlook OLM to Mac Mail
A user may find themselves using Outlook for Mac and Apple Mail for professional reasons, or they may have received an OLM file that needs to be opened in the Mail program. Regardless of the scenario, there isn't a straightforward way to import OLM files. Nevertheless, there are workaround techniques available that have demonstrated their effectiveness in this procedure.
This process consists of two stages. Initially, the mailbox is preserved in the MBOX format, and subsequently, it is brought into Outlook for Mac using the OLM format. The subsequent steps will walk you through the process.
Open Outlook on your Mac system.
Simply choose the folder which you want to convert and drag it to your desktop. Here, we have selected the Inbox folder.
It will automatically be saved as an MBOX file format.
Note: The MBOX format consolidates the complete set of mailbox messages into a single, unformatted text file.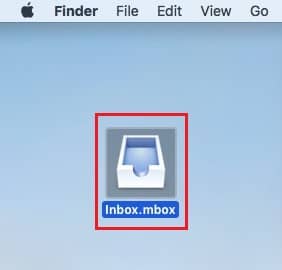 Open Apple Mail and click on File. Now, select Import Mailboxes from the drop-down options.
A new dialog box will appear, and you must choose the Files in mbox format option. Click on Continue to proceed.
Browse through the folders and select the one which holds all the MBOX files. Click on Choose.
The importing process will begin shortly.
Limitations of this manual method
Just to clarify, this method serves as a workaround for importing OLM files. However, it does come with a slight limitation.
Managing multiple mailboxes can be quite inconvenient. Each mailbox requires you to go through the entire process separately.
It requires a significant amount of time and can be quite monotonous.
Due to the initial storage in MBOX format, the original information hierarchy is not maintained.
There is a constant risk of potential data loss.
Selectively saving specific items is not feasible using this method.
The migration may not yield successful results on every attempt.
Importing OLM files that are either orphaned or corrupt into Apple Mail is not supported.
The individual overseeing the import process should possess a solid technical understanding of both platforms.
The user needs to have both Outlook for Mac and Mail installed on their system.
The manual approach proves beneficial when dealing with a sound and functional MBOX file derived from OLM files. However, transferring the file to MBOX through dragging may result in significant data loss and potentially disrupt the mailbox structure. It is advisable to first convert the OLM files into MBOX format and subsequently import these MBOX files into Apple Mail, which seamlessly supports this format, ensuring a smooth and hassle-free conversion process. OLM to PST software will aid you in converting the OLM files to MBOX format and there are supportive features to create a healthy MBOX file to add in Apple Mail.
After saving the OLM files for importing into Apple Mail, you can utilize our tool to convert them into a mailbox format. Begin by launching the software and selecting the "File" option. In Source File Selection wizard, click on Browse option.
Browse and select the OLM file from its location. Then, click Next.
The Process Information shows various features of the software to convert OLM file. Click Finish.
The tool will scan and file and enlist in the Folder List to show all the folders. You can see that how it shows the preview of selected items. Then, click Save option.
Select MBOX file and click Next.
As you wish to create MBOX files for Apple Mail. So, choose Apple Mail as the choice for Email Client. Then, click on Browse button to select a destination folder to save MBOX file. At last, click Finish.
The contents from OLM files will be converted into MBOX format and the software will show the message that items have converted successfully and there is a link to the saving location too. Click OK.
Conclusion
Mac users often encounter the need to import OLM files into Mail, primarily in two scenarios. The first involves using both Outlook for Mac and Mail for professional purposes, along with the requirement to access an OLM file. These situations can often be time-sensitive. Unfortunately, there is no straightforward method readily available to accomplish this task. Nevertheless, employing a workaround technique can facilitate the importation of OLM files into Apple Mail. This entails saving the file in MBOX format and then importing it as an OLM file. It is worth noting, however, that this method comes with several limitations. But You can always use a professional utility to convert Mac OLM files to Lotus Notes, Outlook PST or MBOX formats.