Read time 6 minutes
Summary: This article explains how to perform effective searches in Novell GroupWise, including using the Global Find feature. It provides detailed steps and tips for refining search results. While GroupWise offers search capabilities, it may not be user-friendly, and users might consider transitioning to more advanced platforms like MS Outlook, Exchange Server, or Office 365. For those interested in migrating from GroupWise to Outlook, Kernel for Novell GroupWise to Exchange is recommended for its efficiency and simplicity.
Administering a professional email account can be a challenging responsibility, particularly when dealing with a Novell account that handles a substantial volume of emails, some of which include large attachments. Over time, it's common to forget about specific emails, making it cumbersome and frustrating to retrieve their contents when needed. Novell GroupWise serves as a common platform for managing professional email, where users often configure multiple accounts.
For pinpointing a particular email or item within your GroupWise mailbox, the Global Find option comes to your aid.
Global Find
Global Find is a valuable search tool provided by Novell that empowers users to craft specific search queries. By leveraging various criteria, this feature refines search results and endeavors to pinpoint the desired item within the data.
How to use a Global Find feature
Step – 1: Follow Tools>>Find.
Step – 2: Choose Full Test or Subject from the drop-down menu and input the term which you want to search.
Step – 3: If you want to search a name, then select From/Author or To/CC from the drop-down list.
Step – 4: If you want to input a date-range, then check the Created or delivered between option and input the date.
Step – 5: In the list box named Look In, you can search files or folders where you want to search.
Step – 6: Use Find folders matching full text to include folder names in your search.
Step – 7: Use Find items in the trash to include items in the trash.
Step – 8: Use Find only official document version to search the official document version among various professional versions.
Step – 9: To save the Find results, go to File > Save as Folder, provide a name and description to the folder. Select the position of the folder and click Finish to save it.
Read Also : How to share calendars in GroupWise?
Perform Deep Search
To conduct a more extensive search, consider modifying the Find feature and scrutinizing your desired item meticulously.
Try to uncheck such files or folders where you are sure that the desired item is not present.
If you want to search more than two items, then you should use the Advanced Find option to search two separate items with multiple operators.
Always double check the spelling of the word you input to search the item.
Try to input the unique word in the search, otherwise, if you input a general term then the searched content will be more than required.
Search item with Find By Example
If you want to search a definite item with the help of an example, then you can use the Find By Example feature:
Step – 1: Follow Tools>>Find>>Find By Example.
Step – 2: Go to Item Type drop-down and select the type of item you want to find.
Step – 3: Mention the information about the item.
Step – 4: Click OK to initiate the search operation.
Note: To create a reference of the document searched out by the Find feature as above, go to the GroupWise Find results dialog box and select the document for creating its reference. Finally, click OK.
While these search features can help you locate items in your GroupWise mailbox, you may find the process somewhat intricate and less beginner-friendly. This complexity underscores that Novell GroupWise isn't as user-friendly as more advanced platforms like MS Outlook, Exchange Server, or cloud-based solutions like Office 365.
Suppose you're considering transitioning from Novell GroupWise to Outlook as a more suitable alternative. In that case, Kernel for Novell GroupWise to Exchange migration can be your reliable solution.
Here is a brief procedure, which you can follow and migrate the GroupWise mailboxes to MS Outlook –
Step -1: Run the software and select the first option to migrate multiple mailboxes using Proxy. Then Click Next.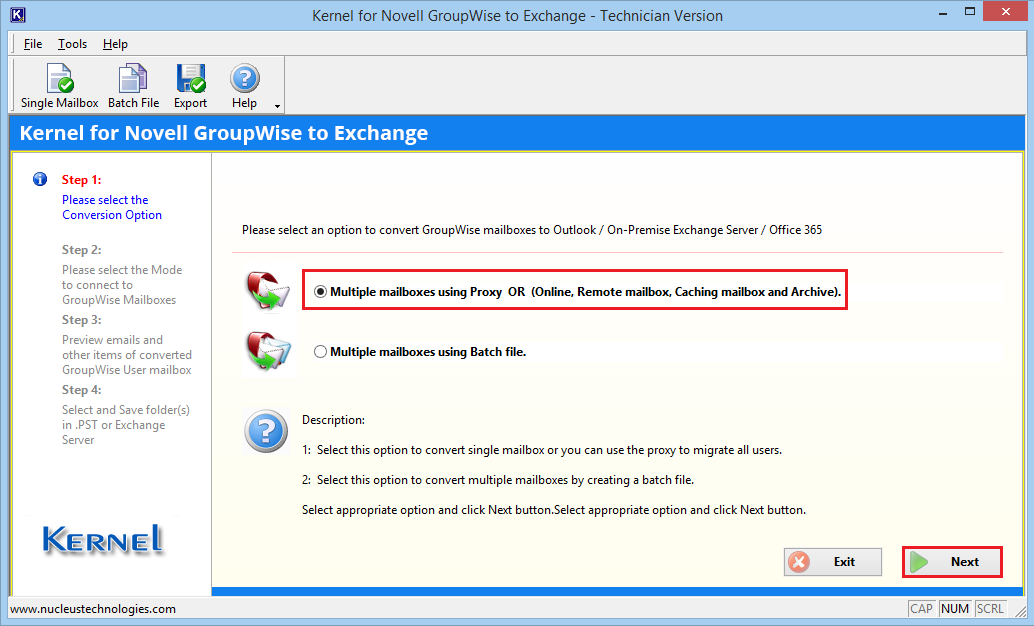 Step -2: Choose among any one mode among three modes – Default mode, Login mode, or Command Line mode. You can also choose a separate option to migrate the archived items only.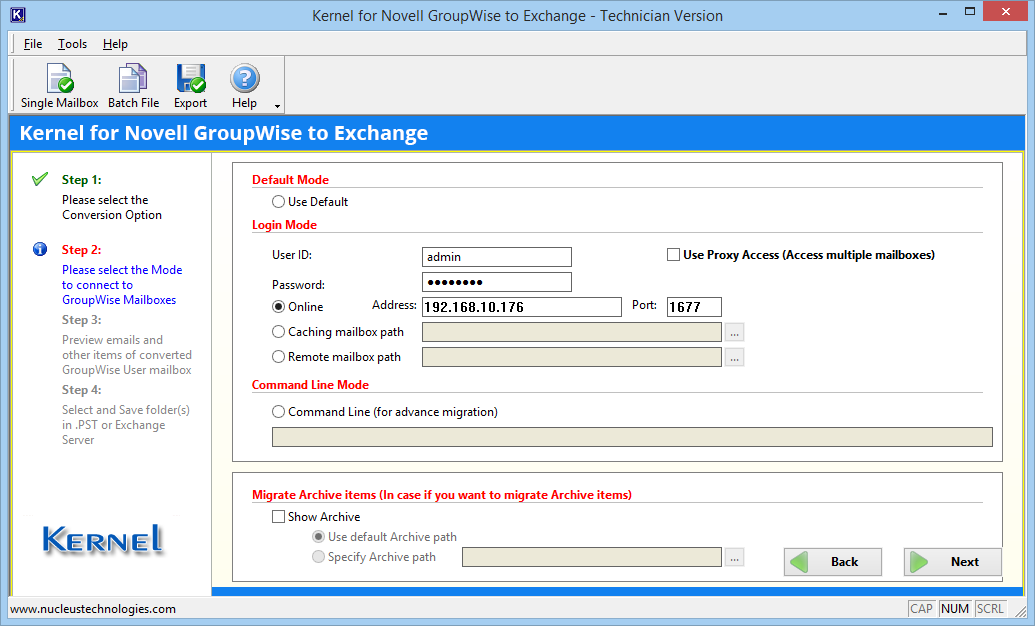 In this case, Login mode is selected, and its parameters are filled with the required data. Then click Next.
Step – 3: The software retrieves the complete list of mailbox data items and places them in a tree structure format. You can select any item and view its content.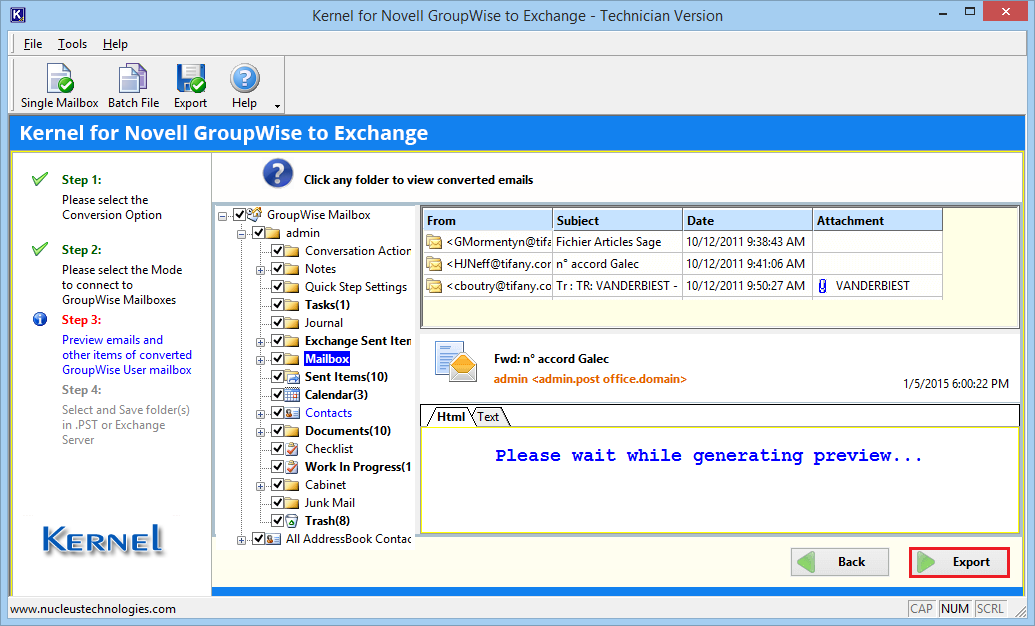 After getting a preview, click Export.
Step – 4: Select the first option of Save in PST.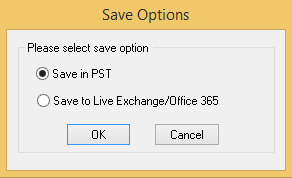 Step – 5: With the assistance of multiple filter options, you can quickly decide how much data that you want to migrate.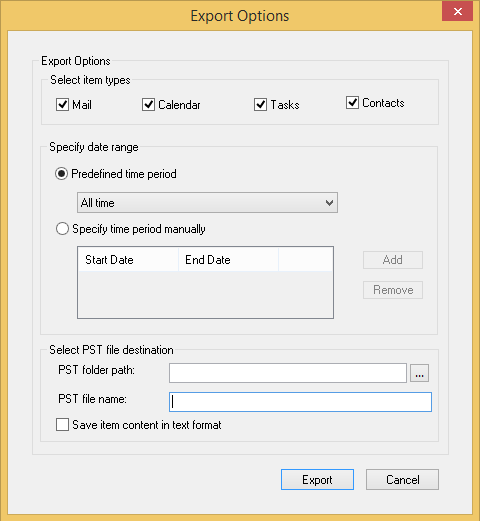 Step – 6: Migration starts.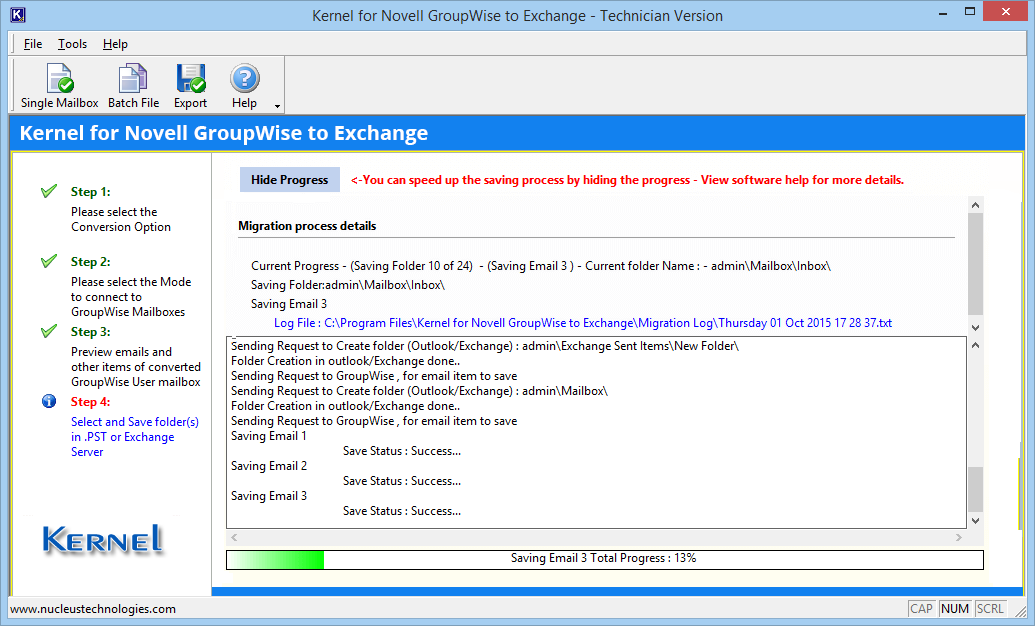 Conclusion
Upon utilizing Kernel for Novell GroupWise to Exchange, it becomes evident that this software excels as the optimal choice for migrating from the aging and organized Novell GroupWise environment. This tool ensures efficient, swift, and seamless data migration to your desired destination.