Read time: 4 minutes
Summary: Having trouble with Thunderbird ImportExportTools NG? There can be many reasons why this add-on is not working, including compatibility issues, network problems, or incorrect settings. There are solutions, though! Check your network connection, disable any conflicting add-ons, and reinstall the add-on if necessary. Alternatively, you can use a professional tool like Kernel for MBOX to PST that can import MBOX files to Outlook without any hassle.
Thunderbird ImportExportTools NG provides an easy solution for importing & exporting mail items in various formats. Sometimes, it may not function correctly. Users often experience frustration when dealing with problems with these add-ons. Here, we provide expert insights & effective solutions to fix the Thunderbird ImportExportTools NG add-on when it's not working. We tackle common problems & offer step-by-step instructions to help users get their add-on working again.
Simplest solutions to counter "Thunderbird ImportExportTools NG is not working" problem
Below, we have got 3 easy solutions that users must try to fix the "Thunderbird ImportExportTools NG is Not Working" problem in a few clicks. Here is what you must follow.
1. Uninstall and reinstall the ImportExportTools NG extension
The primary solution to fix any ad-on issue is uninstalling and reinstalling the extension. We are going to carry out the same for this Thunderbird add-on problem. The steps are as follows.
Access the Thunderbird email client.
Tap on the Tools option and navigate to Add-ons and Themes.
Look for the ImportExportTools NG extension and click on the three dots (…). Tap on Remove and uninstall the extension.
Next, we need to reinstall it. Go to the Add-ons and Themes option again.
Within the Search tab, type up ImportExportTools.
As you get your add-on, tap on the option "Add to Thunderbird". Click on Add again.
After successful installation, restart the Thunderbird email client and your issue must be resolved by now.
2. Configuring your email account
Incorrect email configuration settings can hamper the working of Thunderbird add-ons. So, we must reconfigure the email account and fix any such add-on problem. Moreover, the ImportExportTools NG requires Thunderbird to have a mailbox added before messages can be imported or exported. As soon as you configure your email account, ImportExportTools NG is ready for use.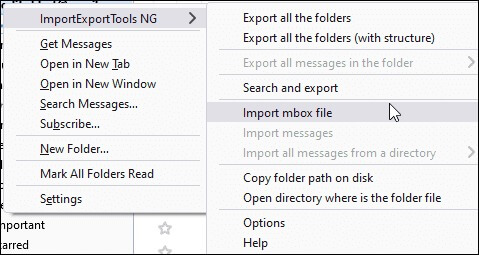 For this, simply right-click any mail folder or your profile & select import or export MBOX files using ImportExportTools NG.
3. Using a top-quality MBOX to PST tool
When Thunderbird's ImportExportTools NG fails, it can be frustrating to manually extract the MBOX files & convert them to PST. But a top-quality MBOX to PST tool like Kernel for MBOX to PST can solve the problem effortlessly. This user-friendly tool easily converts MBOX files to PST format for easy import into Outlook.
In addition, you can save MBOX emails to live Exchange, Domino, & GroupWise with its advanced features & excellent performance, it is the go-to solution for any MBOX to PST conversion needs & other Thunderbird errors and issues. All in all, trusting such a top-quality MBOX to PST tool guarantees reliable & expert solutions for better email management.
Concluding thoughts
Having gone through this blog post, users must have got a clear idea of how to fix the "Thunderbird ImportExportTools NG is not working" error. All the solutions provided in this blog can be reverted if any issue remains unresolved.
But among all the solutions mentioned, using Kernel for MBOX to PST Converter can always come in handy & works perfectly fine for any complicated scenario. Therefore, we recommend users give this best MBOX to PST Converter a shot at least once before considering any other tool.
FAQs
Q. Can Thunderbird import from eM client?
A. Yes, Thunderbird can import data from eM clients. This means that you can easily transfer all your emails, contacts & other important info from your eM client account to your Thunderbird account without any hassle.
Q. Can Thunderbird send bulk emails?
A. Thunderbird is a great email client, but it's not the best option for sending bulk emails. The software has its limitations, with a maximum no. of recipients up to 60 per email. While this is sufficient for most individual & small-scale business needs, it's not optimized for sending emails to large groups of people.