Read time 6 minutes
Summary: Adobe Premiere Pro is a timeline-based video editing software for editing, rendering, and compiling video clips. However, users may encounter "Error Compiling Movie. Unknown Error" with various causes and specific solutions, including restarting the system, disabling effects, checking file name validity, and freeing up disk space.
Adobe Premiere Pro, a video editing software organized around a timeline, serves the purposes of editing, rendering, and assembling video clips. Created by Adobe Systems, this professional-grade software is tailored for video editing and movie compilation. Despite its industry-standard status, users may encounter hindrances, often manifesting as an error during movie compilation: "Error Compiling Movie. Unknown Error".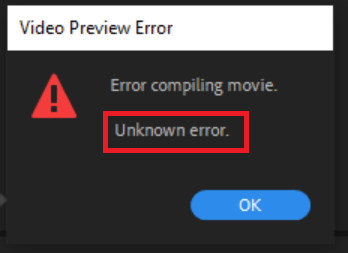 Causes behind "Error compiling movie. Unknown error"-
Other than "Unknown error," this error is accompanied by some other message depending upon the cause behind the error. Some of the primary causes have been given below
"Disk Full" – This occurs when the disk which is applying your file is already full
"Could not find the user documents directory"
"Unable to produce frame" – The frame rate and effects are not in perfect sync
"I/O Error" – It occurs due to lack of space and permissions
"Duplicate file" – A different file with the same specifications exists in the same location
"File not found" – Source files have been linked incorrectly
"Codec compression" – This error is a resultant of unsupported codecs of the video files.
Users need to adopt different strategies based on the error message received, as it defines the actual cause behind the error. However, there are some common strategies which can help users to resolve the issues for each "Error Compiling Movie" error,
Tricks to Resolve "Error Compiling Movie. Unknown Error" Issue
When the error displays "Unknown" as the status, then users are suggested to try some hit and trial solutions as it would help them to identify the real cause behind the error and also to resolve the issue
Restart the System
Consider initiating a system restart, as system drivers occasionally need a reboot to operate optimally. However, it's advisable to preserve existing settings and shut down all active applications and programs prior to restarting your system.
After the restart, proceed to reopen the Adobe Premier Pro application and commence the movie compilation process once more.
Restart the Adobe Premier Pro Application
With prolonged utilization of Adobe Premiere Pro, the software might encounter disruptions or glitches. To address this, one should save all configurations and modifications to the video clips, shut down any active programs through the system's Task Manager, and proceed to restart the application.
Disable the Effects and Special Features
Utilizing advanced features and effects within Adobe Premiere Pro during movie editing can disrupt the standard rendering of the film. To mitigate this, users should consider disabling certain effects, such as GPU rendering, and reviewing and removing unnecessary effects like Auto Levels, Auto Color, Auto Contrast, and Shadow/Highlights. Additionally, it's recommended to eliminate unsupported codecs or video clips from the movie compilation. After these adjustments, save the modified settings and proceed to restart the application for recompiling the movie with the updated configurations.
Note: Users are encouraged to remove or substitute inconsistent video clips (varying in properties like format, source device, codec, frame size, frame rate, etc.) interspersed among clips of the same type.
Check the File Name Validity
The files which are being used for creating the movie must be checked for the name as some symbols or characters like ?, /, \, :, *, ", <, >, !, are unsupported ones which can create errors such as "compiling issue".
Select Alternative File Formats
Opting to modify the existing file format is a wise choice, considering the current format's lack of support for video compilation. Utilizing the application's internal codecs is advisable over relying on third-party ones. Additionally, it's recommended to deactivate the "Auto Save" feature in the application Preferences to mitigate potential issues.
Cause-wise Solutions for "Error Compiling Movie" Issue
Let's delve into targeted solutions to address compilation errors based on the causes outlined in the error message.
"Error compiling movie. Disk Full. Error completing render."
Users should free up the disk space as the main cause behind the error is the lack of space to save the video under compilation.
The ways to free up the disk space are deleting temporary files permanently, emptying the cache, removing the unrequired files and documents from the system drives after exporting it to an external drive, uninstalling the unnecessary programs or applications from the system, etc.
"Could not find the user documents directory"
When attempting to compile a video, users might come across this error. The cause lies in the incorrect linking of source files to the video during the compilation process. Therefore, it is recommended for users to verify the file locations and their correctness, and to attempt linking all files again using the Link Media and Locate File options to prevent any errors during rendering.
"Error compiling movie. Accelerated Rendered Error. Unable to produce frame."
This error indicates the specific time period during which the error occurred. Users have the option to access this time period and adjust any enhanced effects, high resolutions, shape layers, and similar elements to minimize their impact. After making these adjustments to the specific frame, users can attempt to recompile the movie.
"Error compiling movie. I/O Error. Exporter returned bad result."
The error arises from issues related to the chosen output location, like insufficient disk space or permission problems. To resolve this, one can address the problem by creating more space on the disk, verifying that the folder isn't restricted by access permissions, and manually removing media cache files from the Adobe Premiere Pro application.
Several measures can be taken to prevent video compilation errors. These include verifying system requirements, maintaining regular system updates, ensuring proper video format, keeping Adobe Premiere Pro up to date, and regularly monitoring available disk space.
If users encounter difficulties opening compiled video files or raw video clips, the issue could stem from corruption or damage within the video files. In such cases, opting for a professional video repair solution is crucial, as relying on manual online repair methods or VLC Media Player may not yield effective results. Consider using Kernel Video Repair Software , an exceptional and potent tool, to effectively repair video files of any format from various sources, including those saved on system drives (including external ones). This software ensures security and robustness in repairing corrupt video files, swiftly transforming them into healthy files. The tool adeptly mends multiple video files from diverse resources without compromising the original resolutions and properties. Users are encouraged to visit the website for comprehensive information about the tool and to try its free version.
Conclusion
We have covered almost all the errors which might occur while compiling the video using Adobe Premiere Pro. We have discussed their respective solutions too. It can be helpful to you. In case you are facing video corruption issues, try Kernel Video Repair, a professional solution.