Read time 4 minutes
PST files, denoted by the .PST extension, store a comprehensive dataset within MS Outlook, encompassing emails, contacts, tasks, and more. Over time, these files can accumulate a substantial volume of email messages, leading to increased file size. As a consequence, MS Outlook may begin to experience frequent crashes, ultimately resulting in PST file corruption. Such corruption directly translates to data loss, potentially causing distress and frustration due to the damage inflicted on critical information.
Hence, IT professionals strongly recommend that Outlook users regularly back up and archive their PST files. Daily data backups are essential for ensuring data security and safeguarding against potential corruption issues. As a result, older emails are archived to reduce the size of PST files, with these historical emails being stored in a designated 'Archive.pst' file.
Advantages of Archiving
Archiving creates more storage space in the PST data file as the file has a limited space.
The burden at the email server is reduced with the lower client-server activity.
Archiving does not remove the data, but it places the mailbox data in different location, and it increases the security aspects for Outlook.
Archiving allows the email server to quickly respond to the user queries.
Outlook application can load the account swiftly.
Many businesses must follow the industry compliance and save their emails communications in archives.
Archiving Outlook mailboxes
Archiving proves to be the safest bet to improve performance of MS Outlook and avoid corruption issues that creep up frequently. In order to archive old emails in Outlook and keep pst file small follow the steps mentioned below:
Open Outlook 2016 click on File> Info> Tools> Clean Up Old Items.

Chose Archive this folder and all subfolders option and select the folder you want to archive.
Enter the date in Archive items older than and Browse the location where you want to save file. Click OK.
This way you can protect your PST files from corruption and maintain the performance of Outlook yourself.
Methods to prevent corruption in PST file
Apart from archiving, there are different ways to guard against possible PST corruption issues. They are:
Never shut down your system or PC while Outlook is in running mode. You have exit MS Outlook correctly before shutting down or switch off the system.
Never store unlimited data in a single PST file – it can bloat the PST file.
Never store your PST file over a network or on a server – it can damage the PST data.
Choose the best antivirus to protect your PC because virus attacks also can damage PST files.
Always create a backup of PST files on a weekly basis which can be later used as backup files in case of data loss.
Repair corrupted PST files
The a href="https://www.nucleustechnologies.com/outlook-pst-repair.html">PST repair tool is an invaluable resource for repairing corrupted and inaccessible PST files, delivering effective email recovery outcomes. Its capabilities extend to the repair of severely damaged PST files, encompassing both large and encrypted ones. Following recovery, you have the flexibility to save the file in various formats, including a new PST, Exchange Server, Office 365, Gmail, and more, tailored to your specific requirements.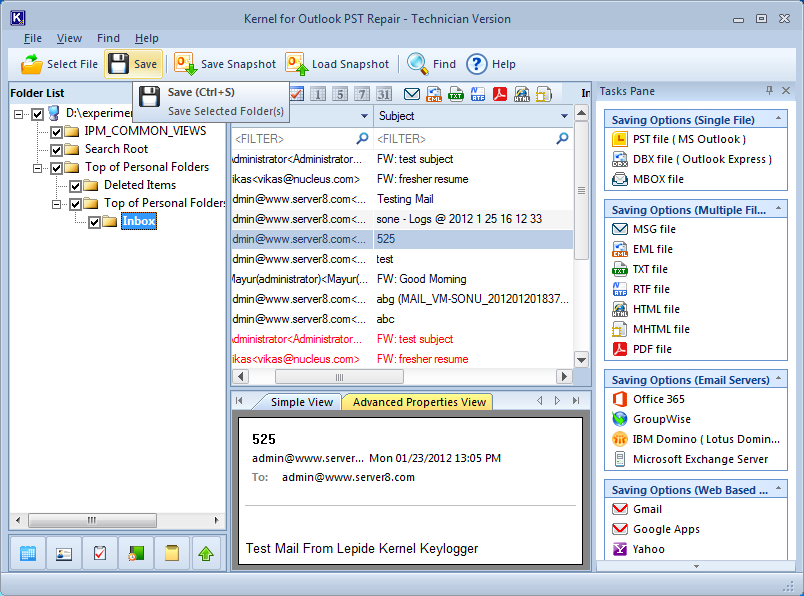 Conclusion
Regularly archiving mailbox data significantly enhances the security of Outlook accounts; however, corruption can still affect PST files unexpectedly. If you haven't been archiving regularly and your PST file becomes corrupt, consider using Kernel PST Repair software. This powerful tool can recover entire mailboxes from the damaged file, allowing you to save them anew in a PST file, restoring your data and email access.