Read time: 6 minutes
Summary: Some straightforward methods for opening PST files in various formats. Additionally, learn how to access PST files without relying on an Outlook application by utilizing a reliable third-party tool like Kernel Outlook PST Viewer. Continue reading to gain a deeper understanding of this subject.
Frequently, the need arises to access PST files without the presence of MS Outlook. This poses a challenge since most email applications do not support this file format. However, the question of how to open PST files without Outlook is entirely feasible, provided you are aware of the appropriate utilities. In this discussion, we'll explore precisely that.
Why One Needs to Open PST Without Outlook?
You may be curious about the reasons for wanting to open a PST file without Outlook. Several situations necessitate accessing a PST file without Outlook, including:
The user doesn't have access to their system
The user does not want to install and setup Outlook
The subscription has expired, and they do not wish to renew it
Sharing PST information with someone who does not have Outlook
In such circumstances, the only way to open that PST is to convert it into an accessible format.
How to open PST file without Outlook?
Several manual methods exist for opening a PST file without relying on Outlook. However, it's important to note that some of these approaches may require the PST file to be shared in a different format. Let's delve into these methods in detail.
Try Converting Emails of PST file to TXT and HTML
When you need to share a PST file with someone who doesn't have Outlook installed, consider converting it to TXT format for easy access. To perform this conversion, follow these steps within the Outlook application:
Open Outlook and select an email you want to convert into TXT format.
After selecting the email, click on the File at the top of the screen.
Select the Save As option from the menu and choose TXT as the saving format.
Save the file and locate it on the drive; now, you can send it to anyone who wants to open it without Outlook.
Try Converting Emails of PST file to HTML Format
Another approach is to convert a PST email to HTML format. Here's how you can do it:
Open Outlook and select the desired email
Click on the File option, select Save as, and save the file in HTML format by selecting HTML as the desired format.
By converting your PST emails into HTML files, you can easily share them with individuals who don't have Outlook access. Furthermore, users have the option to convert their PST emails into MSG file format for convenience.
Migrate PST to Gmail
Another effective method is migrating PST emails to Gmail, a widely accessible email client. You have the option to use either the Google App Migration tool or GWMMO from Google. These tools facilitate seamlessimport PST files to Gmail, albeit they primarily support email migration. Alternatively, you can choose a versatile third-party tool like Kernel for Outlook PST Repair tool, which not only accomplishes PST to Gmail migration but also offers additional functionalities such as repairing corrupted Outlook PST files and supporting migrations across various platforms, web servers, email clients, email servers, and format conversions, among other capabilities.
Try Kernel for Outlook PST Viewer
For a more convenient and efficient solution than the methods mentioned above, consider utilizing a third-party tool for PST viewing. Kernel for Outlook PST Viewer is an automated tool designed for this purpose. It enables you to open PST files on your system without the need for Outlook. This software effortlessly handles both healthy and corrupt PST files of varying types and sizes. To use this tool, you'll need to have it installed on your system, which can be easily accomplished by downloading it from the website and following a straightforward installation process. The subsequent steps for using the tool are as follows:
Start by clicking on the Browse button to select the PST.
Select the PST to view and click on the Open button.
Click on the Next button to proceed forward.
Once the scanning is done, select the particular folder, click on the files individually to open them on the screen and view the detailed content along with metadata information.
So, this is how you can view a PST file with Kernel for Outlook PST Viewer without having Outlook, and that too in no time.
Conclusion
Typically, viewing Outlook emails necessitates having the Outlook tool installed on your system. However, the Kernel Outlook PST Viewer tool offers a unique advantage by allowing direct access to PST file content, whether they are healthy or corrupt, without the need for Outlook installation. Moreover, this tool is compatible with PST files from all versions of Outlook, making it a versatile choice for viewing PST file contents.
FAQs
Q- Is the Kernel Outlook PST Viewer tool free of charge?
A- Yes, of course. The tool is completely free of charge and available at https://www.nucleustechnologies.com/pst-viewer.html
Q- One of my PST files has become completely inaccessible. Can I also open it in the Viewer tool?
A- The Kernel PST Viewer tool supports viewing corrupt and inaccessible Outlook PST files efficiently.
Q- Can I view multiple Outlook PST files together in the viewer tool?
A- Yes, of course, the tool supports multiple PST file addition. It even includes a Search feature to search for PST files in specified system drives.
Q- Does the viewer tool saves the PST file also?
A- No, the tool only offers to view PST file content. However, to save PST file content to desired format or location, you need to purchase the Kernel for Outlook PST tool from this website link -https://www.nucleustechnologies.com/outlook-pst-repair.html
Q- My Outlook email attachments have crucial information, and unfortunately, my Outlook application is not working. Is there any way to access those attachments?
A- You can easily open your PST file in the Kernel Outlook PST Viewer tool and view its emails along with attachments. Thus, you get the required information within it.
Software Review by Top Download Sites
Review by G2.com User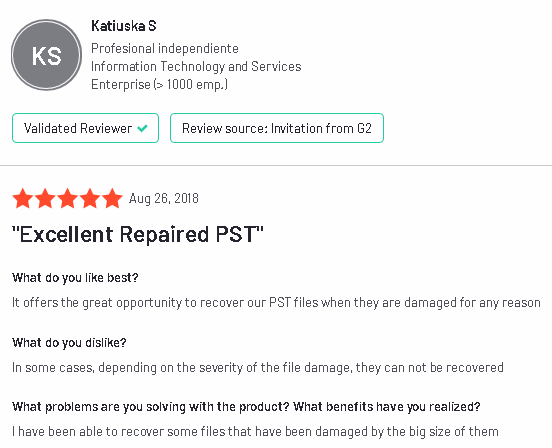 Review by CNET User

Video – 2 Free Methods to Open PST File Without Outlook