Read time: 8 minutes
This article is going to inform you about the best methods to troubleshoot and fix when Outlook rules are not working correctly so that you can be sure all incoming emails will be organized according to your needs. We'll discuss why this issue can occur, as well as providing step by step instructions on what exactly you should do in order to get everything back up and running quickly. Don't miss out – read on if you want to find the answers you're looking for.
Outlook Rules Not Working Issue | Causes
There are several reasons why Outlook rules might not be functioning properly. Read the causes below.
One potential cause of Outlook rules not working is that you may have exceeded the rules quota set for your mailbox & can even lead to Outlook disconnected issue.
When the Outlook rules were set to run only when the application is running on a particular computer, then it won't work if you use another device or log in from a different location.
Another possible cause is corruption in your send/receive settings file.
If you use a POP3 or IMAP account instead of an Exchange server account, it's possible that corruption has occurred in the mail server itself due to synchronization issues between the client and server versions of Outlook.
"Outlook Rules Not Working" FIXED | 6 Guaranteed Solutions
From using Outlook Rules feature to making sure there are no conflicts with any other rule to running a scan of the Inbox and more, these 6 guaranteed solutions can help you get Outlook Rules fixed quickly and easily. So, if Outlook Rules aren't working for you, try any of the options outlined here and get back to running at full speed again.
Solution 1: Enable the Outlook Rules Feature
There's an easy solution for activating Rules to work: enable the Outlook rules feature. Here's how.
The first step is to access Outlook & go to File. Tap on Rules and Alerts. This will open the Rules and Alerts dialog box, which allows you to set up new rules, edit existing ones, or delete them altogether.
Once you're in the dialog box, checkmark, select the concerned rules that you want to enable. This will make sure that they are active when you tap OK. It's important that you do this step carefully.
Note: If you don't select the right rules or checkmark them properly, then your Outlook rules won't work as intended.
Solution 2: Resetting the SRS File
Are your Outlook rules not working as they should? You may need to reset the ".srs" file in Outlook. This file stores a copy of all your rules, so if you have made any recent changes and they aren't taking effect, it may be time for a reset. Here's how to do it.
Firstly, you need to locate the .srs file in your Outlook folder. To do this, open File Explorer and enter the following into the address bar: %userprofile%\AppData\Local\Microsoft\Outlook.
Now, you should see your .srs file here. Right-click on it and select "rename." Change the name of this file from "outlook.srs" to "outlook.srs.old," then hit enter or click away from the folder to save your changes. You can now close File Explorer and open Outlook again (make sure you close out of all Outlook programs before doing this).
Note: When you open Outlook again, a new outlook.srs will be automatically created with all of your rules intact
Solution 3: PST Data Files Fix
If you've been trying to fix Outlook rules not working and failing, it may be time to look at the PST Data Files. If these files are damaged or corrupt, your rules will not work in Outlook. There's an easy fix. You just need the right tool. Kernel for Outlook PST Repair is the perfect solution for fixing corrupted or damaged PST files and restoring Outlook rules back to normal. Let's explore how it works.
Download Kernel for Outlook PST Repair and install it on your system.
Launch the tool and select the PST file that needs repair.
Once the repair process is complete, scan results will be displayed on screen in a tree-like structure. Here you will see all mail items along with any recovered rules from your corrupted PST file.
You can preview emails and recover deleted attachments using options provided by the tool if needed.
Click Save to save all repaired items in a new location on your computer as an accessible PST file.
This tool is an easy-to-use solution that fixes quickly and accurately any issues related to Outlook Rules not working due to a damaged/corrupt PST data file. It retains meta properties of emails while providing advanced filtering options and easy-to-use GUI interface that makes it suitable for all the different types of users.
Solution 4: Delete the Old Rules
Deleting old rules is an effective way of fixing Outlook rules not working correctly. This process requires a few steps but is relatively straightforward once you understand what needs to be done.
Open Microsoft Outlook and select File > Rules & Alerts.
Select Manage Rules & Alerts in the window that appears.
Select each rule that is not working one by one, then click on Delete. This will remove the rule from your list of rules, and it should resolve any issues with the rule not working properly.
Solution 5: Disable the Stop Processing More Rules Option
The next step to fixing this issue is to disable the "Stop Processing More Rules" option. To do this, open Outlook & go to File > Manage Rules & Alerts. In the window that appears, select the rule that isn't working correctly and click Edit Rule Settings. Now, uncheck the box labeled "Stop processing more rules". Finally, click OK and then save your changes by clicking Apply or OK in the main window of Manage Rules & Alerts.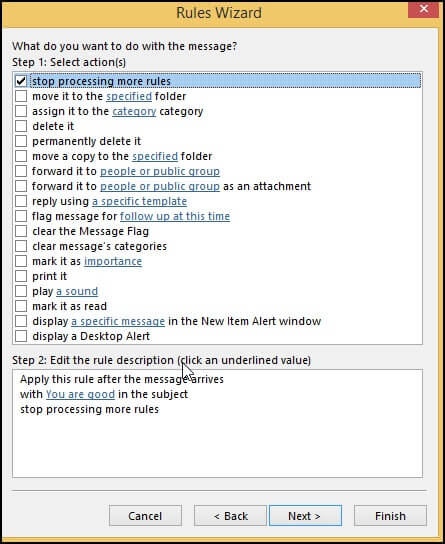 Run Through Your Other Rules
Once you have disabled the "Stop Processing More Rules" option, it's time to run through all your other rules (if any) and make sure that everything is working properly. To do this, go back into Manage Rules & Alerts (File > Manage Rules & Alerts) and review each rule separately by selecting it then clicking Edit Rule Settings. Make sure all of them are enabled before saving your changes with Apply or OK.
Solution 6: Turning on the Cached Exchange Mode
Here's how to turn on the Cached Exchange Mode and get your Outlook rules working again.
Open Outlook on your computer and go to File > Account Settings > Account Settings.
Select the email account associated with the rules you're having trouble with, then click Change.
From Settings, go to the Advanced tab & check mark the Use Cached Exchange Mode box, then click OK.
Finally, restart Outlook and see if that fixed the problem.
Final Say
Overall, Outlook Rules are an essential tool for staying organized, so if they're not working properly, it's important to get the issue fixed as quickly and efficiently as possible. Of the methods we discussed above, Kernel for Outlook PST Repair is our top recommended solution, with its ability to safely repair corrupt files, resolve PST corruption and fix any rule issues with just a few clicks. However, you can also try out some of our other outlined strategies such as restarting Outlook or disabling rules directly from within the program. At the end, it all comes down to what approach works best for your specific situation and setup.