Read time: 5 minutes
Summary: This resource addresses email content disappearance in Outlook during signature changes professionally. It offers practical solutions, advises using the 'Undo' option, outlines manual recovery steps, and recommends the Kernel for OST to PST conversion tool.
"I encountered an issue with my email where every attempt to modify my email signature resulted in the entire email content disappearing. This problem left me baffled, and despite my online searches, I couldn't find anyone who had a concrete solution. During my research, I came across a Microsoft support article that suggested an add-in might be causing the problem.
Unfortunately, I wasn't sure which specific add-in was responsible, so I decided to take the proactive step of uninstalling all of them. To my dismay, this action did not resolve the issue, leaving me feeling extremely frustrated as I continued to search for a viable solution".
If you've been experiencing the problem of your emails turning empty when you attempt to change your signature in Microsoft Outlook, there are simple steps you can take to resolve this issue.
Fix Email Empty Issue When Changing Signature in Outlook: Top Methods to Follow
We are here with the easiest methods to prevent your email from being emptied after changing the signature in Outlook. Follow these methods below.
Check for the Signature Area
If you're entering text in the Signature area and notice that your email content is disappearing, you can employ two common methods to confirm whether you are indeed in the Signature area:
Automatic spell check may not be working. But this tip is not helpful if you do not make any errors when typing.
The right-click menu may only show the names of the other signatures you have instead of the usual options.
If you find yourself in the Signature area, just exit it by clicking anywhere else within the email body before resuming your typing. This simple step will help ensure your email content doesn't vanish.
Reset Your Signature
Try resetting your signature.
To do this, go to the File menu and select Options. In the Options window, select Mail from the list on the left side of the window.
On the right side, under Compose messages, look for the Signature section.
Click the drop-down arrow next to Signatures and select None. Then click Ok.
Uninstall & Reinstall Outlook
As a potential solution, you can attempt to resolve this issue by uninstalling and then reinstalling Microsoft Outlook. Follow these steps:
Navigate to the Control Panel on your computer.
Select 'Add or Remove Programs.'
In the list of installed programs, locate 'Microsoft Outlook' and click the 'Remove' button.
Follow the on-screen prompts to uninstall Microsoft Outlook completely.
After the uninstallation is complete, restart your computer.
Visit the official Microsoft website and download the latest version of Microsoft Outlook.
Install the newly downloaded version of Microsoft Outlook on your computer."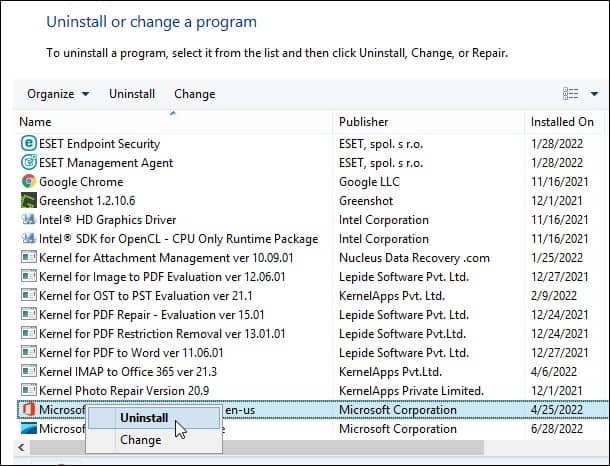 Get your Mail Text Back Via Undo Option
If you find your email text deleted or emails stuck in the Outbox when attempting to change your signature in Outlook, you can easily recover it using the 'Undo' button. Just click on the 'Undo' button, and your email text will be restored, allowing you to continue working on it.
Nevertheless, if you've already saved or sent the email, the 'Undo' button will not be effective, and you'll need to manually recover your lost email text.
Recover Email Text Manually
If your email text becomes empty, and you accidentally hit the send button, don't worry, all is not lost. You can still recover your lost email text by following these straightforward steps:
Open up MS Outlook and go to the Deleted Items folder.
Click on the option Recover Deleted Items on Server.
Find the email from which you accidentally deleted the text and open it.
Your lost email text will be recovered, and you can now access it from your Sent Items folder.
Now that we've addressed the empty email issue in Outlook, here's a valuable bonus tip: it's essential to maintain a backup of your Outlook files to ensure the safety and security of your data, especially in the event of any issues with your Exchange Server. Additionally, consider converting your offline Outlook data files to PST format and saving them as a secure PST backup. For this task, we recommend utilizing the Kernel for OST to PST Converter tool.
This versatile tool allows you to restore OST to MBOX, PST, live Exchange, Office 365, and more. Remarkably, it ensures that the resulting data is an exact replica of the original, preserving all email properties and attachments. With this capability, you can effortlessly save your OST emails to Outlook, Gmail, and other IMAP servers, making the process seamless and trouble-free.
Additionally, this tool offers the convenience of selective conversion, allowing you to choose specific mailbox items for conversion by applying relevant filters before initiating the process. Lastly, it's worth noting that this tool is compatible with all versions of MS Outlook, ensuring its versatility and suitability for a wide range of users.
Final Words
To wrap things up, the methods we've explored for resolving the email empty issue in Outlook are all straightforward. If you're seeking a quick and hassle-free solution to this problem, one of these methods is likely to be the right choice for you.
Additionally, if you've encountered inaccessible emails, our tool is designed to help you recover them. This software is specifically engineered to convert corrupt or inaccessible OST files into PST format without any risk of data loss. It offers a range of other features to simplify the OST recovery process, providing a convenient solution for users. Feel free to download the trial version today and swiftly resolve any Outlook-related issues.