Read time: 11 minutes
Summary: When your emails get stuck in the outbox, it can be frustrating. First, make sure your internet connection is stable. If that's not the issue, try to resend the stuck email or delete it. If the problem persists, consider using a third-party tool like the Kernel for OST to PST to help resolve any underlying issues and get smoother email operations in the future.
Do you ever find your Outlook emails stuck in outbox? It can be a real headache, especially if you need to send an urgent message. I recently experienced this issue and struggled to find a solution until I did some research. After trying a few things, I finally found a few simple steps that helped me resolve the problem. Today, I will share with you some tips on what to do when your emails get stuck in the outbox, to help you avoid this frustrating issue in the future.

Instant Solution
Try automated tool Kernel for OST to PST Converter to solve damaged OST files due to emails getting stuck in Outbox error
Why do Emails Get Stuck in Outbox?
There are a few reasons for Outlook Outbox not sending emails and getting stuck. Some of the most potential possibilities are listed below-
Emails get stuck due to large attachments i.e., the attachment size exceeds the size limit allowed. This can either halt or slow down the sending process.
Weak internet connectivity or bandwidth.
Due to email authentication settings.To screen forged emails i.e., verifying or checking that the email is from the actual sender only, the malicious or deceptive emails are blocked.
Opening and viewing that same email in Outbox, which is in the process of sending.
The email is marked as viewed in the Outbox due to an installed add-in.
The mail server does not authenticate the Outlook account.
The mail server or Outlook becomes offline.
The send/receive settings are incorrect, and the email sending gets halted.
Outlook is in use with another program. This means any software on your system can access your Outlook data files.
The password you typed is wrong or you have changed your email account password.
Absence or non-existence of default email account.
The antivirus or anti-spam on your system scans outgoing mail and prevents it from sending messages.
How to Send Emails that Got Stuck in Outlook Outbox?
After knowing all the possible causes of the problem, let us understand how to resolve it efficiently.
Before starting with any methods to troubleshoot Outlook outbox not sending email issues, ensure you have stable internet connectivity. Slow or poor connectivity may hinder sending emails, especially with large attachments. It is advisable to have a high-speed stable internet connection before initiating the process. Obtaining it will ease deleting an email stuck in Outlook's Outbox. Now, let us investigate the methods to fix Outlook emails that are stuck in Outbox issue, step-by-step-
Method 1: Change the Outlook connection status:
Before focusing on techniques for resolving the problem, check the mail server's state. If the mail server is offline, your email messages will remain in the Outbox folder until the server's state changes from offline to online.
To quickly re-confirm and change the state of mail's server (if needed) in a matter of few clicks, implement the following consecutive steps:
Step 1: Look at the bottom right-hand corner of Outlook. You will see Connected or Connected to Microsoft Exchange. If it is "Connected," the problem is unrelated to the server status.

Step 2: Suppose the state is Working Offline, then go to the Send/Receive tab and click on Work Offline to disable it. After doing this, you will have to send the email again.

Step 3: If the status still remains Disconnected, check the internet connection, and set it right.
Method 2: Try Resending the Email:
If the emails stuck in Outlook's outbox issue remains a headache even after Method 1, you must try sending them again. But this time, besides confirming the internet's stable high-speed connection, ensure you are connected to the server. Decreasing the number of attachments in the mail is another option to be considered. If doing so makes the mail leave the Outbox folder successfully, then your problem is solved.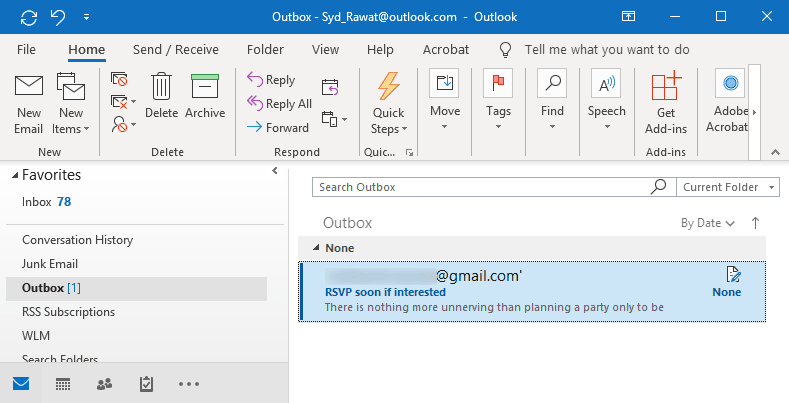 Method 3: Check the email settings
You may even check the email setting to see whether you have set the mode of 'send later' or 'delayed sending'. Such a delayed sending setting will result in the showing of Outlook emails stuck in Outbox. Either remove this setting or wait till the time of sending is reached.
Method 4: Look for changes in the password
When the password of your email account and Outlook account do not match, then, Outlook emails are stuck in Outbox. Thus, if you change the password for your email account, you must also change the password for your Outlook account. Changing password for either Outlook or your internet email account or Outlook data file follow the given process to do:
Open Outbox.
Click on File.
Click Account Settings.
Click on the account to which you wish to change the password.
Click Change.
Enter the new password.
Click Next.
Click Finish.
The process to change the password for the Outlook data file:
Open Outlook.
Right-click on your email account.
Click Data file properties.
Click Advanced.
Click Change password.
Enter your Old password.
Enter your new password.
Confirm your new password.
Click Ok.
Exit all windows.
Method 5: Run Outlook in Safe Mode
Safe Mode allows the user to open any application in a diagnostic mode. This enables eradicating all the minor troubles and interference via add-ins and later, safely opens the Outlook application. Press the Windows and R keys together, type outlook/safe, and click Ok to run the command.
Method 6: Update Outlook & Office Apps
Updating the office apps is one of the universal solutions to fix most Outlook problems & emails stuck in the Outbox Outlook issue is no exception. You just need to follow the steps given below carefully.
Access Outlook & tap on the File tab. Go to Office Accounts.
Click on Update Option and tap on Update Now.
The new Office updates will take some time to be downloaded and all your ongoing issues with Outlook will be resolved.
Method 7: Antivirus issues with outgoing email:
If you find yourself having trouble sending emails due to your antivirus program, start by checking for updates on your antivirus manufacturer's website. Forums and user communities may also hold relevant solutions and workarounds. While disabling email scanning may also aid in resolving the issue, don't be anxious about doing so, as this option is mostly an extra safety measure.
Furthermore, most modern antivirus software will continue to monitor incoming files, including email messages and attachments, regardless of whether the email scanning option is turned on or off.
A timeout can also help resolve the issue; try heading over to Account Settings, then More Settings, and click on the Advanced tab to set this up.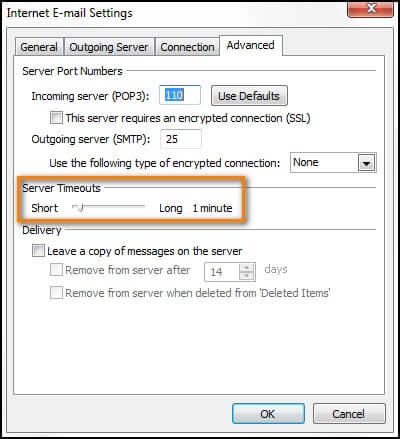 Method 8: Try an OST Conversion Tool:
There are many other manual methods besides those mentioned above, like reducing the size of attachments and inputting the password every time you change it. You can also try the Inbox Repair Tool, as Outlook stores all the information in the OST file.
If none of the manual methods works well to resolve the problem, using the Kernel for OST to PST tool is highly recommended. The tool works proficiently to resolve corruption and damages in OST files. The OST to PST converter tool works effectively even on large-size OST files and splits them as per the user's requirement.
Get an idea of the Kernel for OST to PST software working with these procedural steps.
Launch the installed Kernel for OST to PST tool on your system.
On the Welcome Screen, click Browse to add your OST file directly from the system folder location or use the Search option to find the file in the specific drive.

Once the OST file is successfully added, click Next.

All the mailboxes' content within the OST file will get retrieved. Select any OST file folder item to view its complete content preview. After this, click the Save option from the top menu.

Select PST from the list and click Next.

Now, add desired filter options like metadata, item type, and date range to move only specific data to the PST file. Then click Next.

Use the Split option to split your converted PST file into multiple small-sized PST files with a specific size interval, attach a prefix to converted files if you want, and click Next.

Next, click on the Browse option to provide the saving location for the converted file, choose Saving Preferences and click Finish.

The conversion of the OST file to the PST file will start and be completed soon.

The process is easy to perform, and you can try it using the free trial version available to download on the software website.
Conclusion
When users experience Outlook Outbox not sending their emails, they sometimes get stuck in Outbox without being delivered. This error may occur due to many reasons like incorrect Send/receive settings, offline mail server or Outlook, Outlook in use with another program, and so on. They may get error messages too. However, this can also be resolved with the solutions discussed above. Users can try resending emails, changing Outlook's connection status, or using manual methods to fix their issue. If not, they can try OST to PST conversion tools to fix the issue.
Watch Video: To Fix MS Outlook Emails Get Stuck in Outbox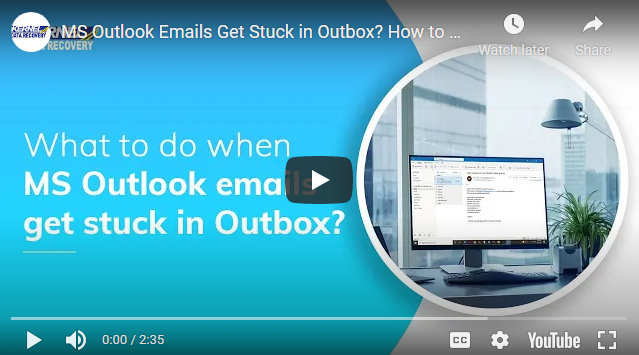 FAQs
Q- Why is my email getting stuck in the outbox?
A- There are several reasons why emails stuck in Outbox, including a bad internet connection, incorrect server settings, or large attachments. It is essential to troubleshoot these issues using the above solutions to get your emails back on track. 
Q- How long does mail stay in the outbox?
A- As a technical matter, the length of time that mail stays in the Outbox folder of Microsoft Outlook is dependent upon one factor only: whether or not you have initiated a send/receive operation. Until you start the process, email messages will remain in the Outbox.
Q- Does outbox mean sent?
A- For email users, the Outbox is a familiar term that denotes the folder where outgoing emails are stored temporarily until they can be successfully sent. This is particularly useful when there are unforeseen issues that prevent the email from being sent, such as internet connectivity problems or a recipient's mailbox being full. The Outbox ensures that emails are not lost & can be resent at a later time. 
Q- Where one can find Outbox option in Outlook?
A- On the left-hand side, other options can be visible below the Inbox. These include Sent, Trash, Archive, and Spam. When the issue of email getting stuck becomes a reality, the Outbox option gets visible. It stays highlighted until the email is successfully sent/received.
Q – How to delete an email stuck in Outlook's Outbox
A – You just need to click on Send/Receive visible at the top right-sight as Outlook is opened. Then in the navigation panel, click Outbox. Now, the email can be deleted from the Outbox.