This tutorial describes how you can convert OST to MBOX with Kernel for OST to PST converter, step by step. Let's know a little bit about the tool first:

Converts or migrates healthy or corrupted OST files to MBOX
Converts OST file to MBOX files of emails clients like Thunderbird, Gnu, etc.
Converts even the large-sized OST files without causing any interruption
Filter option to set the desired criteria for the conversion process.
Snapshot feature to save the progress of your work, & resume later
There are many such exciting features of the tool you would like to know. Here is a step by step guide on how this OST to PST Converter tool works:
When you the software, you will see that a dialogue box of 'Source File Selection' is already opened, click on the Browse button there. (If not opened already, you can click on Select File option to open the 'Source File Selection' page.)
Now, select the OST file you wanted to convert and click on Open.
After selecting the OST file, click on the Next button.
Here, you can get all the about the process. Click on the Finish button.
The tool has the preview feature with the help of which you can have a look at the inside content of a file or item. helps you to decide whether you want to convert the particular file or not.
Click on the Save button on the top left section of the screen. A new dialogue box will open, and because we want to convert we need to select the MBOX file as the saving option. Click on Next to proceed.
In this step, you need to apply desired filters, apply them as per your requirement and click on Next.
Select an email client and provide a destination to your file. You can also exclude the deleted items if you want, click on the checkbox to do so. Finally, click on Finish to proceed.
Once you convert OST TO MBOX and your file , click on Ok to proceed.
Note: -
If you want to save the work you have done, the software provides you the option to save the snapshot of your recent work in your system. Click on the Save Snapshot button and do the needful.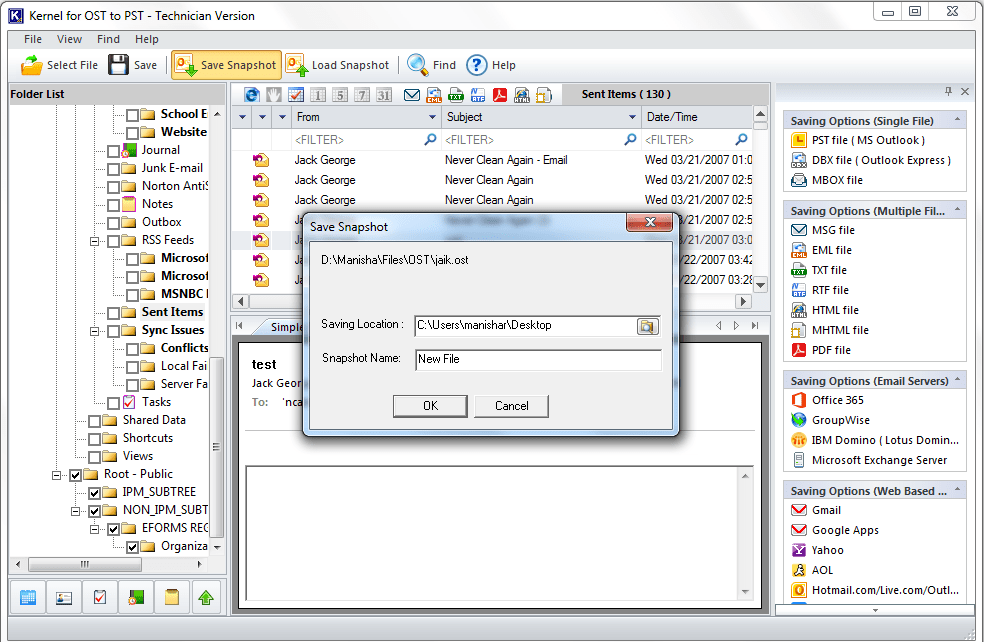 Read Also : Free method to Convert OST to PST