Read time 10 minutes
Are you trying to play videos in your Windows 10 system and facing error 0xc00d3e8c? If yes, then you might be puzzled about why it is happening. Well, this occurs because of a couple of reasons like your media player does not support the file format you are trying to play. In this blog, we are going to discuss this error and how to fix it with the help of some easy yet workable solutions.
What is the Error 0xc00d3e8c, and Why you May Face It?
Before moving towards the solutions, let's first try to know the error. What is the meaning of facing this error? Well, it is a common Windows 10 error that may stop you from playing MKV video files. Unavailability of the right codecs might lead to this error. MKV is a popular video file format that can contain video, audio, subtitles, and much more items. Any changes in the Windows operating system may lead to this error, for example, the reinstallation of Windows.
Any recent update that took place automatically can also cause this error. After such updates, you can face this or many other errors. You can also experience a black screen, white screen, or even videos and audio failure.
How to Fix the 0xc00d3e8c Error?
Let's move towards fixing the error 0xc00d3e8c. The solutions mentioned below are individual solutions, and the users can choose any one of them depending on their requirements. If the cause of the error is unknown, try them one by one and see which one fixes the issue.
Try Another Media Player

If you are facing the error 0xc00d3e8c while playing a video file in one particular media player, then try another. It has been seen that many players are unable to play many video file formats properly. This happens when the necessary codecs required to play a video file are not available in your current video player.

Windows 10 is a great version, yet it might not be able to provide you with all the necessary video codecs you might need to play an MKV file. If you think that Windows Media Player might not have those required video codecs to play your video well, you can try some other media players.

There are a plethora of media players available online and offline equipped with the right set of video codecs to play your file. You can try any of them and see if the error is gone. We recommend you to play the MKV file with VLC media player. It is a very renowned media player and supports many video file formats, including MKV files. Try and see if it works for you. If you are still facing error while playing video files with multiple media players, then try the next one.
Try Updating Video Driver

Updating video drivers work in many cases. As we have discussed, the unavailability of required video codecs might give rise to this error. Un-updated video drivers may lack some important codecs. It also might happen if you have recently reinstalled Windows 10. If you did, then also it is necessary to update video drivers; this will install the new and necessary codes.

One more benefit of updating video drivers is that it will also boost your computer's overall performance. So, not just fixing the error, this will also give you a better working system. Follow the below-mentioned steps to update the video drivers:
Press the Win and R key altogether to open a Run Window on your system.
Now, in the box of the Run window, type, devmgmt.msc. Click on OK or hit Enter to proceed.

As you hit enter, a Device Manager window will open. There you need to look for the Device Adapter option.
Expand the Device Adapter category by clicking on the arrow next to it and make a right-click on the Graphics card.
From the menu, select Update Driver.
You will see a new window on your screen; there click on the Search automatically for updated driver software. After this, Windows will search for the missing and latest drivers. Once searched, all the required drivers will be installed.

So, this is how you update video drivers. Repeat the same process for the other graphics drivers, if you have any. This solution should fix your problem; if not, then try the next method.
Try Resetting your Apps

If you are using any movie or TV app to play your video and facing this error, then reset it. If you are facing 0xc00d3e8c while playing your video with any movie or TV app, then it means that there is some technical problem in the functioning of those apps. If you have already converted the video file formats to your movie or TV apps' supported video file formats, but it is still showing this error, you might need to check or reset the settings.

Before moving to the resetting process, it is recommended that you delete the temporary files from your system. You can delete temporary files by pressing the Win+R key, then type Temp in the Run box. This will open all the temporary files available on your system. Delete them and see if it solves the issue. If the problem still persists, then check the settings, date, time, region, language, and other basic information that plays an important role. All you need to do is check if they all are correct. For this, open Settings on your system and look for the Time & Languages option. There, check if everything is entered correctly or not. If not, either change them manually or reset them to the required one. This process must fix the occurrence of error 0xc00d3e8c. If not, try the next method.
Try Converting MKV file format to WMA

If the error is still there, then converting the MKV file to WMA should work as a last resort. Changing the MKV file extension to WMA works because it is supported and used by Windows Media players. WMA is an audio codec and an audio format as well, and hence converting the video file to this format should work.

You can choose from various converting tools available online and offline for the same. The video conversion is a tricky process; it might harm the video's integrity if not done correctly. In addition to that, converting a video is a slow process, and depending on the size of the file it may take a lot of time.

One of the reliable ways to convert a video file is by using a VLC media player. You can convert video files with VLC without any trouble.

If you are looking for a quick, hassle-free and easy conversion, you might like to try Kernel Video Converter Tool. It is a video conversion tool, so easy and so quick that even beginners can use it without facing even the tiniest problem. User-friendly GUI and uncompromised quality make it the best choice among the users. Try it yourself to experience the next level of video conversion satisfaction. Here is a glimpse of the tool's homepage.
Has Your File Got Corrupt?
Well, this is one of the possible cases you might face after dealing with this error. The error might not pop up now, but the file still won't open or will not be as healthy as it was. Don't worry, this doesn't mean that error still exists or it's not gone. By performing the above-mentioned methods, you will get rid of the error, but a common side effect of this error; you might end up with a corrupt video file.
Don't worry, fixing a corrupt video file is no rocket science, you can do it easily. There are various options available online and offline to fix a video file. You can choose any one of them that suits your needs and requirements. One of which is by using VLC media player. As it might sound easy to fix a corrupt video file with VLC media player, it is as less possible. VLC is a media player with many unique features serving wide purposes, fixing corruption is one. But, it is also limited, it is a media player afterall. VLC can only fix minor corruptions in a Video file. If the level of corruption is high in your video, then it might not help you.
If you are new to all this, or if you do not want to waste your time trying a few more solutions which you are not sure will work or not, then you can try a third-party automated tool, specially designed to fix corruption in video files. Such a reliable software is Kernel Video Repair Software. This utility repairs almost all popular and not so popular video file formats. The tool has a very simple GUI, and it is very easy to fix corruption with this tool. All you have to do is follow some very easy self-descriptive steps presented by the tool on your screen, and you are done. The tool is quick yet gentle on your files and does not harm the integrity of the file. You will get the repaired file's quality as it was earlier in its original state. Check out the tool's homepage.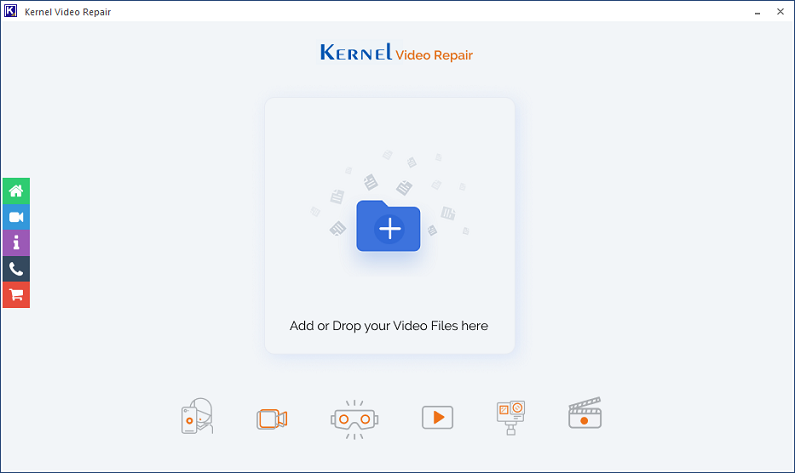 I bet that you won't regret using this tool to fix your corrupt video files. Try the free trial version of the tool to kill all your doubts about the tool. With the trial version of the tool, you can repair the whole video and can save the first 30 seconds of the video as a sample.
Conclusion:
In this blog we discussed the error 0xc00d3e8c. We discussed what this error is and how it might show up on your screen. We then proceeded with the proven solutions to fix the error. We suggested a few manual methods that can fix the issue, depending on the cause of the error. In one of the methods, we recommended converting the video file to WMA format. We concluded that the best and the most assured way to convert a video file is by doing it with Kernel Video Converter, as the steps involved in the process were less and easy. The process is quick and result-oriented. Later we discussed one of the possible scenarios that might happen after facing 0xc00d3e8c, that is, a corrupt file. Corrupt video files are quite tricky to handle; moreover, they pose a threat to the video's permanent loss. In order to get rid of the corruption in a video file, we suggested using the Kernel Video Repair software, which is a proven utility to fix any sort of corruption in any video file format. Hope this blog helped you fix the error. Let us know all your queries and questions in the comment section below.