Read time 7 minutes
The Windows operating system has played a pivotal role in democratizing personal computing. Its user-friendly design ensures that even individuals with limited computer expertise can effectively utilize it for their daily tasks. Featuring an intuitive graphical interface, this operating system provides users with error messages and logs for troubleshooting and resolving issues when they arise. However, due to the intricate nature of both hardware and software components within a computer, resolving certain problems may still pose challenges.
Users of Windows 10 commonly encounter a troublesome error known as the Blue Screen Error. When this problem arises, all currently running programs come to a standstill, and the user's screen is overtaken by a blue display, which provides a brief error description and additional information. However, many users have expressed dissatisfaction with the provided details, as they often lack comprehensive troubleshooting instructions. Rest assured, we are here to assist you in resolving this issue.
What is 0x000000f4 Blue Screen Error?
The appearance of the blue screen is an integral component of the Windows operating system's exception handling procedure. Whenever the OS encounters a 0x000000f4 error, it initiates a cessation of all running processes and instructs Windows to undergo a shutdown sequence. Prior to the system's full shutdown, pertinent information about the problem is presented on the computer screen, as depicted below: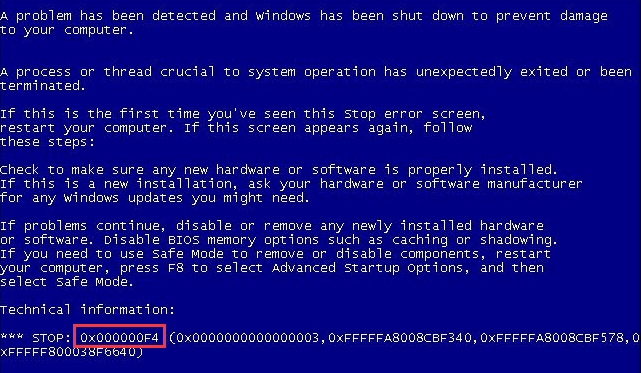 Based on the provided information, the 0x000000f4 error arises when a crucial process or thread, necessary for the proper functioning of the system, unexpectedly ends or terminates. In order to prevent additional harm or potential data loss, the operating system initiates a system shutdown.
Causes behind 0x000000f4 Error.
Below are the most common reasons which can lead to the 0x000000f4 error:
Improper installation of any driver.
Corrupt or outdated driver software.
Failure/issues during Windows update or installation
Malfunctioning of any hardware such as RAM or disk drive
Compatibility issue due to any newly added hardware
Corrupt system files or system software
Virus infection or malware attack
Read Also : Fix Windows Stop Code 0xc000021a
Prior to addressing the issue, it's crucial to safeguard your data. Begin by powering down your system and detaching the hard drive, which you should then connect to a functioning system. Create a duplicate of your essential data on the operational system before proceeding with the troubleshooting steps outlined.
Steps to Fix the Blue Screen of Death 0x000000f4 Error
Having covered all the blue screen errors, let's proceed to examine the steps and techniques required for resolving them.
Fix 1. Update or Uninstall Drivers
Follow the below steps to update or uninstall device drivers on your machine.
Click on the Start icon on the taskbar, type 'Device Manager,' and press enter.
Once the Device Manager opens, find the suspected drive that you recently added or installed a driver for.
Right-click on the device and click on 'Update Driver'
Now click on 'Search automatically for updated driver software.'
If your device already has the latest or the best driver installed, windows will display the below message.
If not, it will display the latest driver. You can click on it and proceed to install the latest driver.
This step needs to be followed for Disk Drives, Batteries, Processors, and any other devices that were recently added to your system configurations.
If this doesn't fix the issue, click on the 'Uninstall Device' option for the suspected devices that were newly installed.
Fix 2. Run Windows Check Disk Command
To check for corruption in the hard drive and to repair it, chkdsk command can be used.
Type 'Windows+R' on the keyboard or type 'cmd' after clicking on the Start button. You may need to right-click and select the 'Run as administrator' option.
Enter all the Disk Partitions on your system in the command, as shown below.
Once the check finishes, it will display if any issues were observed and fixed for the drives. If there is nothing pending, you will see a message in the end that 'No further action is required.'
It means that the disk is fine, we will still need to troubleshoot further for other issues though.
Fix 3. Run Windows Memory Diagnostic Tool
The Windows Memory Diagnostic Tool serves the purpose of identifying and resolving RAM-related problems. To initiate it, simply press 'Windows+R', type 'mdsched.exe', and then press the 'Enter' key.
Once the program opens, click on 'Restart now and check for problems' option as shown below.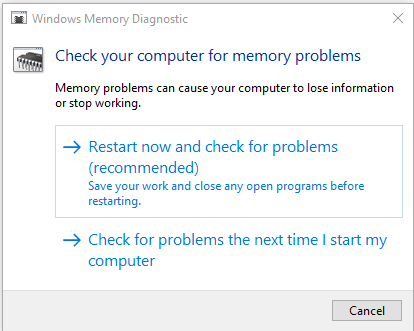 This tool will identify any significant problems with your RAM. If it detects any major issues, you may need to consider replacing your RAM. If no major issues are detected, please continue to the next step.
Fix 4. Update Windows 10
You have the option to upgrade your Windows 10 operating system to its most recent version, which can effectively resolve any underlying problems related to system files or programs. This provides a swift and straightforward solution, especially when no hardware issues are detected, and even troubleshooting hardware components individually fails to address the problem.
For updating your Windows, click on Start, then go to Settings.
Next, click on Update & Security.
Click the Windows Update option on the left and select Check for Updates.
Once the installation is over, and the system restart is done. You can check again to see if your version of windows is up to date.
Check if the issue is now fixed for you.

Read Also : Free Methods to Recover Deleted Files from Windows 10
These solutions will assist you in pinpointing and resolving the persistent blue screen error. By replacing the faulty hardware component responsible for the error, you can restore your system's smooth operation. In the unfortunate event that your hard drive suffered corruption and vital data became inaccessible, there's no need to worry. We offer a specialized tool designed to recover your lost data from the corrupted drive. Kernel for Windows Data Recovery tool recovers corrupt and inaccessible data on your system in quick and easy steps.