Read time 6 minutes
There's nothing more frustrating than your computer is not booting up properly, displaying a message that one of your files is corrupted or unreadable. Unfortunately, this is a common problem, and one that can be difficult to fix. In most cases, the file in question can be recovered with some specialized software or with the help of a professional.
However, in some cases the file may be so badly damaged that it can't be repaired. This can lead to data loss and even system crashes. If you're unlucky enough to experience this problem, don't worry – there are ways to fix it.
Today we are here for one such issue of a VHD/VHDX corruption. But what is it? VHD file, the hard disk image file used for creating a Virtual environment of Windows System, belongs to Virtual Hard Disk. It is similar to physical hard disk drive except that it is used and managed on Virtual Machine environment. Like any other disk, a VHD file is also vulnerable to corruption that make the entire VHD file data inaccessible.
The corruption of VHD file can bring you to critical situations such as permanent data loss. When the VHD file is corrupted, you will see an error message shown below:

Scenarios of VHD/VHDX File corruption
According to Google search, many users have faced VHD errors that caused serious data loss issues. The mentioned scenarios are some of the real examples of VHD file corruption reported by users on different technical platforms.
Scenario:

See at: https://community.spiceworks.com/topic/2013934-hyper-v-2016-vhdx-corruption
So, how will you get rid of such issues if they come on your way? First, let's find the root causes of this error and later discuss the solutions to this error.

Instant Solution
Download Kernel for VHD Recovery tool to fix corrupt and unreadable VHD/VHDX file without any hassle.
Top 3 Reasons of VHD/VHDX File Corruption
Here are the main causes why a VHD file or partition becomes corrupt and unreadable.
1. Due to faulty hard disk storage:
Hard disk storage might get corrupted or damaged due to firmware or manufacturer faults.
2. Due to files transfer over a faulty network:
Many errors that take place may occur while moving data on hardware that is faulty. Disconnection of the storage device during the creation or transfer of virtual drive can also cause errors.
3. Errors due to antivirus programs:
Antivirus or encryption programs can interfere with the operations of virtual machines. So, avoid installing antivirus or exclude virtual-machine related directories from antivirus scan.
Follow the Mentioned Methods to Fix Corruption and Unreadable Issue
Some Workaround Methods
There are some quick fixes you can try to resolve VHD file corruption and errors. Follow the simple methods to resolve the corruption and unreadable VHD file error: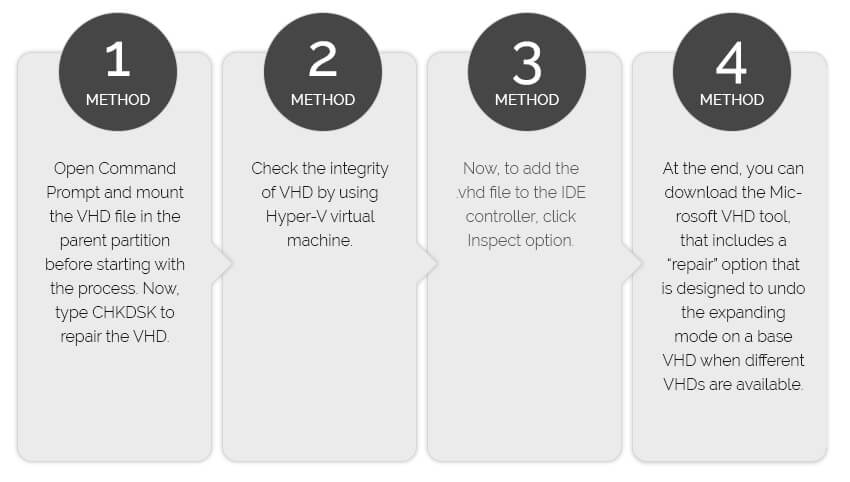 The above-explained methods are simple to execute. Firstly, open Command Prompt, mount the corrupt VHD file in the parent partition and type CHKDSK in CMD and hit enter to start repairing the VHD. Secondly, check the integrity of VHD file with the help of Hyper-V Virtual Machine. Thirdly, add the VHD file to the IDE controller and click Inspect option. Lastly, download the Microsoft designed VHD tool that will help you to repair the VHD file.
Try third-party VHD recovery tools
Many a time, the manual methods are complex to perform which might fail to fix the corrupted VHD files smoothly. Hence, you can look for a reliable VHD recovery tool to fix the corrupted VHD files. The most powerful and instant VHD recovery tool suggested is Kernel for VHD Recovery.
Follow the simple steps for instant recovery of corrupted VHD or VHDX files:
Step 1: Launch Kernel for VHD Recovery, browse and select for corrupted or damaged VHD or VHDX file on your local machine.
Step 2: Select the Recovery Mode as per the severity of the corruption into consideration. And, select the desired drive to recover.
Step 3: Now, select the corrupt partition that you want to recover.
Step 4: Preview the recovered data in this step with all folders.
Step 5: Click on Recover and Browse to save the recovered VHD data file.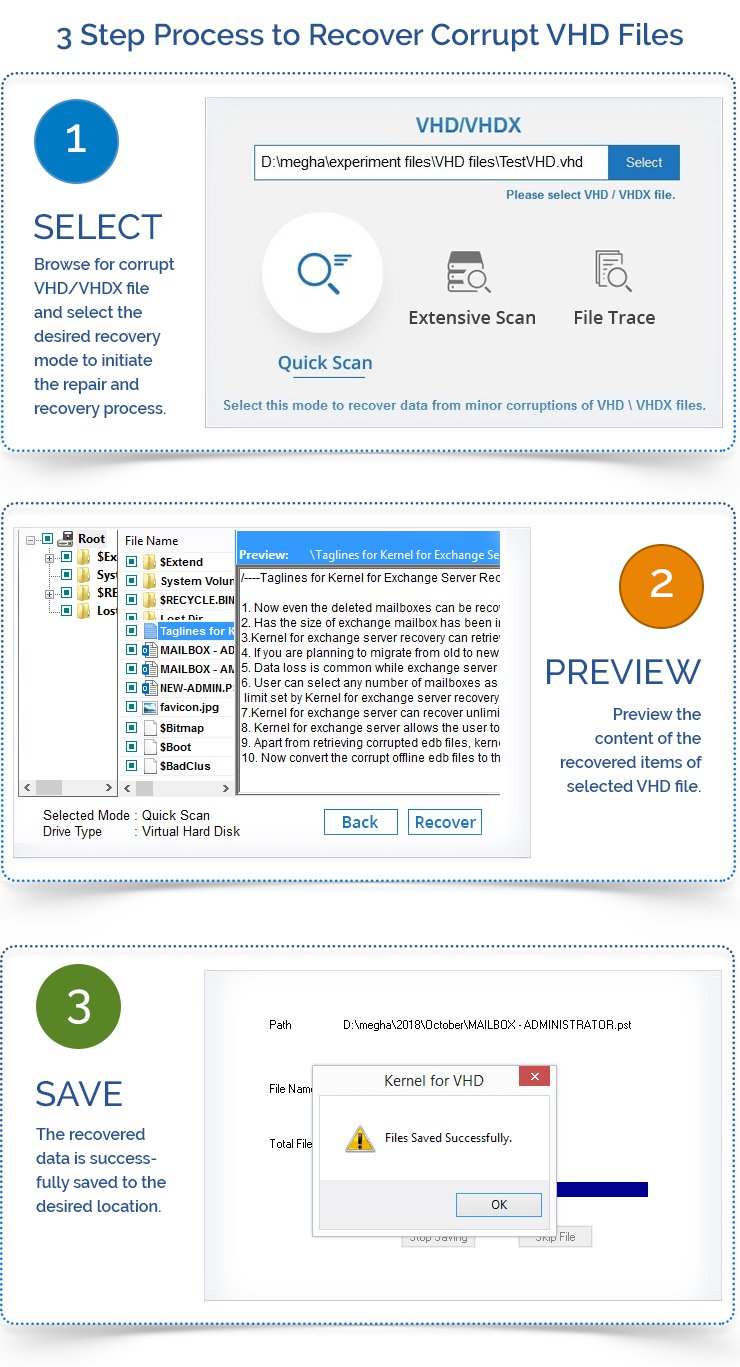 Moreover, Kernel for VHD Recovery is a powerful and sophisticated tool that has been designed to repair and recover data from corrupt or damaged virtual hard drive files. The key features of this tool are as follows:
It supports recovery from both dynamic and static virtual drives.
It can repair virtual hard drive files that have been corrupted due to virus attacks, power surges, sudden shutdowns, etc.
It offers a preview of the recovered data before saving it.
It supports all major versions of the Windows operating system.
It has a simple and user-friendly interface.
Final Words:
There are many manual VHD recovery methods for repairing VHD files. . In this post, we have walked you through the process of fixing a VHD or VHDX file that is corrupted and unreadable. This can be a difficult error to fix, but with the right tools and some patience, you should be able to get your files up and running again.
Also, you can go for the Kernel that helps you fix these difficult errors. The software has a user-friendly interface that makes it easy to use, even for novice users. With its help, you can easily restore your corrupt or inaccessible VHD files in just a few clicks. So don't hesitate to try this software if you are facing any issues with your VHD files.