Corruption of VHD files can lead to loss of essential files and folders including the boot files. Let's discuss what this VHD file is all about, its reasons for corruption and how can you solve it using PowerShell commands locally on your machine.
Know VHD File
VHD is a format for Virtual Hard Disk Drive. It is primarily used for backing up a system image. The data on your hard drive can also be stored to VHD. But a VHD file is vulnerable to corruption issues that make it unavailable to be used on a Virtual Machine.
Reasons for VHD File Corruption
There could be many possible reasons for corruption of VHD files, like:
Virus infection: It is a very common reason behind corruption of VHD file. Once a system is attacked, it ruins files on the system including the VHD files.
Failure of storage media: Due to corruption or failure of storage media, the files become inaccessible, and with that VHD file also gets corrupted.
Abrupt system shutdown: Accidental or sudden closure of your computer can cause severe damage to software and hardware of your PC. Also, if the Virtual Machine is active at that moment, then it may lead to the corruption or damage of VHD file.
Paused state of Virtual Machines: If we do not notice the early signs of VM (Virtual Machines) failure or paused state of Virtual Machines, it leads to VHD file damage.
Due to human errors: Intentional/accidental deletion or removal of stored files, registry modification errors, force shutdown of the system, and improper disk management are some of the human errors that can damage VHD files.
Repair Your VDH File Using PowerShell Commands
Many VHD repair methods can be performed to restore your virtual hard disks after corruption issues. Here, the commands used to scan and restore the VHD file are explained one by one.
1. Command to scan an image for corruption
Command: Dism /Online /Clean-Image /CheckHealth
Description: This command scans the file completely to check for corruption.
2. Command for checking an image for corruption
Command: Dism /Online /Cleanup-Image /ScanHealth
Description: This command will check whether the image file is corrupted or not and will specify whether it can be repaired or not.
3. Command for repairing and restoring from corruption
Command: Dism /Online /Clean-Image /RestoreHealth
Description: This command will automatically perform the repair if it finds corruption.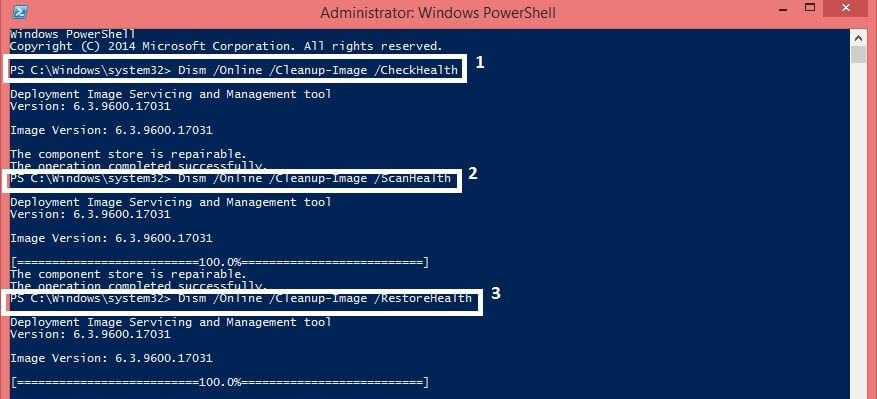 Simpler Method to Fix VHD Corruption
The manual techniques to repair VHD files from damages and corruption are not that easy; sometimes even PowerShell commands do not work. In such a case, it is best that you go for a third-party tool, Kernel for VHD Recovery. It is a professional tool specially designed to recover VHD files from severe corruption and damages. The important features of the VHD Recovery tool include recovery of lost and permanently deleted files, retrieval of data from corrupt VHD partitions, quick file searching for specific files after recovery, user-friendly and interactive GUI, and more. Hence, I strongly recommend using the trial version of this software to experience the features and decide for yourself.