Kernel VHD/VHDX Viewer
Preview complete content residing in VHD and VHDX files.
*Download absolutely free software and open corrupt VHD/VHDX files
Opens and displays healthy or corrupt Virtual Hard Disk files
Makes all files available for preview- images, docs, pdfs, etc.
Three scanning modes – to display even VHD files with severe corruption
Deals with severely corrupted, permanently lost VHD/VHDX files
Option to search for specific files after the preview
Clear, spacious and flexible Preview facility for content
Support for both NTFS and FAT file systems
Compatible with latest versions including Windows 10 & Hyper-V Server
Client Testimonial

I was facing a serious issue with VHD file mount as I was in urgent need of accessing data which was failing every time I tried. Finally, I used this tool, and it is truly an amazing utility to view VHD/VHDX files.


Kernel VHD/VHDX Viewer software truly is the best. I have used till date in my professional career of 20 years. Thank you for developing this outstanding tool and offering services without any hassle.

Nicholas Pugh,
South Africa
Prestigious Clients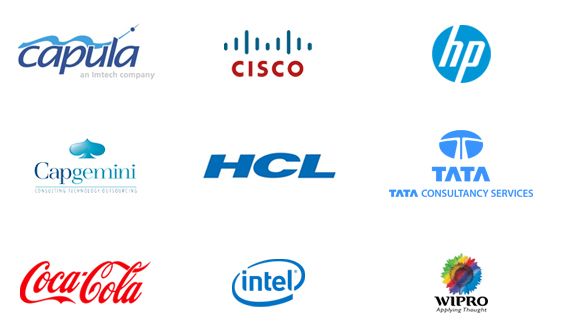 Salient Features

View VHD/VHDX Data
Free VHD Viewer tool helps you open and view the files and documents of even corrupt VHD/VHDX files including documents, media files, and database files.

Easy-to-Work Interface
Kernel VHD/VHDX Viewer tool is designed with an easy and attractive Graphical User Interface. Novice, as well as trained users, can work with VHD Viewer tool efficiently.

3 Scanning Modes
Free VHDX Viewer tool has 3 scanning modes. Quick Scan mode for normal scanning, Extensive Scan mode for minor corruptions and File Trace mode for scanning severely corrupted files.

Detailed Preview
Users can view the desired file in the Preview pane simply by selecting it. You can view the files and documents as they are on a Windows machine.

Find Specific Data
With the Find option of the software, users can search for files in the VHD files. VHD Viewer tool will find and display all the files that match the search criteria. You can preview these files after they are found.

Wide Support
The tool supports all Windows Operating Systems including Windows 10, Windows 8.1, Windows Server 2019, 2016, 2012/R2, 2008/R2, and Windows Vista. Free VHDX Viewer tool has full compatibility with Hyper-V Server too.
Steps to View VHD/VHDX Files
Kernel VHD/VHDX Viewer is a free tool to open and see Virtual Hard Disk files (VHD and VHDX). It scans the VHD/VHDX files in three steps: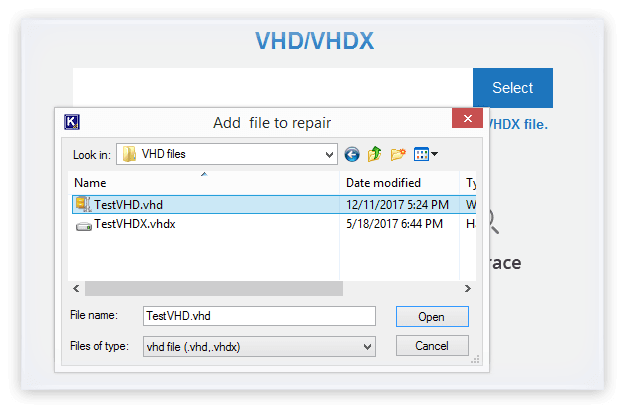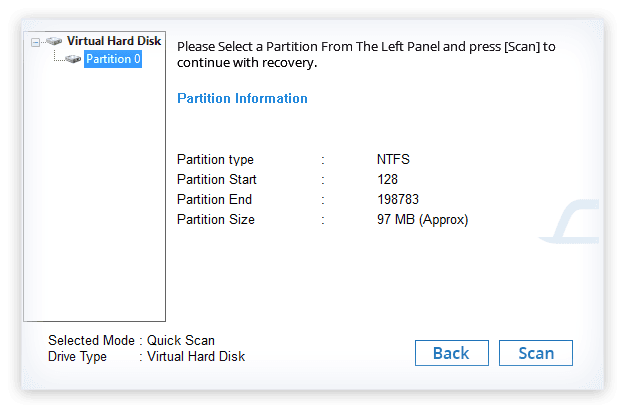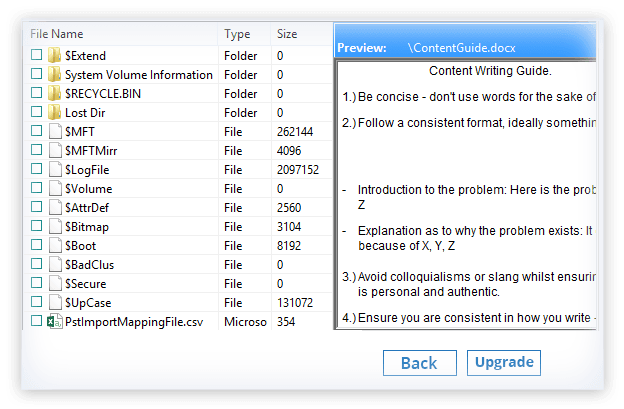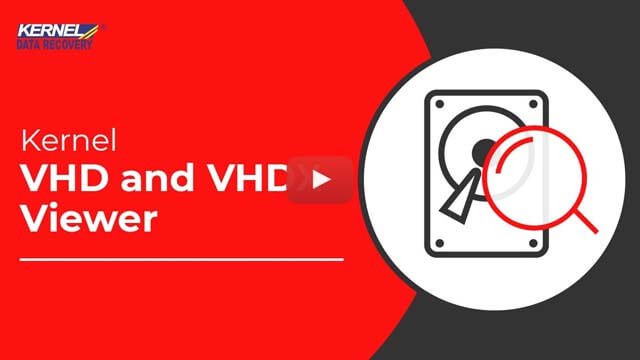 Software Specifications
Memory + Hard Disk128 MB Minimum
50 MB of disk space
Software

Delivery & Version
Upgrade Kernel VHD/VHDX Viewer
| | Freeware | Home License | Corporate License |
| --- | --- | --- | --- |
| Software Features | Download Free | Upgrade $99 | Upgrade $199 |
| License Uses | Freeware | Multiple Machines at Single Location | Multiple Machines at Multiple Location |
| Recover corrupt, dismounted and deleted VHD/VHDX files | | | |
| Offers preview of VHD and VHDX file data | | | |
| Displays images, documents, audios, videos and pictures | | | |
| Find option to search for specific files | | | |
| Retains full meta properties and content structure | | | |
| Displays data in VHD files created using Hyper-V Server, Windows Server 2012, Windows Server 2016 etc. | | | |
| Supports both FAT (16, 32) and NTFS (4, 5, 8) partitions | | | |
| Compatible with all Windows Platforms including Windows 10 | | | |
| Saves recovered VHD/VHDX file data | | | |
| | Download Free | Upgrade $99 | Upgrade $199 |