Read time 3 minutes
Stability of virtual machine is extremely necessary for the maintenance of VHD files. If we ignore the early signs of virtual machine failure, we may consequently lose our critical VHD files. One of the most commonly observed errors is the paused state of the virtual machines. User must take immediate action against this issue in order to avoid the disastrous consequences. Here in this blog, various reasons behind this paused condition of virtual machines along with remedies has been explained.
About "Paused Sate" of Virtual Machines
After the installation of Hyper-V role on the operating system (Windows Server 2008/2008 R2), when user tries to create virtual machines to store virtual hard disk files on local hard drive an error occurs stating that the operation has been paused. This error also occurs when multiple snapshots of virtual machine have already been taken and an attempt has been made to add more snapshots. The error somewhat looks like this:

To verify the error, when user opens the Hyper-V Manager then the following state appears: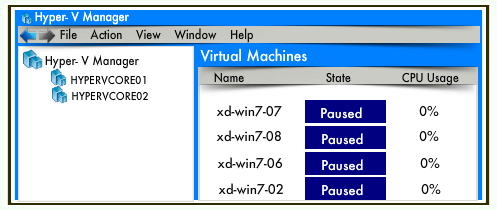 Along with the above error an event regarding it is added in MS-Windows-Hyper-V-VMMS-Admin log, like mentioned below: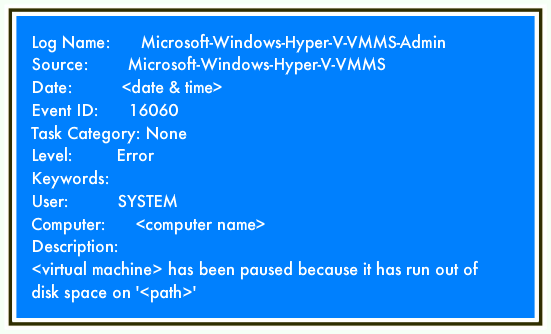 Reason behind "Paused Sate" of Virtual Machines
When the Cluster Shared Volume on which the Virtual Machines are configured runs out of space, it leads a paused state.
Remedies for the "Paused Sate" of Virtual Machines
The obvious solution this issue is to free the disk space on the virtual hard drives. Also, you can think of moving the VHD files to a different location.
NOTES: Before moving the VHD files to another location, user must consider these following points:
User must possess files and folder accessing power or permission to move the VHD files
User must relocate the VHD files and other files related to VMs at one place for better management
User must check the relationship status of the virtual hard disk before dismounting the VHD files.
User must check the storage properties of the virtual hard disk to ensure whether the virtual hard disk data has been stored in VSV files (in saved state) or VHD files format
User must possess appropriate license of the operating systems and applications used over the virtual machine
User should not copy and move any VHD file when it is in open state via a virtual machine
User should not dismount the VHD file associated with the domain controlling virtual machines
Upon dismounting the VHD files, user must update the general virtual machine properties and change location information of the virtual hard disk
User must merge the undo disk or differencing disk before commencing relocation of VHD files, if the undo disk feature is on
In case there are other issues related to VHD files or if they have become inaccessible, then try Kernel for VHD Recovery tool to fix those issues and access your VHD files easily.