Read time 5 minutes
Summary: Explore the common reasons behind difficulties in opening PST files and discover solutions to regain access. This informative guide delves into the causes of PST file inaccessibility, shedding light on corruption, damage, and other factors. Learn about a robust third-party tool, Kernel for Outlook PST Repair, designed to efficiently repair corrupt PST files, retrieve data, and overcome size limitations. With this insight, you can resolve PST file accessibility issues and restore your Outlook experience.
One common issue encountered by Outlook users is the appearance of an error message that hinders the display of emails, contacts, drafts, to-do list items, and more. This error message typically surfaces when a user logs into their Outlook account and reads as follows:
"Unable to display folder. Microsoft Outlook could not access the specified folder location. Errors were detected in file C:\WINDOWS\Local Settings\Application Data\Microsoft\Outlook\Outlook.pst. Close all mail-enabled applications, then use the Repair Tool inbox."
At times, Outlook users may encounter this error message upon launching the application, often without a clear understanding of its underlying cause. What they do know is that this error prevents them from accessing their PST files.
Reasons for the 'Unable to Open PST File' Issue
Don't fret about encountering this error message. This article will shed light on what the error message signifies, why it arises, the reason behind your inability to open PST files, and how to resolve it. Microsoft Outlook generates this error message when issues arise with the PST file, where emails, contacts, drafts, etc., are stored. The error preventing you from opening the PST file can occur due to the following reasons:
PST has been damaged, corrupted or lost.
Outlook application crashes due to hardware failure or power failure
Hard disk or Windows crashes
PST has crossed the max size limit, which is 2GB in Outlook 2003 and earlier versions
Reasons like unexpected system shut downs, virus attacks, Outlook errors, etc.
The error typically occurs when the PST file is damaged, causing MS Outlook to either lose track of the file's location or have difficulty understanding its format. As a result, Outlook cannot display emails, contacts, notes, tasks, etc., in your profile. In response to this error, Outlook advises closing all email applications and utilizing the Inbox Repair Tool.
The Manual Approach to Repair the Damaged PST Files
Here, you might be thinking that what an Inbox Repair Tool is and why MS Outlook suggests using this tool. The Inbox Repair tool is a repair utility provided to Outlook users by Microsoft for free. When MS Outlook is installed, the Inbox Repair tool (also called scanpst.exe) gets installed on your computer. The Microsoft provided utility enables you to repair the damaged PST file and helps you access your emails, notes, contacts, etc. with your Outlook profile.
Depending on the version of MS Outlook and Windows operating system, the location of Inbox Repair tool varies. Moreover, you cannot see this freeware repair tool in the Programs menu of your Windows operating system; therefore, the easiest way to find the tool is Windows built-in search feature.
Fix PST File Using SCANPST.EXE
Step 1: Exit all Outlook services and browse any of the following locations to find ScanPST.exe.
Outlook 2019: C:\Program Files (x86)\Microsoft Office\root\Office16
Outlook 2016: C:\Program Files (x86)\Microsoft Office\root\Office16
Outlook 2013: C:\Program Files (x86)\Microsoft Office\Office15
Outlook 2010: C:\Program Files (x86)\Microsoft Office\Office14
Outlook 2007: C:\Program Files (x86)\Microsoft Office\Office7
Step 2: Double-click on the ScanPST.exe to open the Wizard.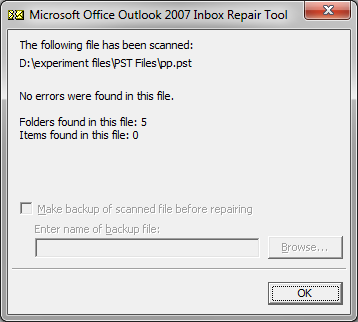 Step 3: Select the PST file that you want to repair.
Step 4: Click Start to begin and select Repair if the scanning finds errors; it will start to fix them one by one.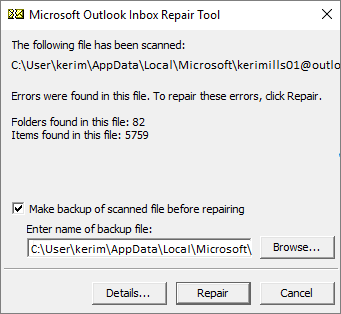 Is the Outlook Data File That You Repaired is in its Original Structure?
In the folder structure of Outlook, you might see a Recovered Personal Folders which stores default Outlook folders and a Lost and Found folder. Lost and Found folder is the folder that contains folders and items that were repaired by ScanPST.exe tool, which Outlook can't replace in their original structure.
So, to get back all repaired data to its original structure, you will have to create a new data file.
Step 1: Create a new Outlook data file.
Step 2: Drag the items in the Lost and Found folder into a new data file
Step 3: Now, you can remove the Recovered Personal Folders file along with Lost and Found folder.
Use a Professional Tool
The Inbox Repair tool successfully repairs the damaged PST file when there is less corruption in the PST. Therefore, if you cannot open PST file even after using the Inbox Repair tool, there is no need to be hopeless. You can use third party tools that are still there to help you.
Kernel for Outlook PST Repair is a reliable third-party software designed for effective Outlook PST recovery. This tool efficiently repairs corrupt PST files, regardless of their size, and retrieves emails, notes, contacts, tasks, and more in their original formats. It allows you to preview PST file content before saving it to your preferred location. Compatible with all MS Outlook versions and Windows OS, this tool has no PST file size limitations.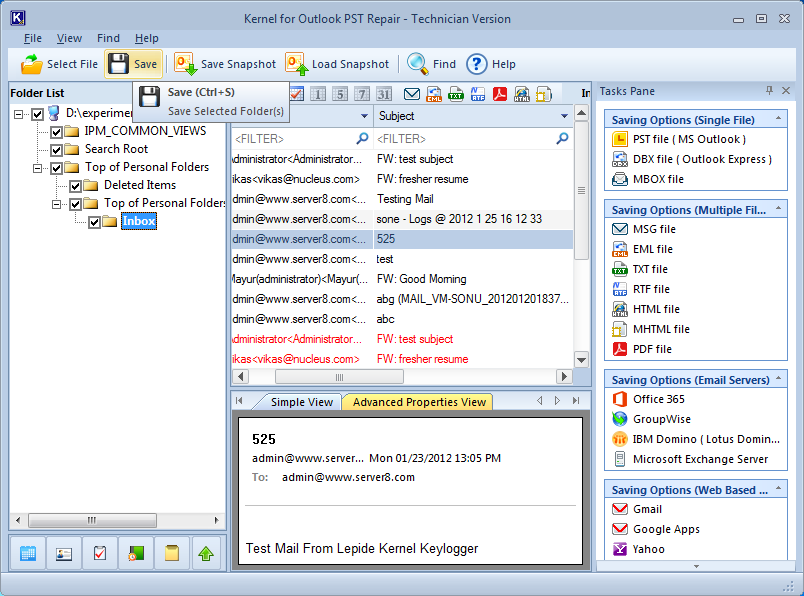 Concluding Words:
At times, Outlook users find themselves unable to access their PST files due to corruption or damage. The above-mentioned methods like Inbox Repair tool or professional repair tool will help you to open your PST file successfully. With these solutions, you can regain access to your stored data in Outlook and resume your email activities smoothly.