A Completely User-friendly Experience

Recovering your lost files and folders is as easy as 1-2-3… Free Data Recovery software has neat and interactive interface that makes it as an easier and faster recovery tool, without having any prior experience. Recover your lost files in just three simple steps:

Select
Select the drive/partition you want to scan using any of the three scan modes: Quick Scan, Extensive Scan, and File Trace.
Preview
Preview the recovered files and folders after the scan. The recovered files are displayed in a tree-like structure. Select the file that you want to open and view it immediately in the preview pane.

Save
You can save all or selected files after recovery. You can freely save the files to your desired location on the PC
Features of Free Data Recovery Software
Permanently Deleted File Recovery
Recover your lost and deleted files effortlessly, whether deleted accidently or deleted permanently from Recycle Bin folder or using Shift + Delete Keys. Kernel for Windows Data Recovery Free Version is designed to help you retrieve lost data at no cost, after an accidental or intentional deletion.
Photos, Audio, Video File Recovery
Free Data Recovery software allows smooth recovery of all multimedia files such as your photos, movies, videos, songs, etc., without deteriorating the quality of the files. It supports almost all types of media formats, so that you can recover important data without worrying about its file type.
Document, Email and Database Files Recovery
Recover your valuable data – like documents (doc, xls), email files (PST, MSG, EML, DBX), database files, internet files, archive files (RAR, ZIP), just the way it was.
Corrupt Disk/Drive Partitions Recovery
The solution scans your corrupt hard drives/disk partitions using its intelligent scanning modes and extracts every bit of data from them. It ensures complete recovery of files and folders from your available drives – both physical and logical drives (C: / D: / E: / F:) and restore them as it is.
Preview Lost Files Before Saving
Get a complete preview of recovered files even before you restore them. This allows you to open and view the files within the software console, so that you can rest assured about its data integrity. Once you're satisfied, you can proceed towards the saving option.
Completely Safe and Secure Recovery
Kernel for Windows Data Recovery Free Version provides 100% safe and secure data recovery without altering the original file properties. The solution can effectively recover data files from any Virus, Trojan and Malware attacked partitions.
Instant File Searching
You can instantly search any type of files after the recovery with its file name or file type (in any pattern), using 'Find' functionality. This functionality is so powerful that it displays all the files that containing that searched keyword. The total item count of searched files is also provided in the search box. You can select all/specific file(s) and save them directly to the desired location.
Recovery from Removable Drives
You can smoothly recover your lost data files from any type of external devices (like external HDD, iPod, Memory Card, USB flash drive) using free data recovery software. Most importantly, you can also recover Mobile phone data when connected in with your computing machine. It supports almost all memory card manufactures (like Samsung, Canon etc).
Save Files for Free
This Free Windows Data Recovery allows free data saving facility, without shelling a single penny. It supports recovery from all file systems including FAT 16, FAT 32, NTFS, and NTFS5. It also ensures accurate recovery of all sort of data files, and folders (including deleted ones) in their original formats and structure.
Supported Versions
Supported File Systems
FAT12, FAT16, FAT32, NTFS, NTFS5, EXFAT
Supported Graphics File Formats
JPEG Graphics file(.jpg/jpeg), Adobe Photoshop file(.psd), Adobe Illustrator file(.ai), Corel Draw Corel RAVE Image file(.clk), COREL Draw file(.cdr), Corel Presentation File(.shw), Corel Draw Vector Image file(.cmx), ANI file(.ani), Bitmap file(.bmp), Paint Shop Pro file(.psp), Canon Raw graphics file(.crw), 3d Studio Max file(.max), Portable Network Graphic file(.png), Quattro Pro 7 File(.qpw), Tagged Image File(.tif), Cursor file(.cur), Enhanced Metafile(.emf), Freehand 10 file(.fh11), AutoCAD Drawing file(.dwg), AutoCad DX File(.dxf), Encapsulated Postscript file(.eps), Icon file(.ico), GIF graphics file(.gif)
Supported Document File Formats
Microsoft Word Document(.doc), Microsoft PowerPoint Presentation file(.ppt), WordPerfect Documents and Graphics v8(.wpg), Microsoft Publisher Document(.pub), WordPerfect file(.wpd), Microsoft Excel XML Documents(.xls), Adobe Portable Document(.pdf), Microsoft Project file(.mpp), Microsoft Visio Drawing(.vsd), Microsoft OneNote file(.one), 3DS file (.3ds), Rich Text Document(.rtf), HTML Documents file(.htm/.html), MOF file(.mof), True Type Font file(.ttf), Help file(.hlp)
Supported Archives File Formats
RAR compression file(.rar), Zip compression file(.zip), GZIP compression file(.gz), Cabinet file(.cab), TAR archive file(.tar), LZH compression file(.lzh), CHM file(.chm), CSL file(.csl)
Supported Multimedia File Formats
MP3 Music file(.mp3), WAVE Multimedia file(.wav), 3GP Multimedia file(.3gp), MP4 Multimedia file(.mp4), Audio Streaming Format file(.asf), MOV Multimedia file(.mov), AU file(.au), WMF Multimedia file(.wmf), Audio Video Interleave file(.avi), ShockWave Flash file(.swf), Musical Instrument Digital Interface file(.mid
Supported Email File Formats
Outlook Email file(.pst), Outlook Express Email file(.dbx)
Supported Database and Financial File Formats
Access Database file(.mdb), Access Project file(.adp)
Software supports data recovery from:
Supported Storage Devices
iPod, Micro Card, Secure Digital Card, Compact Flash Card, Memory card/Memory stick, USB Flash drive, Zip drive, Floppy drive, USB HDD, External HDD, FireWire HDD, SATA HDD, DE HDD, SCSI HDD, SSD, Hardware RAID, Other storage devices
Supported Memory Card Manufacturers
Samsung, Sony, Canon, Panasonic, SanDisk, Transcend, FujiFilm, Kingston, Olympus, KingMax, HITACHI, Toshiba, SimpleTech, Lexar, ATP, PQI, Apacer, A-Data, PNY, PRETEC, Delkin Devices, Qmemory, OCZ Flash Media, Viking, and almost all digital camera memory card brands in the market
Supported Operating Systems
Windows 10/8.1/8/7/Vista/XP/2000/98/NT/95 and Windows Server 2012/2008 R2/2008/2003 R2/2003
Show more
Version Comparision
Software Features

Freeware

Home License

Corporate License

Recover Windows Data
Data recovery limit
2 GB
Unlimited
Unlimited
Deleted Data Recovery
Recovers deleted, lost, or missing files/folders
Data Recovery after Formatting
Recovers data lost due to hard drive formatting
Lost Partition Recovery
Recovers data after Windows partition losses
File System Recovery
Recovers from corrupted Windows file systems (FAT/NTFS)
Document File Recovery
Retrieves deleted MS Word, Excel, PowerPoint files
Multimedia Recovery
Recovers deleted media files like video, audio, photos, & images
Email Recovery
Retrieves deleted email files like PST, MBOX, DBX, etc.
Removable Device Recovery
Restores data from removable storage devices like pen drive, external hard drive, etc.
Drive Recovery
Restores data from IDE, EIDE, SCSI, SATA, PEN, and ZIP drives
Stop/Resume Recovery
Allows to pause the ecovery process and resume later
For all Windows versions
Supports recovery from all Windows OS versions
Cost

Money-Back Guarantee

Feel Free to Purchase Kernel tools! We are committed to 100% customer satisfaction and thus we provide 30 days money back guarantee.

View details...

100% Secure Transaction

We assure you to keep your transaction 100% secure. We have SSL certificate and therefore, your transaction and personal details are safe with us.
1. Select a Recovery mode to begin the scanning process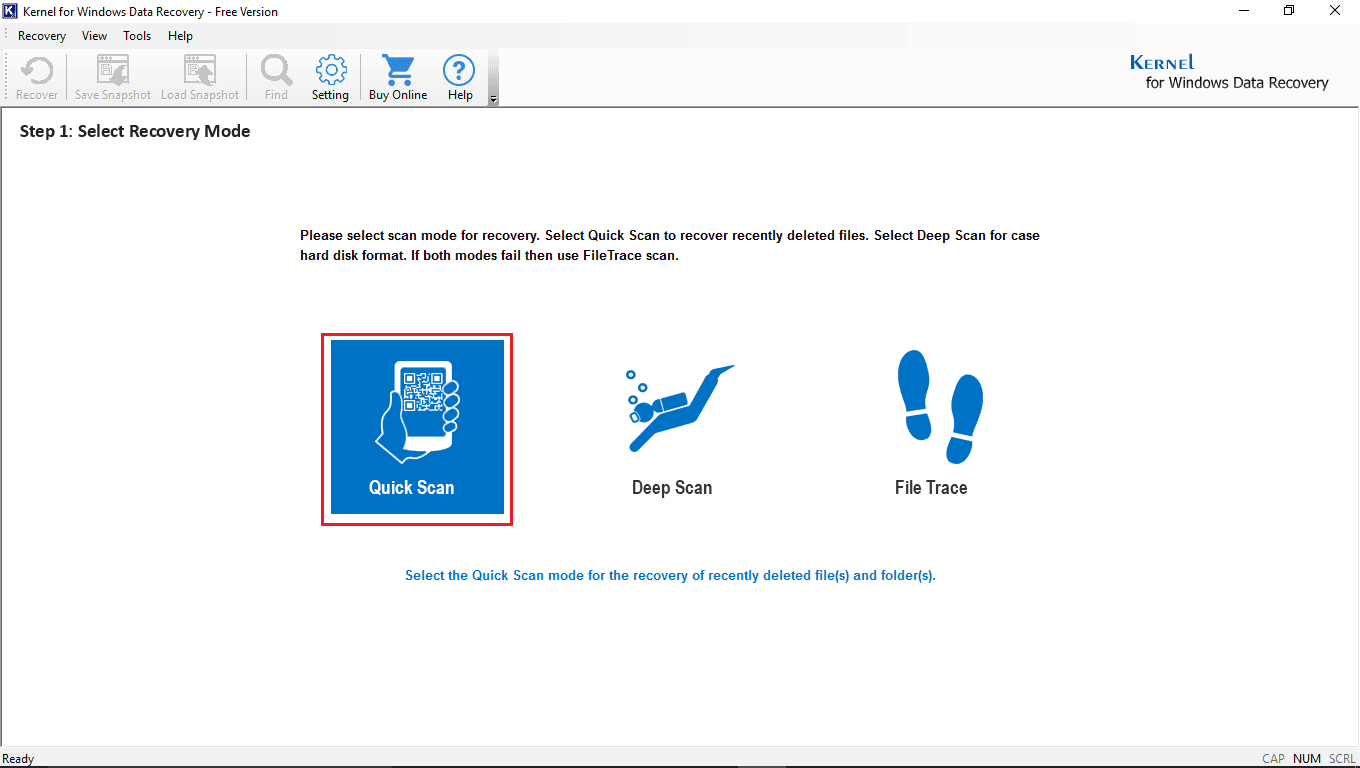 2. Select the relevant drive to recover data files and folders.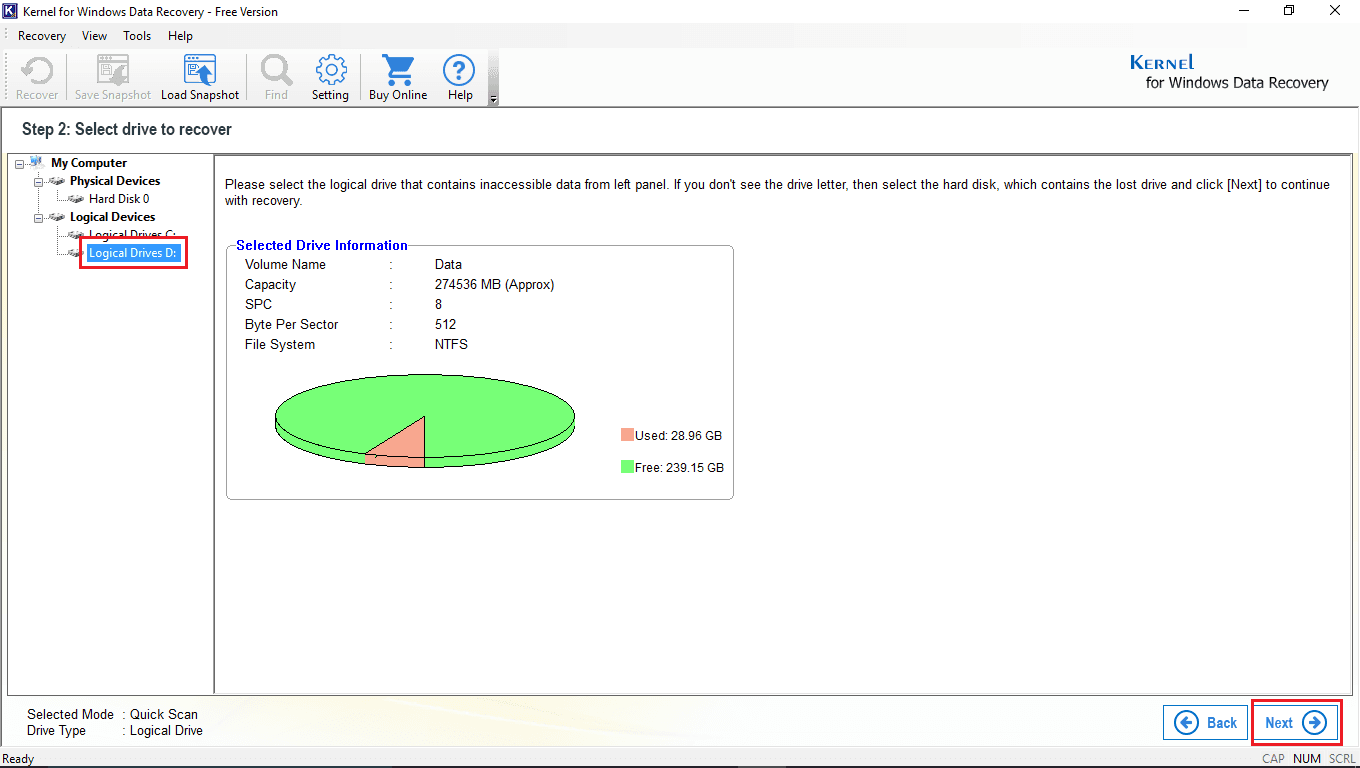 3. Search in progress – to find all data files on the selected drive.
4. The recovered data is displayed after scanning. In case the required files are not recovered using the Quick Scan, then you can use the other scanning modes (Deep Scan or File Trace) to recover them easily.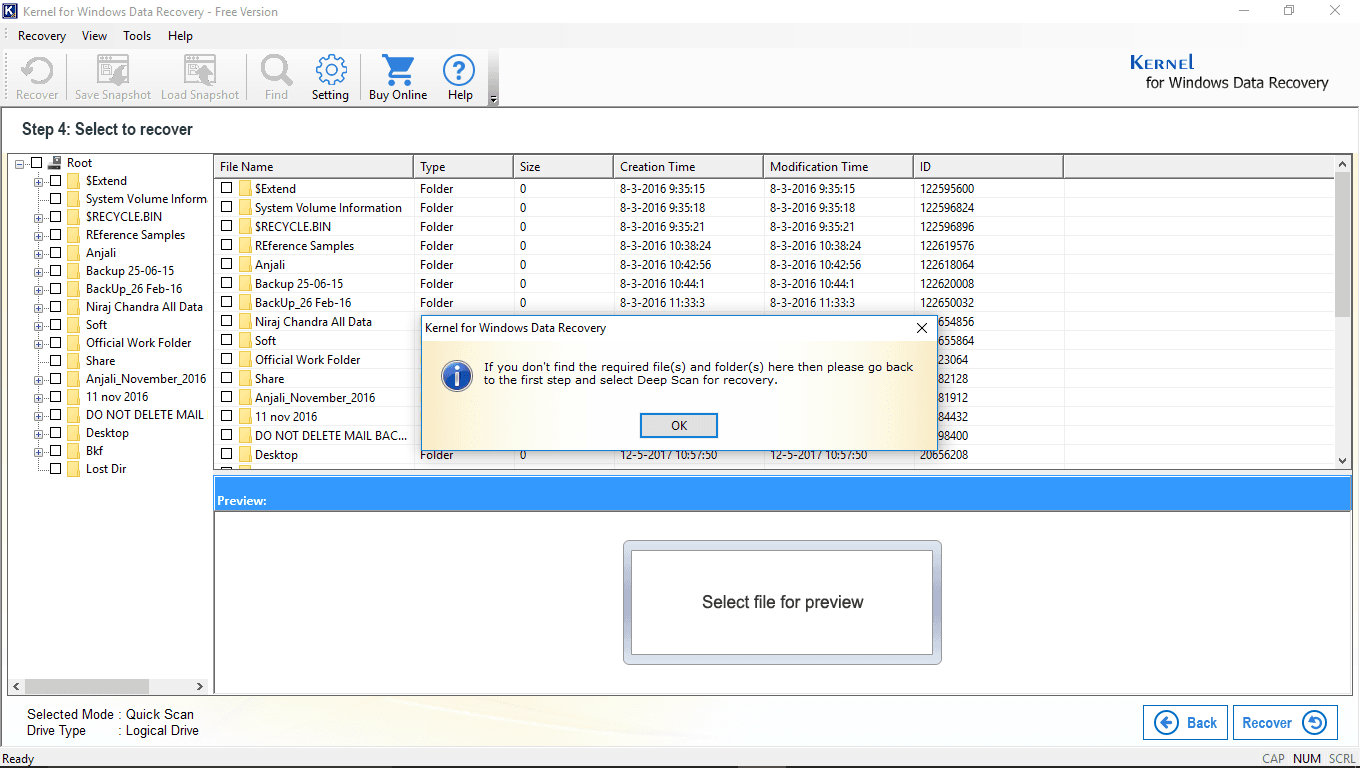 5. Select and preview the recovered file within the software console.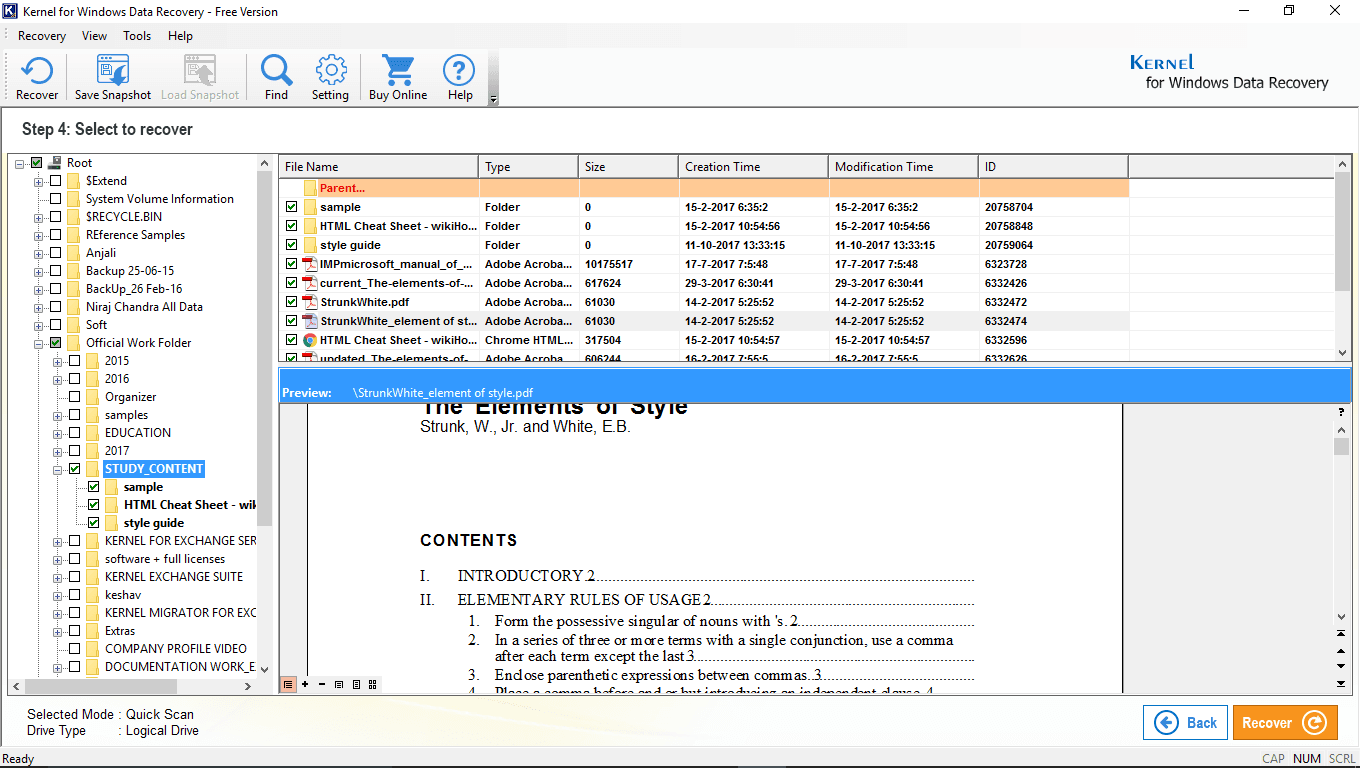 6. Use 'Recovery Settings' option to recover the required files according to your needs.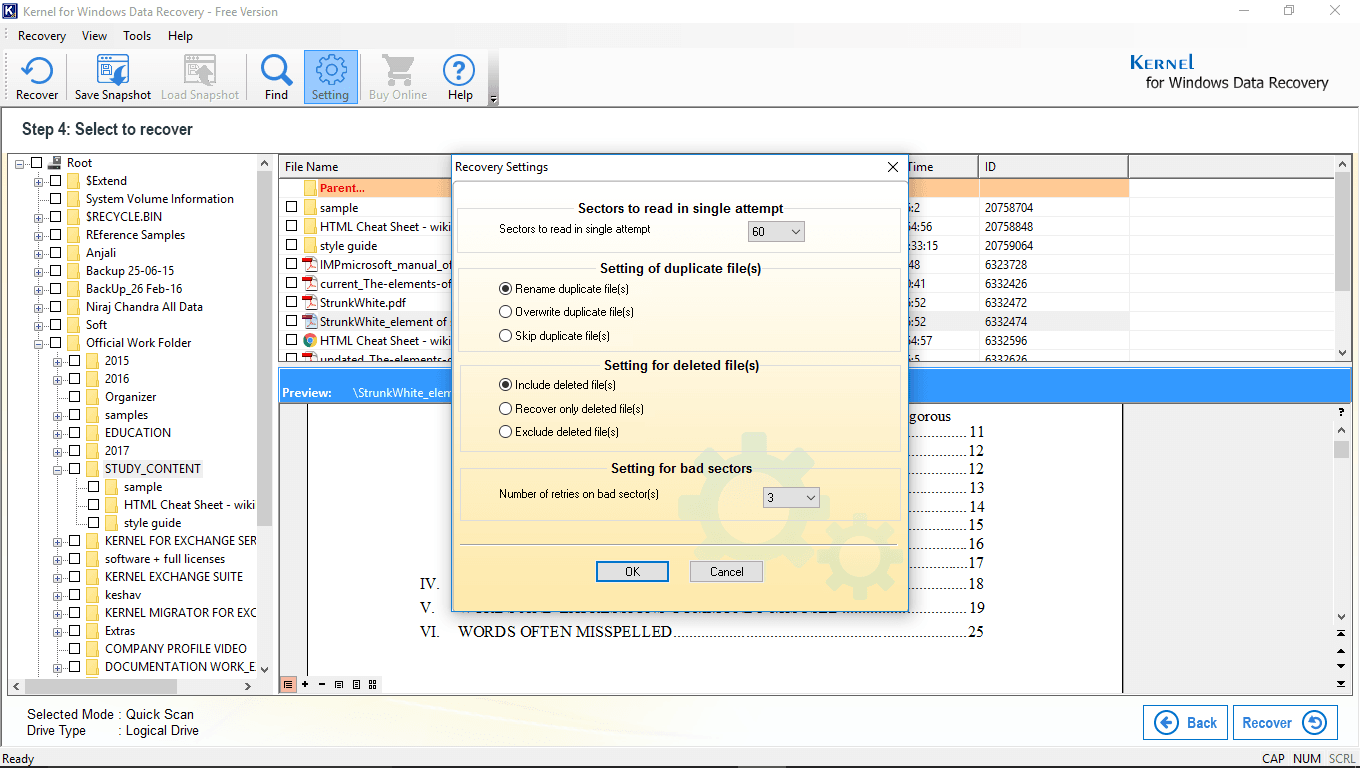 7. Search any specific file immediately using Find file(s) button.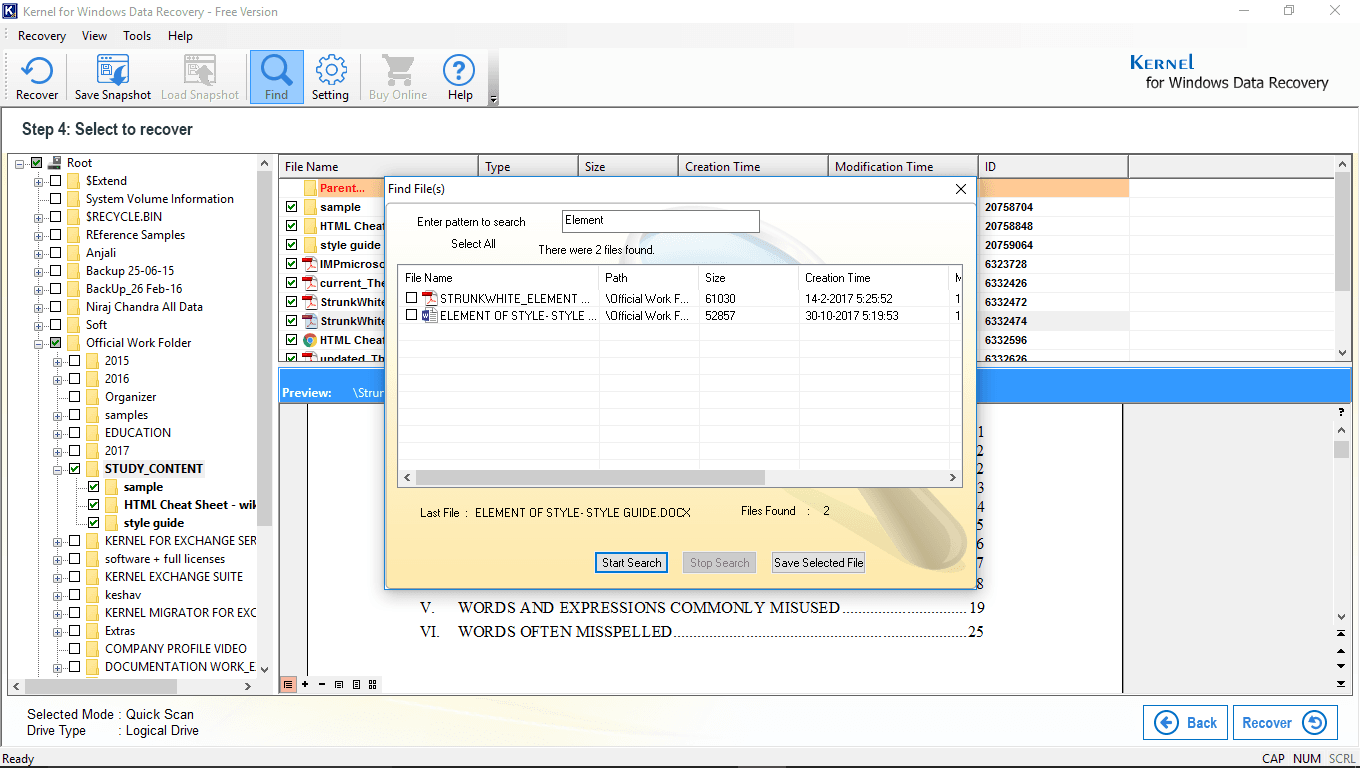 8. Provide the path wherein you want to save the recovered files and folders.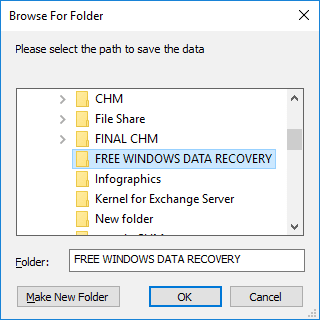 9. The recovered files are successfully saved at the user-defined location.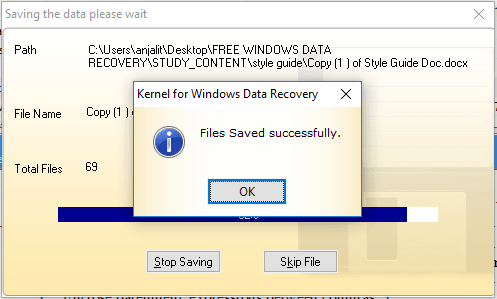 User
Reviews & Ra

tings

(198)