Read time 5 minutes
Want to know where you can find Exchange Server and Outlook-related solutions in one place? Then get ready to experience the features and functions of the advanced tool – Kernel Exchange Suite that cater to all your Exchange repair, recovery, and migration requirements.
First, let us go through the most general needs and challenges faced by Exchange Server, Outlook, and Cloud users.
Regular Requirements of Exchange Server/Outlook Users
Dealing with corrupt Exchange Server database and performing accurate data recovery
Need to migrate Exchange Server to another version or Office 365 due to factors like company switch, mergers, acquisitions, environment transfer, etc.
Recovering data from corrupt Outlook PST files
Cross-domain and same domain Exchange Server migrations
Support to on-premises, hosted, and cloud Exchange deployments
Need for Cloud backup to PST, migration to Exchange Server /Office 365 plan or migration between Office 365 tenants
Manage Exchange mailbox sizes and limits, PST file sizes, Cloud mailbox sizes.
Need to recover orphaned, corrupted OST file content and its migration to the desired destination
It is quite a difficult task to fulfill all the above requirements utilizing the different native ways, which most of the time prove unsuccessful or cause other errors and corruption. And it would also be quite cumbersome to have multiple professional applications on your system to deal with each challenge or requirement individually, as it would be difficult to maintain for most users.
Do not worry! We have the right solution for you. Check the all-in-one Kernel Exchange Suite application developed as a single platform to fulfill multiple requirements like PST recovery and export, Exchange recovery and migration, Cloud backup and migration, OST recovery and export, etc., in an automated manner with smart filters and an intuitive user interface.
Reasons to choose Kernel Exchange Suite
Given below are the functions of the advanced Kernel Exchange Suite tool that are useful for Exchange Server administrators and users.
Exchange EDB file recovery and export
Exchange OST file recovery and import
Outlook PST file repair and import
Microsoft 365 and Exchange Server migrations
Exchange Server database backup extraction
Other functions – Preview, Operation Log, Attachment Extraction, Multilingual Support, Search option, etc.
Exclusive features of Kernel Exchange Suite
Kernel Exchange Suite has many features to help the Exchange Server, Outlook, and Microsoft 365 users deal with tasks where data recovery, restoration, export, or migration are needed. Let us know its uniqueness through the user interface of the software.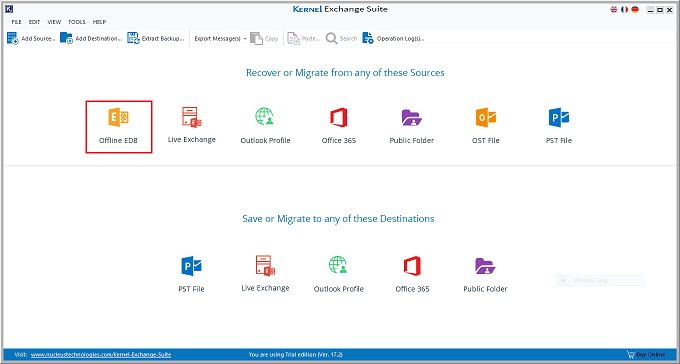 Source to Destination Processes
Offers corrupted/inaccessible offline EDB file recovery and saving to PST, live Exchange, Outlook profile, Office 365, Exchange/Office 365 public folder
Migrates live Exchange data to PST file, another live Exchange version, Outlook profile, Office 365, Exchange/Office 365 public folder
Outlook profile content transfer to PST, live Exchange, Outlook profile, Office 365, and public folder
Office 365 data migration to PST, live Exchange, Outlook profile, Office 365 (another tenant), and Office 365/Exchange public folder
Exchange/Office 365 public folder migration to Exchange/Office 365, PST, or Outlook profile
Recovery of inaccessible or corrupted OST file content and migration to PST, live Exchange, Outlook profile, Office 365, and public folder
Complete repair of Outlook PST file and its export to new/existing PST file, live Exchange, Outlook profile, Office 365, and public folder
Automated Search for EDB Files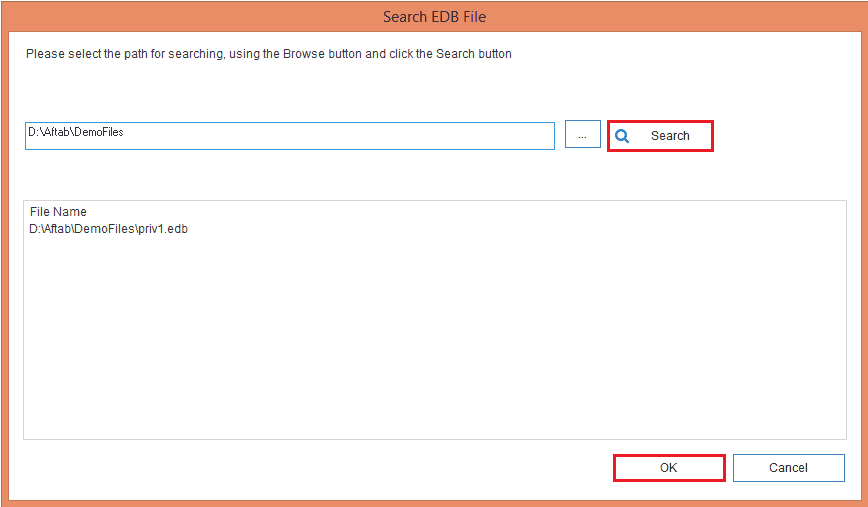 The tool has an intuitive Search option, which automatically retrieves the required database file (EDB, PST, or OST) from the specified system drive for further recovery or migration or other operation as intended by the user.
Advanced scanning of added files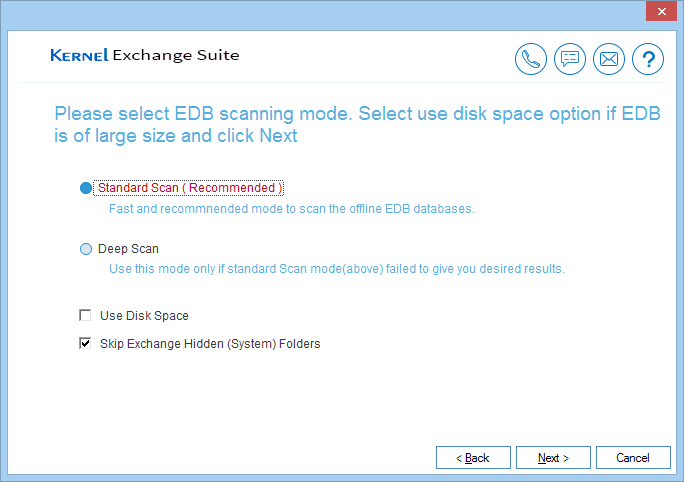 The Kernel Exchange Suite offers two scanning modes for added database files-
Standard Scan – It is recommended as the first scanning mode.
Deep Scan – This scanning mode should be used when desired results from the Standard scan have not been achieved by the user.
Note- The tool lets to use the Disk space and skip Exchange hidden (system) folders.
Specially designed interface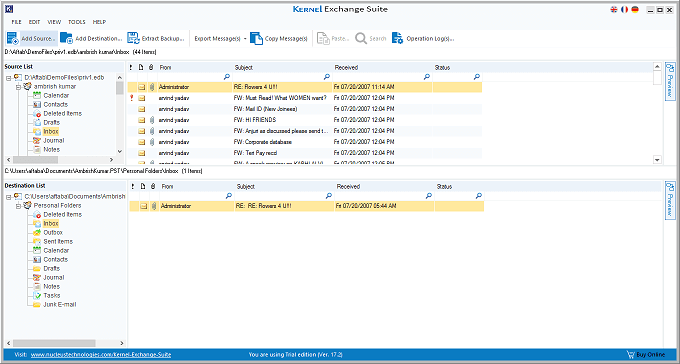 Kernel Exchange Suite has a specially designed interface with both the source and destination shown on the same interface. It offers facilities like preview, drag & drop of mailbox items from the source to the destination, and options like export folder, export mailboxes, export messages, and copy messages.
Migration Logs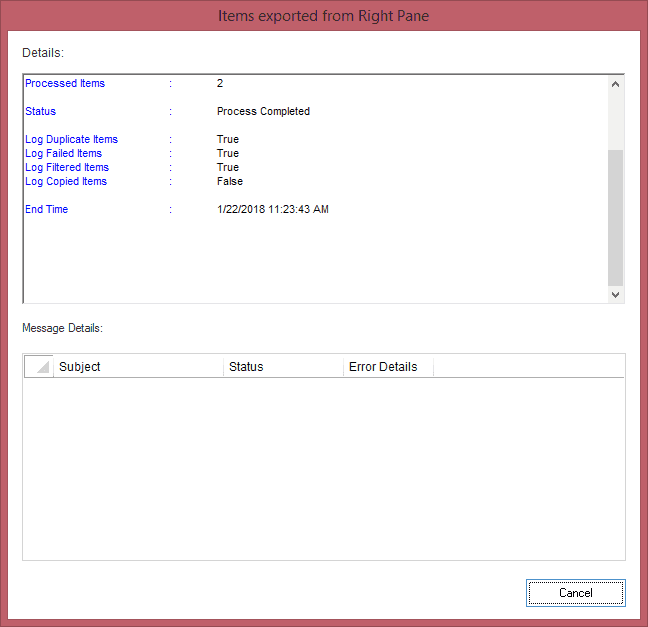 Once the export or migration is completed, a log is generated with information like Processed Items, Status, Log Duplicate Items, Log Failed Items, Log Filtered Items, Log Copied Items, End Time, Message Details, etc.
The above-explained features of the advanced Kernel Exchange Suite help Exchange administrators to perform all their tasks. It has advanced filter options and supports all Exchange Server/Outlook/ Windows OS versions, and Office 365 plans. You can experience these features by opting for the demo request or downloading the free trial version from the official website.
Conclusion
Kernel Exchange Suite is an advanced tool for Exchange administrators to perform Exchange recovery, Exchange/Office 365 migrations, file imports, and much more. Have a trial of the tool and understand its features and functions more closely.