Read time 5 minutes
Summary: This content highlights the essential role of OST files in Outlook and offers methods to export contacts. It recommends Kernel's OST to PST Converter for reliable, efficient, and secure data conversion, particularly in challenging situations.
The OST file serves a crucial role as one of the two primary data files utilized by Microsoft Outlook. Its significance becomes particularly pronounced when Outlook is integrated with an Exchange Server, as it enables seamless offline functionality. In the event of Exchange Server unavailability or downtime, the OST file empowers users to continue working within Outlook by accessing their mailbox data stored locally. Subsequently, when the Exchange Server regains connectivity, it synchronizes the information seamlessly.
It's important to note that the OST file encompasses the entirety of the mailbox, encompassing not only emails but also essential components such as contacts and calendar entries.
How to Export Contacts from OST Files to PST?
On occasion, both end users and administrators may find the need to export Contacts from OST files to PST files, driven by a variety of reasons. In the following discussion, we will explore a straightforward method for accomplishing this task efficiently.

Instant Solution
For a hassle-free and efficient method to export Contacts from OST files to PST files, I recommend trying the automated tool Kernel for OST to PST Converter. This software simplifies the process, ensuring a seamless and secure data conversion experience. Give it a try to save time and ensure the integrity of your contacts during the export process.
There are two methods by which users can export their contacts:
Manual method (using the Import/Export feature of Outlook)
Automated method (using OST conversion tool)
Export Contacts Using the Import/Export Feature of Outlook
The Import/Export feature within MS Outlook serves as a valuable tool for exporting contacts to a PST file. It's worth noting that this method is effective primarily when users are actively connected to the Exchange Server through their Exchange profiles. To successfully export contacts using this approach, follow these steps:
Open Outlook and click on File, point to Open & Export, and then click on Import/Export. The Import and Export Wizard appears.

Select Export to a File, and then click Next.

Select Outlook Data File (.pst) and click Next.

In this step, select Contacts and click Next.

Click the Browse button, select your file saving location, and then click Finish.

Note: Don't forget to choose the required options.
Now you can create a password protected PST by entering a password. Otherwise click Next.

Export Contacts Using OST Conversion Tool
One significant limitation of the manual method for exporting OST files to PST formats is its dependency on Outlook users being connected to the Exchange Server through their respective profiles. Consequently, this method becomes impractical when OST files are damaged or when the Exchange Server experiences downtime.
However, third-party solutions like the Kernel for OST to PST converter offer a compelling alternative. These specialized tools can efficiently extract Contacts from OST files and save them as PST files, even in scenarios where OST files are corrupted or inaccessible due to Exchange Server issues. This capability ensures data recovery and continuity, regardless of the condition of the OST files or the server's operational status.
The tool simplifies the process of exporting Contacts from OST files to PST files with remarkable ease. What's more, users have the flexibility to save these contacts to various destinations, including Office 365, Gmail, MS Exchange Server, Novell GroupWise, and Domino Server. Notably, the export procedure remains consistent and straightforward, regardless of the version of Exchange/Outlook that was used to create the OST files. This ensures seamless and efficient data migration across different environments and Outlook versions.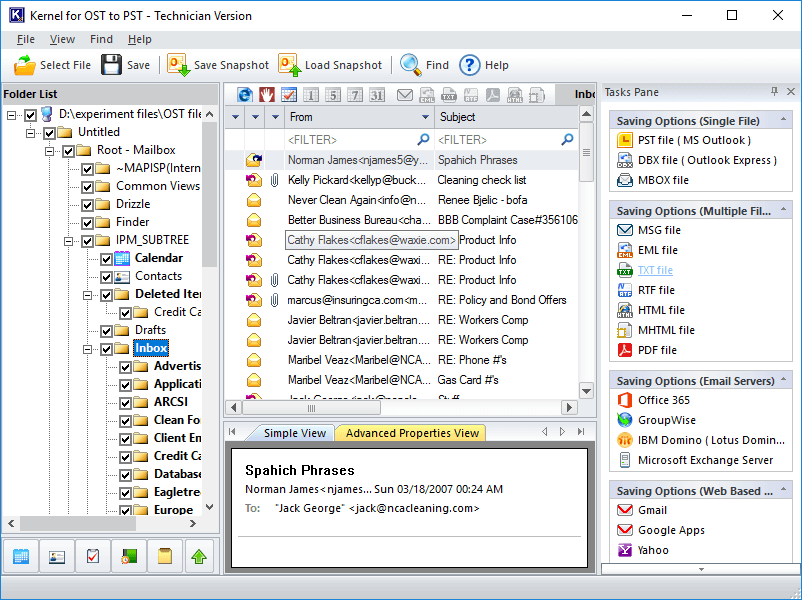 Indeed, the manual method for exporting Contacts from an OST file to a PST file is a viable option when both the Exchange Server and Outlook are functioning normally. However, when faced with challenges such as Exchange Server downtime or a damaged OST file, employing a specialized tool is undeniably the most reliable and effective approach to accomplish this task. These tools provide a robust solution for extracting and transferring data under adverse conditions, ensuring data integrity and continuity even in less-than-ideal circumstances.
Software Review by Faeem Rehman, Microsoft MCSA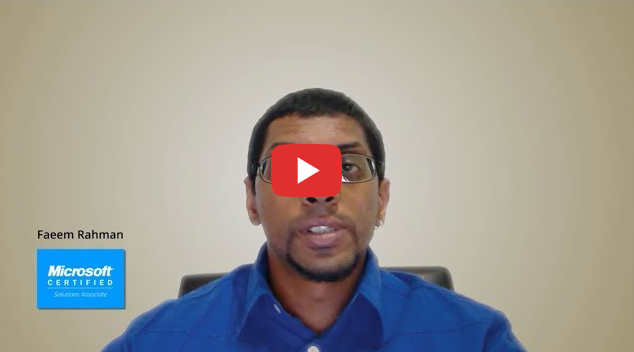 Conclusion
This article has concentrated on presenting two straightforward methods for exporting contacts from OST to PST files. Initially, we explained the manual approach through the Import/Export feature within Outlook. Nevertheless, we highly recommend considering the automated Kernel OST to PST Converter Tool for a swift and secure solution. This tool offers a range of powerful features, including batch conversion and a preview option, to streamline the process. If you're seeking an instant and efficient solution, don't hesitate to give it a try. It can save you time and provide the assurance of a reliable data conversion process.
TechNet Expert Reviews on OST Conversion