Read time 5 minutes
Summary: This content addresses the issue of the "Deleted Items Folder is unavailable" error in Microsoft Outlook within a professional context. It provides actionable solutions, such as manual folder management and resetting, and highlights the Kernel for OST to PST Converter as a recommended tool for data recovery.
Microsoft Outlook stands out as the top choice among email clients and email management tools, thanks to its robust feature set and extensive range of add-ons. However, like any software, it is not without its occasional issues, which may manifest as error messages. One of the common challenges currently encountered by Outlook users pertains to an error that prevents them from deleting unwanted messages from their inbox and moving them to the deleted items folder. This issue can lead to the following error message being displayed: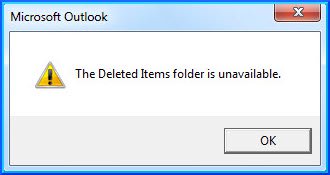 The problem of the Deleted Items folder being unavailable is a common occurrence for users with IMAP accounts. Let's move beyond this error code.
Reasons for Outlook Deleted Items Folder Missing Issue
While using Outlook, it's not unusual to come across an error where the Deleted Items folder cannot be located or moved. This can occur due to various reasons, including:
The Deleted Items folder might not be part of your Exchange or Outlook 365 profile, which can result in the folder not appearing in your account and causing deleted items to be redirected elsewhere.
If the folder has been renamed or moved, Outlook may struggle to locate it. This can pose a challenge, especially when you're trying to recover an item from the Deleted Items folder.
Occasionally, Outlook may not detect the Deleted Items folder at all. This situation might arise from a configuration problem or a software error.
How to make the Deleted Items Folder Available in Outlook?
To ensure the availability of the Deleted Items folder, you may need to manually assign or create the necessary folders. Below, we outline some of the most effective and proven methods to address the issue of the missing Outlook folder.
Method #1: Subscribe to the Missing Folder for IMAP Accounts
When the Outlook Deleted Items folder goes missing, it typically indicates that the user has not subscribed to it. To view and access all the available folders in the IMAP account, please follow the instructions below:
Go to your IMAP account and select the Inbox folder.
Right-click the Inbox folder and select IMAP Folders.

This will open up the IMAP Folders dialog box. Click on the Query tab > Select the Deleted Items folder > Click on Subscribe.

To double-check whether you have successfully subscribed to the Deleted Items folder, check the folders under the Subscribed tab (whether your recently added folder is listed or not).
Method #2: Create or Assign Missing Deleted Items Folders Manually
If the previous method did not resolve your issue of the missing Outlook Sent Items folder, your only remaining option is to manually create or assign the missing Deleted Items folders. Please follow the steps outlined below:
Open your IMAP account and Select the New Folder option from the Folder tab.

Now enter the name of the new folder as Deleted Items and click OK.

Next, you might need to subscribe to the newly created Deleted Items folder by following the instructions provided in Method #1.
Method #3: Reset Outlook Folders
When you come across the issue of a missing Outlook Deleted Items folder, resetting the Outlook folders is a common and effective solution. This method is applicable to Outlook 2007, 2010, 2013, 2016, and 2019. Follow the steps below to reset the folder and folder names using the Outlook client:
Close Outlook so that no processes are running in the background.
Type Outlook.exe /resetfolders in the Run dialog & hit Enter or click OK. This will reset the Outlook folders to their default settings.
After the folder reset completes, close the Run dialog box & open it again by pressing Windows+R.
Type up Outlook.exe /resetfoldernames& again hit Enter or click OK to execute the command. This will now reset the folder names in Outlook to their default values.
Once the reset completes, restart Outlook & check if the Deleted Items folder is back.
Method #4: Repair & Reinstall Outlook
You can attempt to repair or reinstall MS Outlook to resolve the Outlook sent items folder missing issue. Here's how:
Open the Control Panel & Find the "Programs and Features" option & select it.
Look for "Microsoft Office" & click on "Change."
Choose the "Quick Repair" or "Online Repair" option & follow the wizard to repair MS Outlook.
After the repair process is finished, restart your computer & open Outlook again.
Method #5: Professional converter software
If you've attempted both of the previously mentioned methods and still can't recover the items from the Deleted Items folder, there is a possibility that the OST file is damaged. In such critical situations, it's advisable to rely on a reputable and proven third-party OST recovery tool. One such professional tool that can assist you in these circumstances is Kernel for OST to PST Converter.
Using this tool, you can effortlessly retrieve deleted messages and attachments from OST files, regardless of their size. The tool offers an advanced search feature that enables users to locate OST files on a specified system drive. Additionally, the recovered emails can be saved in various formats, including MBOX, DBX, MSG, EML, TXT, RTF, HTML, and MHTML. Notably, this tool also provides the highly advantageous capability to directly export OST files to Office 365, email servers, and webmail services.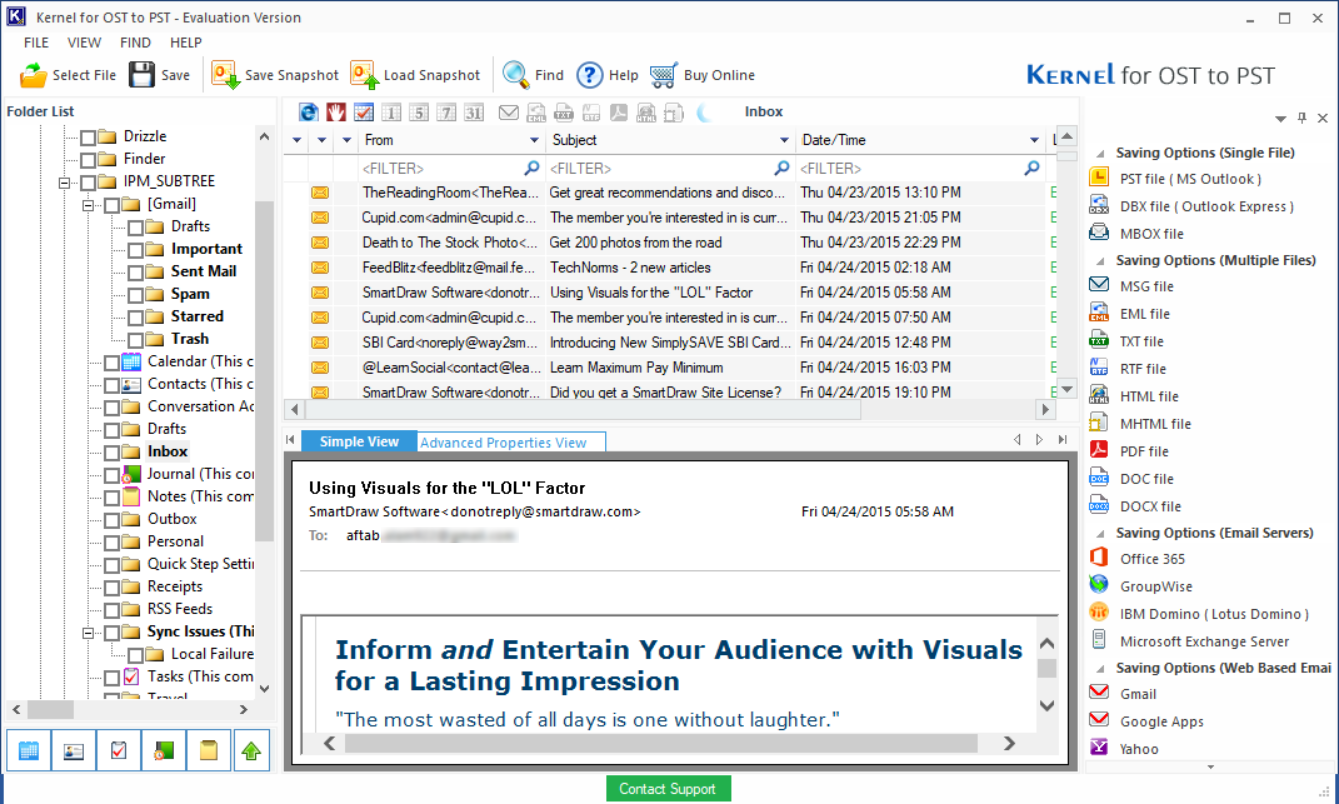 Conclusion
In conclusion, we have explored the top three methods for swiftly resolving the 'Deleted Items Folder is unavailable' error code with just a few steps. While subscribing to or creating a new Deleted Items folder may prove effective for some, it may not work for everyone due to various factors. Furthermore, even if you gain access to the Deleted Items folder, there's a chance that its items are no longer present, indicating potential damage to the OST file. Therefore, in such critical situations, one can always depend on the Kernel for OST to PST Converter tool as a reliable solution.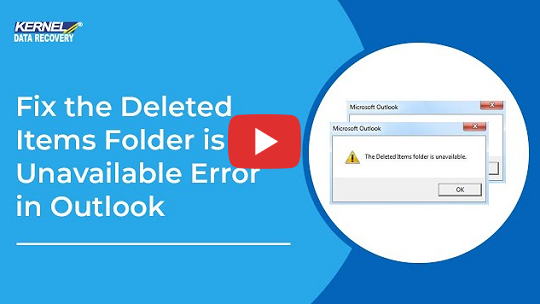 FAQs
Q- What is the limit for deleted items in Outlook?
A- Once an item is permanently deleted, it's moved to a special folder called "Recoverable Items > Deletions" & kept there for a default period of 14 days. However, it's worth noting that you do have the ability to adjust this time frame. In fact, you can choose to keep deleted items for up to 30 days.
Q- How do I get my deleted items folder back in Outlook?
A- If you have deleted an email & want to retrieve it, Outlook has a feature that allows you to recover deleted items. To get started, head over to your email folder list & select the Deleted Items folder. If you cannot find the folder, it might be a sign that your account doesn't support the feature. But if you can find it, access the Folder menu & select Recover Deleted Items.