Read time: 5 minutes
Summary: TikTok, a popular platform among youth, is used for sharing trending content and live streaming. This article discusses reasons for video deletion and offers methods to recover deleted TikTok videos, including using backup data, liked videos, drafts, contacting customer support, and using a professional data recovery tool. It also mentions a solution for repairing corrupt TikTok videos.
Certainly, I'm referring to TikTok, the incredibly dynamic and trendy platform beloved by the youth and Generation Z. Across the globe, it boasts a massive and adoring user base. Influencers leverage it to connect with their followers, crafting entertaining short-form videos, while major brands exploit its rapid growth for marketing purposes. They generate valuable video content to amuse their followers and often collaborate with influencers to promote their products. Even prominent celebrities and brands employ TikTok to engage with their dedicated fan base. This platform is a hub for trending tunes, captivating dialogues, popular hashtags, and live streams enhanced by diverse editing tools and filters.
How did the Tik Tok Video get Deleted?
To begin using TikTok, users must first create their accounts. Once your account is set up, you're ready to start creating videos. However, the process of producing and sharing videos is more challenging than it may appear, requiring a significant investment of time and effort.
Sometimes due to unforeseen reasons, videos get deleted, or videos playing in slow motion, and for creators, this is really a concern. Let's get into some of the following reasons responsible for the deletion of videos-
Sometimes, we forget to save the video while shooting, and then we don't have a copy of that video.
Due to a sudden power failure, the video might get lost.
Due to bugs and errors in the app or its updates, videos also get affected.
Third-party applications like editing apps, the shortage of space on phones, and incomplete transfer of data, are also reasons which would lead to video deletion.
Thus, through this article, you will be able to recover your deleted videos using different solutions.
Method 1 – Restore Deleted TikTok Videos Using Backup Data
We are all well-acquainted with the necessity of maintaining a backup of our user data, and the same principle extends to our social media imagery and video content. In the unfortunate event of video loss or deletion, swift recovery is achievable through the utilization of backup data. Individuals already engaged in this sector understand the paramount significance of safeguarding their precious data. Users can effortlessly create backups by synchronizing videos from their mobile devices to various cloud platforms, such as Google Drive or the iOS Photos app.
If you are not such a person who used to backup videos and photos daily, then you can try using the next recovery process.
Method 2 – Recover Using Liked Videos on TikTok
Start by opening your TikTok application.
Navigate to your TikTok profile by selecting the button located in the lower-right corner of your app.
Navigate to the "Heart" icon within your TikTok profile, then access the corresponding option by clicking on it. Within this section, you will find a list of all the videos you have liked.
Here, click over the deleted videos from the liked videos.
Now go to the three dots at the top right corner of the TikTok profile page.
Here, click the option 'Save video.'

Now, after this, user can see their deleted TikTok videos in the gallery.

Finally, select the required images and click Save.
Method 3- Recover Draft Video
After a user records a video, TikTok provides the choice to either immediately publish it or save it as a draft. This function stores the videos in your phone's storage for future use. To retrieve draft videos, users simply navigate to their phone's gallery and access the TikTok video collection. It's important to note that users must consistently select the "save to album" option to utilize this approach; otherwise, this solution won't be viable.
Method 4- Contact Customer Support
If other methods prove ineffective, you have the option to recover deleted videos directly through TikTok's support. Begin by navigating to "Settings and Privacy" and choose the "Report a Problem" option. After submitting your report detailing the issue, TikTok typically takes 24 hours to address it. Following their response, they will furnish you with a link that facilitates the retrieval of your deleted videos.
Method 5- Use a Professional Windows Data Recovery Tool
If you've experienced the accidental deletion of videos and photos saved on an SD card, worry not. You can effortlessly retrieve these deleted videos by employing Kernel for Windows Data Recovery. This software is specifically designed to recover lost or permanently deleted images in various formats from diverse devices. With its capabilities, users can seamlessly recover deleted TikTok videos.
What to do if TikTok videos are corrupt?
Lately, a significant number of users have been consistently encountering issues with TikTok video playback after downloading. If you're grappling with the frustrating problem of TikTok videos not playing due to potential corruption, consider employing the exceptional solution provided by Kernel Video Repair. This software is meticulously crafted to address the playback woes of TikTok videos on your Windows system. It possesses the capability to mend nearly all video file formats, including those specific to TikTok. The entire repair process is streamlined and can be accomplished in just a few straightforward steps. Following the repair, you have the flexibility to save the mended videos at your preferred location.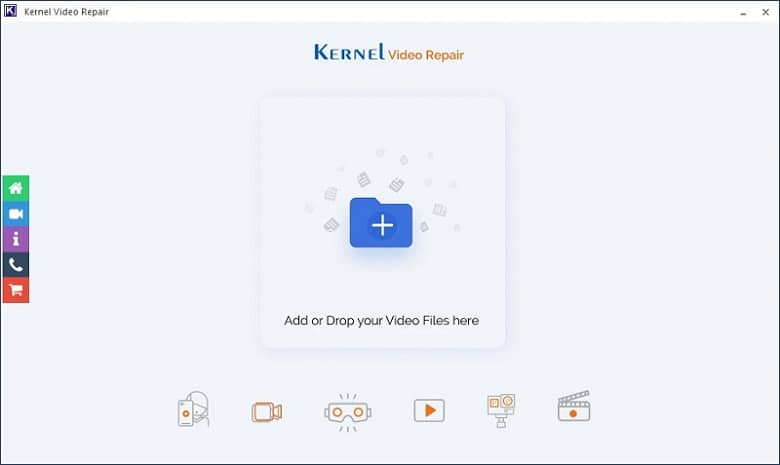 Summing up
TikTok has emerged as the premier platform for young individuals to exhibit their social media prowess. Creating and uploading videos on TikTok requires a substantial time investment, and in the unfortunate event of a video's deletion, all that effort goes to waste. Consequently, this article delves into exploring viable remedies for restoring deleted TikTok videos. If you find yourself without a backup of your videos, you have the option to employ specialized and best video repair software to recover your lost content. These software solutions are purpose-built to effectively address this problem, ensuring a successful recovery process without any mishaps.