Read time: 5 minutes
Trending songs and dialogues, popular hashtags, and live streaming using different editing tools and filters -Yes, unquestionably, I'm talking about the most dynamic and popular platform, which is going with youth and Gen Z – TikTok. Around the world, this platform covers a large demographics with great love and has many followers. Influencers are using it to get on with their followers by creating fun and social short-form videos. All big brands are using this fastest-growing social media platform to do marketing. They create valuable video content to entertain followers. Even business objectives collaborate with such influencers to promote their brand or products. Many big brands and celebrities are also using this platform to engage their followers.
How did the Tik Tok Video get Deleted?
To start with TikTok, firstly, users have to create their accounts. When your account is ready, you are all set to make videos using this. The process of making videos and releasing them is not as easy as it seems. The entire course of action takes a lot of time and attempt.
Sometimes due to unforeseen reasons, videos get deleted, or videos playing in slow motion, and for creators, this is really a concern. Let's get into some of the following reasons responsible for the deletion of videos-
Sometimes, we forget to save the video while shooting, and then we don't have a copy of that video.
Due to a sudden power failure, the video might get lost.
Due to bugs and errors in the app or its updates, videos also get affected.
Third-party applications like editing apps, the shortage of space on phones, and incomplete transfer of data, are also reasons which would lead to video deletion.
Thus, through this article, you will be able to recover your deleted videos using different solutions.
Method 1 – Restore Deleted TikTok Videos Using Backup Data
We all are very aware of having a backup of user data. The same thing applies to our social media photos and videos. If you lost your videos or got deleted, you can easily restore them using the backup data. People who are already in this market are very aware of the importance of having a backup of their valuable data. Users can easily backup using their phone by synchronizing videos to any cloud platform like Google Drive or the iOS Photos app.
If you are not such a person who used to backup videos and photos daily, then you can try using the next recovery process.
Method 2 – Recover Using Liked Videos on TikTok
Start by opening your TikTok application.
Now go to your TikTok profile, using the button at the bottom right corner of your application.
In the TikTok profile, go to the "Heart" icon. Now open the option by clicking over it. Here now you can see all your liked videos.
Here, click over the deleted videos from the liked videos.
Now go to the three dots at the top right corner of the TikTok profile page.
Here, click the option 'Save video.'

Now, after this, user can see their deleted TikTok videos in the gallery.

Finally, select the required images and click Save.
Method 3- Recover Draft Video
When the user records a video then, TikTok is used to offer the option to post it or save it as a draft. This feature saves the videos to your phone storage so that you can use them in the future. To recover draft videos, users just need to go to the phone gallery and then to the TikTok video gallery. To use this method, users always must click the save to album option; otherwise, you won't be able to perform this solution.
Method 4- Contact Customer Support
In case no other methods work for you, then you can directly recover deleted video by contacting TikTok itself. Here you need to go to the "Settings and privacy" and select "Report a problem." After tapping the report, you can describe your problem; after that, it takes 24 hours for TikTok to fix your problem. They will provide you with a link through which you can recover your deleted videos.
Method 5- Use a Professional Windows Data Recovery Tool
In case you are using an SD card to save your videos and photos and accidentally got deleted. You can easily recover deleted videos using Kernel for Windows Data Recovery, which is programmed to restore lost or permanently deleted images of different formats and different devices. Using this, users can easily recover deleted TikTok videos.
What to do if TikTok videos are corrupt?
Recently, found that users are constantly reporting that they are facing lots of problems while using TikTok downloaded videos. If you are facing this same TikTok videos are not playing issue because of corruption, then you can opt for the masterpiece solution Kernel Video Repair to fix Tik Tok videos not playing error. This software is designed to repair videos on your Windows system. It can repair almost all video file formats, including that of TikTok. The entire repair process completes in a few steps. And you can save the repaired videos at the desired location after repair.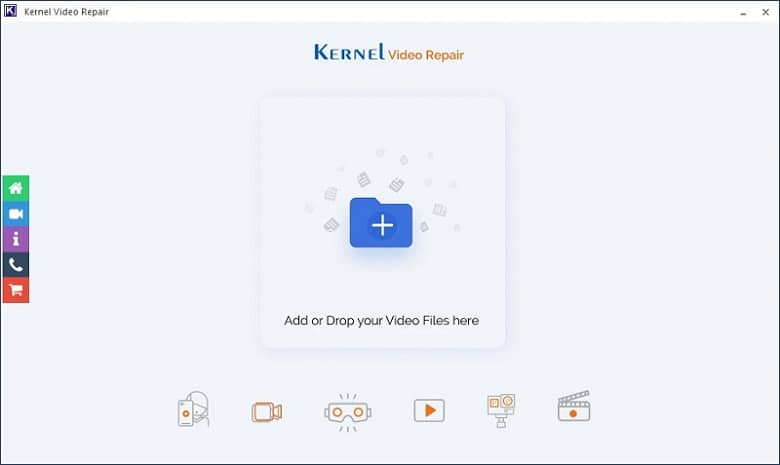 Summing up
TikTok is now the most promising platform for youth to showcase their talent on social media. It takes long hours to shoot and upload a video, and somehow if the video gets deleted, the effort gets wasted. Therefore, this article is all about considering the effective solutions to recover deleted TikTok videos. If you have no backup of your videos, you can opt for a specialized best video repair software to get back to your videos. These tools are designed to resolve this issue without any failure.