Read time 6 minutes
Summary: Migrating from G Suite to Office 365 is a strategic move that many organizations consider for various reasons. The most common motivations for this transition include enhanced productivity, better integration, advanced security, improved collaboration, and access to a wider range of applications. This blog explores these key drivers behind the decision to switch from G Suite to Office 365.
If your business, like many others, utilizes G Suite (now known as Google Workspace) and is contemplating a transition to Office 365, this blog is tailored to your needs.
Comparing Google Workspace and Office 365 isn't a straightforward task since they are distinct cloud-based services, each with its own set of features and capabilities. To make an informed decision, it's crucial to conduct a thorough comparison between Office 365 and G Suite to assess what each platform brings to the table.
The choice between Office 365 and G Suite often depends on an organization's existing infrastructure and preferences. For example, if your organization is already using Exchange Server, transitioning to Office 365 may be a seamless choice. On the other hand, if you've been using Gmail, G Suite might align better with your needs. In practice, many businesses favor Office 365 for its robust business email services over Gmail.
If you're still undecided after comparing G Suite and Office 365, consider the following reasons why migrating from G Suite to Office 365 might be a favorable choice:
Secure your Data and Files with SharePoint

G Suite primarily relies on Google Drive for file storage and sharing, which can be effective for collaboration but has certain limitations. One drawback is the lack of structured file storage, making it challenging for businesses to organize their data efficiently. Additionally, if a file is accidentally deleted, locating and recovering that specific file can be cumbersome. These limitations may lead organizations to consider alternative solutions like Office 365, which offers more robust file management and organization features.

In contrast, Office 365 utilizes its own storage solution, OneDrive, coupled with SharePoint, offering a robust content management system. Office 365 provides in-place recovery for all files, including those deleted from SharePoint, ensuring seamless file restoration without the risk of data loss. This enhanced file management and recovery capability make Office 365 a compelling choice for organizations looking for efficient data management and protection.

Flexibility and Scalability for Your Business

While G Suite is a capable web-based platform, Office 365 stands out as a complete cloud-based system, offering greater flexibility and scalability, especially when compared to traditional on-premises systems. The centralized admin center and seamless integration of Office 365 with Azure enhance its scalability and adaptability, making it an ideal choice for organizations that need to scale their operations rapidly and efficiently.

If your business is experiencing rapid growth or has evolving requirements, Office 365 emerges as the top choice due to its scalability and adaptability, ensuring that your organization can effortlessly accommodate changes and expanding needs.

Offers Better Productivity and On-the-Go Access

A key distinction between Office 365 and G Suite lies in their offline capabilities. G Suite applications are primarily web-based, with limited offline functionality through mobile apps. In contrast, Office 365 provides desktop versions of its apps for seamless offline access. For instance, MS Outlook can be installed on your computer, offering a more comprehensive offline experience.

While some G Suite applications do offer offline editing capabilities, the process involves manually making each document available for offline use and then re-uploading it after editing. This can be cumbersome and less efficient compared to the seamless offline access provided by Office 365's desktop versions of applications.

Therefore, for businesses with employees who frequently travel or work from various locations, Office 365's offline support and desktop apps can offer a more convenient and efficient solution for accessing and editing documents.

Better Environment

Furthermore, while G Suite offers various applications like Gmail, Google Voice, Meetup, Hangouts, and Google Sheets, they may not be sufficient for comprehensive collaboration needs. Additionally, these applications are not seamlessly integrated with each other, which can lead to fragmented workflows and decreased efficiency in collaborative tasks.

In contrast, Office 365 offers a suite of applications including SharePoint, Teams, Yammer, Stream, Planner, Calendar, Dynamics 365, and Outlook, which are inherently designed for enhanced collaboration. These applications are seamlessly integrated with each other, creating a cohesive and efficient collaborative environment where users can easily share, edit, and manage files and tasks independently while staying connected through a unified platform.

The Pricing Does Make a Difference

Office 365 subscriptions are structured to cater to a diverse range of organizational needs. While Google Workspace offers three pricing plans – Basic, Business, and Enterprise, Microsoft provides a more extensive array of pricing plans suitable for businesses of varying sizes and requirements. This flexibility ensures that you can choose a plan that aligns precisely with your organization's needs, making Office 365 a versatile and accommodating choice.

When it comes to selecting a licensing plan for your organization, Office 365 offers a diverse range of options to suit various company sizes. If you have a team of 300 employees or fewer, you can choose from plans like Business Essential, Business, Business Premium, or Microsoft 365 Business. For larger organizations with over 300 employees, options include Office 365 Enterprise F1, Office 365 Enterprise E3, Office 365 Enterprise E5, and Microsoft 365 Enterprise F1, E3, and E5. This extensive variety ensures that you can find the perfect fit for your specific requirements.
How to Migrate from G Suite to Office 365?
If you choose manual methods for the Migrating from G Suite to Office 365 can be an incredibly time-consuming and resource-intensive process. It may disrupt your regular workflow and cause unnecessary delays. To streamline this migration and make it more efficient, it's highly recommended to opt for an automated solution like Kernel G Suite to Office 365. This advanced utility simplifies the migration process, ensuring a smoother transition of your G Suite data to Office 365.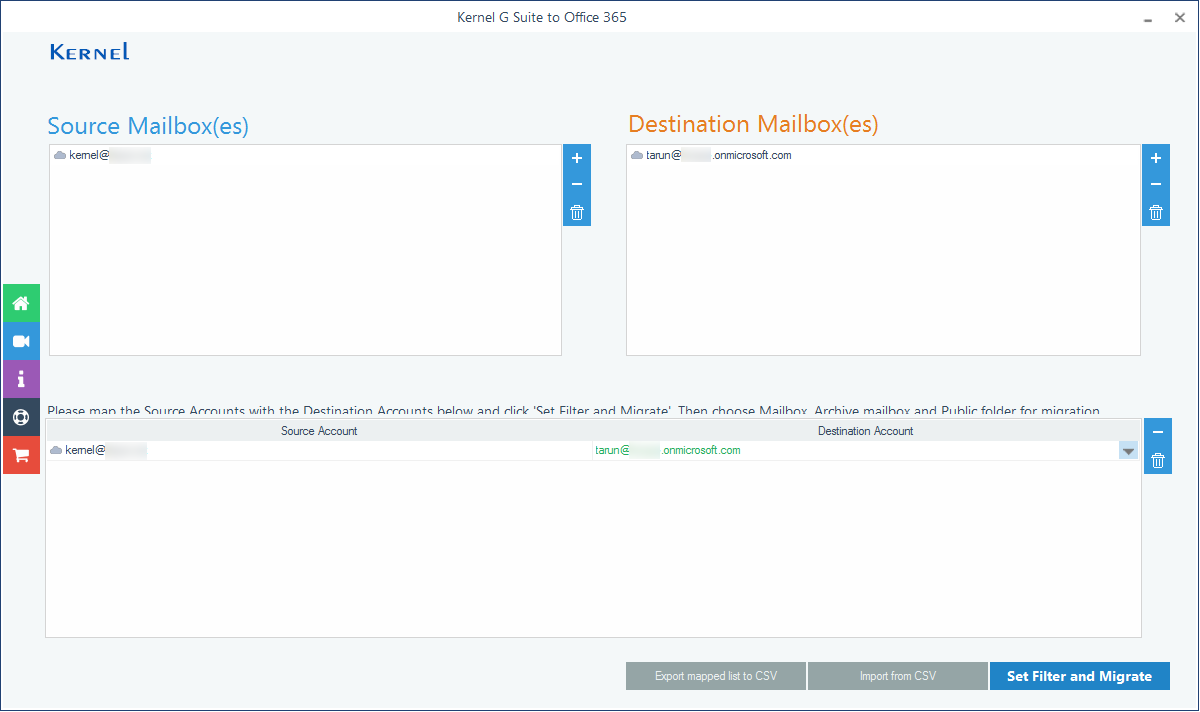 Know Some Crucial Features About the Kernel G Suite to Office Software Application.
Performs unlimited G Suite data migration (single and multiple mailboxes)
Migrates Gmail, Contacts, Calendars, and Hangouts Chats
Migrates to Archive, Shared mailbox, Public Folder, User Mailboxes individually
Automated mapped G Suite to Office 365 migration with CSV file
Supports all plans and subscriptions of Office 365 and G Suite applications
Integrated intelligent filters – date, item type, folders, and more options for selective migration
User-friendly interface for quick and efficient migration
Direct migration of G Suite content to Office 365 groups
Get the trial version and more information about the tool on the official website of the tool.
Wrap Up
For small organizations with limited employees, the decision between G Suite and Office 365 may be challenging. However, for larger teams, Office 365 often becomes the preferred choice. In this article, we've outlined key reasons to consider migrating from G Suite to Office 365, helping businesses make informed decisions about their cloud productivity suite.