Read time 6 minutes
Just like other businesses, if you're also using G Suite (Now Google Workspace) and planning to move to Office 365, then this blog is for you.
It would do not be fair to compare Google Workspace and Office 365, as they are two unique cloud-based services. Many parameters need to be considered before settling on a particular platform. Besides, it's necessary to have a detailed comparison between Office 365 and G Suite to analyze what these platforms have to offer.
For instance, if you are already using Exchange Server, then going for Office 365 is your best bet, and if you are using Gmail, then G Suite is an ideal choice. However, most organizations prefer to use Office 365 over Gmail for business email services.
If you have already compared G Suite and Office 365 and still not getting to a conclusion, then here are some points that explain why you should migrate G Suite to Office 365.
Secure your Data and Files with SharePoint

When it comes to file storage, G Suite uses its own personal Google Drive storage for all types of data files, which can be shared with anyone while collaborating with them effectively. But there is one drawback of Google Drive; it doesn't offer structured file storage, which often makes it complicated for businesses to organize their data. Moreover, if any file is deleted accidentally by any user, then you will have to navigate and look for that file specifically.

On the other hand, Office 365 also uses its unique storage feature OneDrive backed by SharePoint, a good content management system. Even if any file is deleted from SharePoint, then there is the in-place recovery for all the files, and so you will not face any issues in restoring your missing files.

Flexibility and Scalability for Your Business

We do not mean to say that G Suite is not flexible or scalable, but it is a web-based platform that offers limited flexibility. Whereas, Office 365 is a complete cloud-based system, which is more flexible and scalable as compared to on-premises systems. Besides, the centralized admin center and built-in integration of Office 365 with Azure make it even more ideal for scaling on-demand.

So, if your business is growing exponentially or you have changing requirements, then Office 365 could be the best option for you.

Offers Better Productivity and On-the-Go Access

The significant difference between Office 365 and G Suite is the offline support for applications. G Suite applications can only be accessed via the web or mobile apps, whereas Office 365 comes with a desktop version of every app for offline access. For example, MS Outlook, in addition to browser-based use, can be installed on your system.

Although some of the G Suite applications can be accessed offline for editing, you need to make every document available offline, and then upload it again after editing.

So, if your employees travel a lot and work from various locations, then they might find it struggling to work with G Suite applications. However, with Office 365 applications, you will find yourself more privileged, as the offline support and desktop apps make it more convenient to access and edit documents.

Better Environment

G Suite might provide various applications like Gmail, Google Voice, Meetup, Hangouts, or Google Sheets, but they are still not enough for collaboration. Also, these applications are not integrated with each other.

However, Office 365 applications like SharePoint, Teams, Yammer, Stream, Planner, Calendar, Dynamics 365, and Outlook are more collaborative than G Suite apps. Also, these apps are beautifully integrated with each other, which makes it easier for users to collaborate and perform independent actions on the files.

The Pricing Does Make a Difference

While every cloud service provider offers a wide range of pricing subscriptions, Office 365 subscriptions are tailored to meet everyone is needs. There are three pricing plans available with Google Workspace, including Basic, Business, and Enterprise. But, if you do not find these plans ideal for your organization or they are unable to fulfill your requirements, then Microsoft offers a variety of pricing plans for every type of business.

For instance, if you need a license for 300 employees or less, then you can opt for Business Essential, Business, Business Premium, or Microsoft 365 Business plan. However, if you need a plan for more than 300 employees, then opt for – Office 365 Enterprise F1, Office 365 Enterprise E3, Office 365 Enterprise E5, or Microsoft 365 Enterprise F1, E3, and E5.
How to Migrate from G Suite to Office 365?
If you choose the manual methods to migrate from G Suite to Office 365, then trust me, it is going to be one of the most hectic tasks of yours. Also, it will consume a lot of time and resources, and you might need to keep your work on hold. That is why it is suggested to choose an automated solution to migrate G Suite to Office 365. Kernel G Suite to Office 365 is an advanced utility that can help you migrate your G Suite data to Office 365.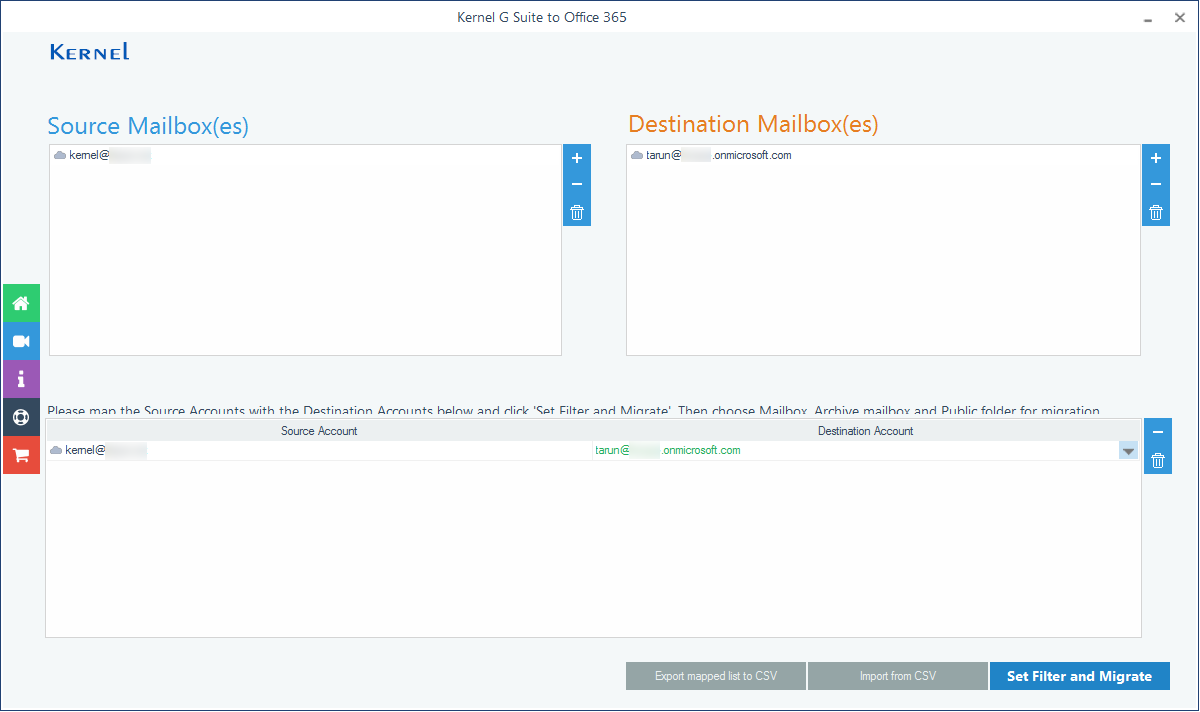 Know Some Crucial Features About the Kernel G Suite to Office Software Application.
Performs unlimited G Suite data migration (single and multiple mailboxes)
Migrates Gmail, Contacts, Calendars, and Hangouts Chats
Migrates to Archive, Shared mailbox, Public Folder, User Mailboxes individually
Automated mapped G Suite to Office 365 migration with CSV file
Supports all plans and subscriptions of Office 365 and G Suite applications
Integrated intelligent filters – date, item type, folders, and more options for selective migration
User-friendly interface for quick and efficient migration
Direct migration of G Suite content to Office 365 groups
Get the trial version and more information about the tool on the official website of the tool.
Wrap Up
Choosing between G Suite and Office 365 could be a little perplexing for small organizations that have limited employees. But, if you have enormous team strength, then Office 365 is your best bet. In this article, we highlighted some points that describe why you should move from G Suite to Office 365.