Read time: 5 minutes
Summary: This content underscores the significance of data migration to Office 365, introduces a manual method via Outlook, and showcases Kernel Import PST to Office 365 as a professional, streamlined solution.
When embarking on your journey with Office 365, it's essential to ensure a smooth transition by migrating your existing data to your new Office 365 account. This necessity is particularly relevant for Outlook users. One crucial aspect of this data transfer process involves migrating your PST file contacts from Outlook to Office 365.
Outlook contacts are typically stored in the PST file format, which preserves them in their original format. As a result, there is no need to make any modifications before importing them into your Office 365 account. This seamless migration ensures that all your contacts are readily accessible in their correct format within Office 365, simplifying your transition to this powerful productivity suite.
In this blog post, we will explore manual methods for transferring PST contacts from your Outlook mailbox to Office 365. While manual methods can be effective, there are also specialized tools available that streamline the data transfer process. We'll cover both the manual techniques and introduce you to these dedicated tools to help you choose the best approach for your specific needs.
How to import PST contacts to Office 365?
Import PST file using Outlook
Office 365 users have the option to configure their accounts in Microsoft Outlook and subsequently import their PST file contacts into their Office 365 mailbox. This process is relatively straightforward. Let's walk through the steps.
Open Outlook and select File.
Select the Open & Export option.
Click on Import/Export.
Select the option, Import from another program or file, and click Next.
Select the option, Outlook Data file (.pst), and click Next.
Select the Browse option and chose the PST file you wish to import.
Select the option, Replace duplicates with items imported. Click Next.
Under Select the folder to import from option, expand the Outlook data file folder, and select Contacts (using Filter). Check the box, Import items into the same folder, and type in the Office 365 email address you want the contacts to be imported to. Click Finish.
Once you initiate the import, you will observe a progress box indicating the ongoing import of your contacts from the PST file to your Office 365 mailbox. The process will automatically conclude upon successful completion of the transfer.
While the method provided by Outlook for importing contacts into Office 365 is user-friendly, it may be most efficient when dealing with a small number of contacts. When confronted with a large volume of data, this approach can become time-consuming. However, it's worth noting that you can also utilize a similar method to migrate Outlook emails to your Office 365 mailbox. In this case, you have the option to select specific email folders to transfer, which can help streamline the process and manage large datasets more effectively.
Import PST Contents to Office 365 Using a Professional Tool
While the manual method of importing contacts to Office 365 can be cumbersome and doesn't guarantee absolute success, there are professional tools available that offer a more reliable and efficient solution. Kernel Import PST to Office 365 is one such professional tool that excels in importing large PST mailboxes. It offers features such as incremental migrations, selective migration, and mailbox mapping, ensuring a seamless and error-free transfer of data to your Office 365 account.
Indeed, Kernel Import PST to Office 365 stands out as the superior solution for transferring essential PST items to Office 365. Whether you need to import a single file or multiple files, it offers a straightforward process. This tool ensures efficient data transfer while intelligently excluding unwanted duplicates, empty folders, and deleted folders from the import.
With Kernel Import PST to Office 365, the data transfer process is simplified into four easy-to-follow steps: Adding PST files, Adding your Office 365 account, Mapping PST files to their respective mailboxes, and initiating the import. A notable advantage is that you can perform PST imports to Exchange or Office 365 even without Outlook, making it a versatile and convenient choice for users.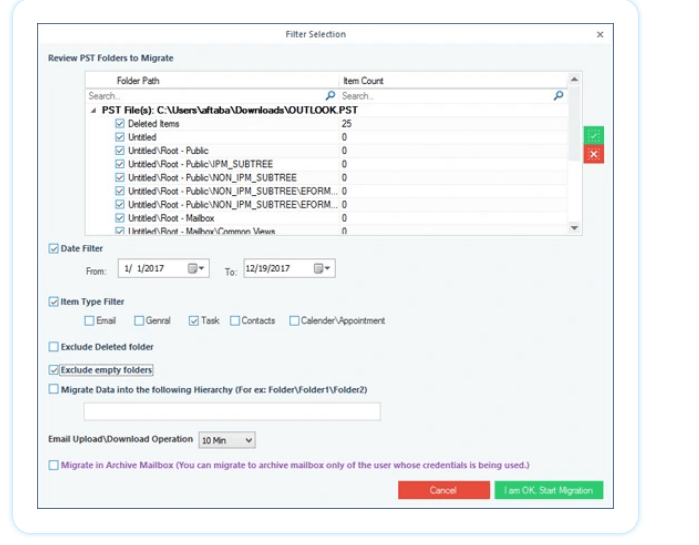 Conclusion
Importing contacts from PST to Office 365 is generally considered a straightforward task that doesn't demand extensive professional expertise. However, it's worth noting that the manual method can be time-consuming and lacks a guarantee of complete accuracy.
In contrast, utilizing a dedicated tool ensures the efficient import of contacts, even from sizable PST files, with a remarkable 100% accuracy rate. This reliability factor makes professional tools a preferred choice for users looking to streamline their data transfer process.