Read time: 5 minutes
if you are starting new with Office 365, then you need to transfer your old data to the new Office 365 account. This requirement usually arises for Outlook users too. So, one such important data transfer is that of PST file contacts from Outlook to Office 365. Outlook contacts are saved in PST file format. All the contacts in PST files are stored in the correct format and hence do not require any changes before importing to Office 365.
In this blog, we shall discuss manual methods to transfer PST contacts from Outlook mailbox to Office 365. Apart from the manual process, there are some specially designed tools that make the process of transferring data easy. We will discuss them all here.
How to import PST contacts to Office 365?
Import PST file using Outlook
Office 365 users can configure their account in MS Outlook and then import the PST files contact to Office 365 mailbox. This process is relatively easy. Here is how you can do it.
Open Outlook and select File.
Select the Open & Export option.
Click on Import/Export.
Select the option, Import from another program or file, and click Next.
Select the option, Outlook Data file (.pst), and click Next.
Select the Browse option and chose the PST file you wish to import.
Select the option, Replace duplicates with items imported. Click Next.
Under Select the folder to import from option, expand the Outlook data file folder, and select Contacts (using Filter). Check the box, Import items into the same folder, and type in the Office 365 email address you want the contacts to be imported to. Click Finish.
You will then see the progress box of importing the contacts from PST to the Office 365 mailbox. The process will automatically come to an end once the transfer has been done.
This method provided by Outlook is very easy to perform. But it works great only if there are only a few contacts to import. If the data is large, then this method becomes a time-consuming process. Using same method, you can migrate Outlook emails to Office 36 mailbox. then, You should choose your email folders.
Import PST Contents to Office 365 Using a Professional Tool
The manual method for importing contacts to Office 365 is a tedious task and does not guarantee sure success. Hence it is advisable to switch to professional methods for flawless results. Kernel Import PST to Office 365 is one such professional tool that imports large PST mailboxes, allowing incremental migrations, selective migration, and mailbox mapping.
It is by far the best solution for importing contacts or other important PST items to Office 365. You can import single or multiple files easily. The tool does efficient data transfer and skips all unwanted duplicates, empty folders, and deleted folders. The tool provides data transfer in four quick and easy steps- Add PST file, Add Office 365 account, map PST files to mailboxes, and import PST files. The best part of the tool is that the PST files can still be imported to Exchange or Office 365 even if you do not have Outlook.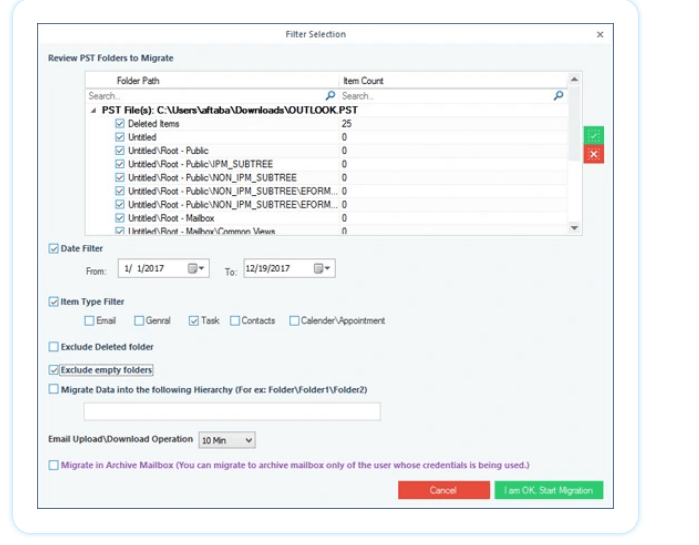 Summary
Importing contacts from PST to Office 365 is an easy task and does not require much professional knowledge. But the manual method can sometimes be time-consuming and does not even guarantee accuracy. The tool imports contacts even from large PST files with 100% accuracy.