Read time: 7 minutes
Cloud storage has given the users excellent flexibility to reduce the load of files present in the Operating System. Users can now migrate the content from File System to Cloud by uploading them directly, either individually or in folders. Each file's features, like permission levels, access rights, format, and metadata remain the same as they were saved on the computer, and the user can access them from any device or location.
There are various vendors who provide cloud storage services, but selecting the best one is tough, especially when you have to choose between the most popular clouds. Microsoft OneDrive and Google Drive are among the most popular cloud storage services, and they provide adequate security and accessibility features to the users and data. Although they offer the same service, the approach is radically different, each having a unique impact on every business.
Today, in this blog, we will discuss OneDrive vs Google Drive and find out how they are different from each other, which will help you select the best one for your business as per your requirements. We will also check how they are beneficial on several factors and their pros/cons.
Key Factors of OneDrive and Google Drive
This section will describe each platform separately and discuss its pros/cons.
What is OneDrive?
It's a cloud storage service provided by Microsoft 365 suite that quickly and conveniently connects you to your files. It allows you to store and protect your data, share them with others, and access them from anywhere on all devices.
Pros
Real-time collaboration to boost business productivity.
Integrated with other Office apps, including Word, PowerPoint, Outlook, Excel, etc., to enhance online and offline working.
Cons
Lack of third-party app integration.
What is Google Drive?
It is a cloud-based file storage and collaboration service provider which allow users to create, store, upload, edit, and access files using supporting applications like Google Docs, Google Slides, or Google Sheets. Its primary purpose is to centralize the information and make it accessible for teams to collaborate in real-time on all devices from anywhere.
Pros
Shareability and real-time editing features have taken collaboration to the next level.
Intuitive and easy-to-use user interface.
Cons
Collaboration is limited to Gmail.
OneDrive vs Google Drive: A Brief Comparison
OneDrive and Google Drive offer the same storage and sharing services, but their user interface, pricing, backup, security, and Availability are different. Let's compare both these platforms on such factors one by one.
1- User-interface
Google Drive: : The user interface of Google Drive is minimal. You can compare it with Gmail, where all the options are present on the left-hand side. There is a New option that is useful for uploading files and folders, and it also has a My Drive, Computers, and Shared with Me option to check out the uploaded files. You can check out the recent and starred files. The deleted items will be present in the Trash folder. It will also show the available space and occupied space.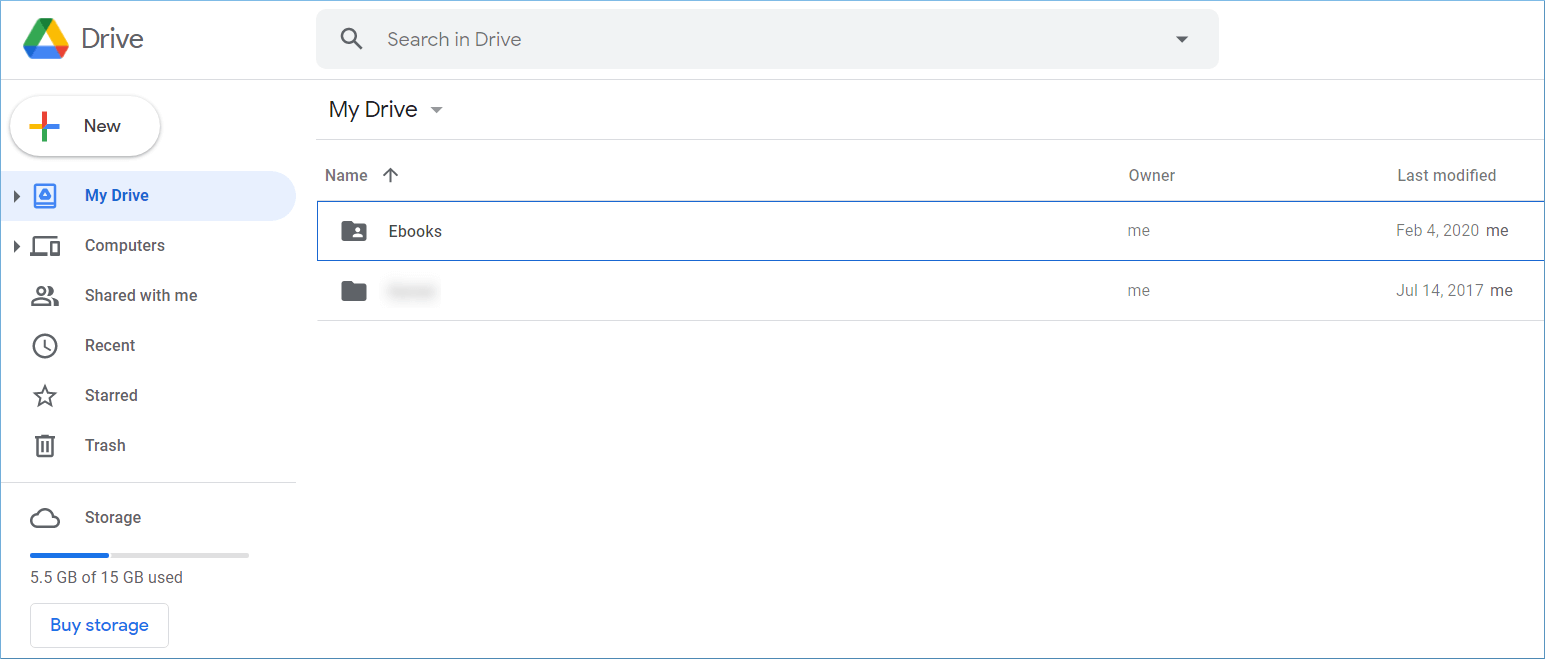 OneDrive: OneDrive has a more minimal interface where all files are present in the My files option. There is a separate Photo option to check out the images only. There is a special Personal Vault to make the storage more personal. The deleted items will be present in the Recycle Bin.

2- Pricing Plans.
Google Drive offers 15GB of free space for usage, and for more storage, you need to purchase Google One plans. When the user chooses to get more storage, the available plans will be 100 GB, 200 GB, and 2 TB.
The pricing is $17.9, $28.9, and $89.9, respectively. But the pricing changes as per the region where you are using the Google services.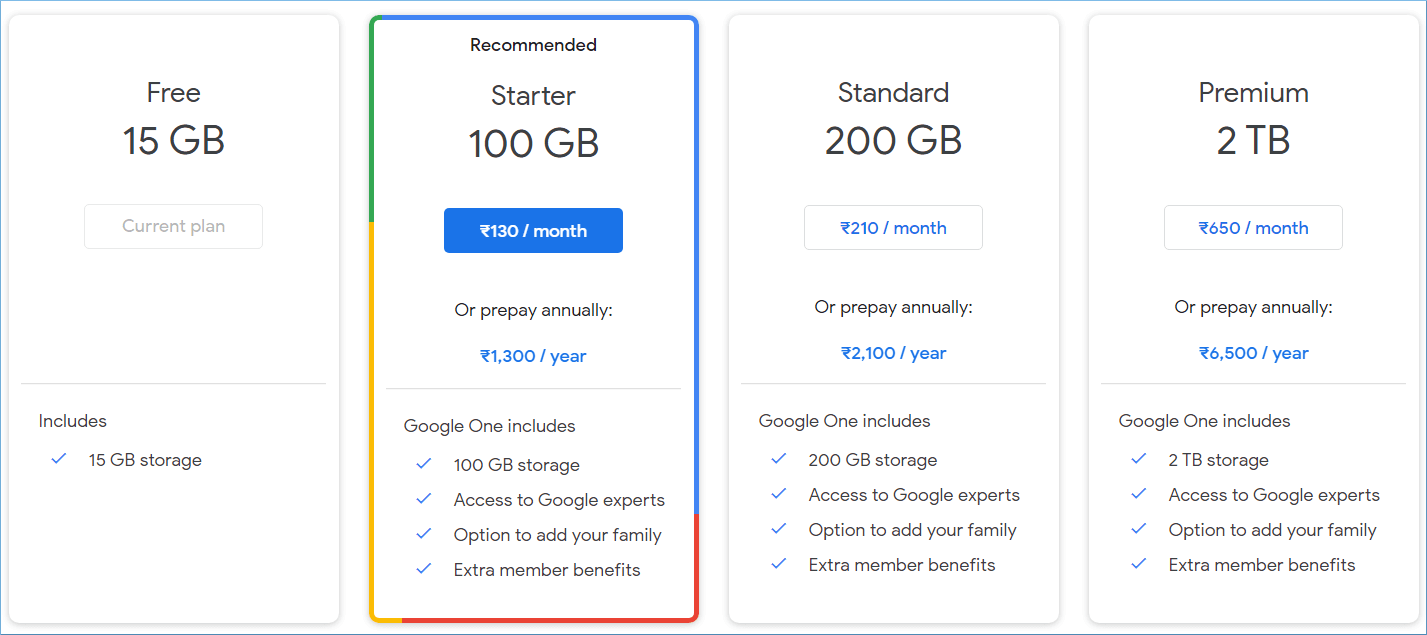 OneDrive: OneDrive gives 5GB of free space for usage. After that, users can purchase suitable Microsoft 365 plans like Microsoft 365 Family, Microsoft 365 Personal, and OneDrive Only. The pricing is $9.99, $6.99, and $1.99 per month, respectively.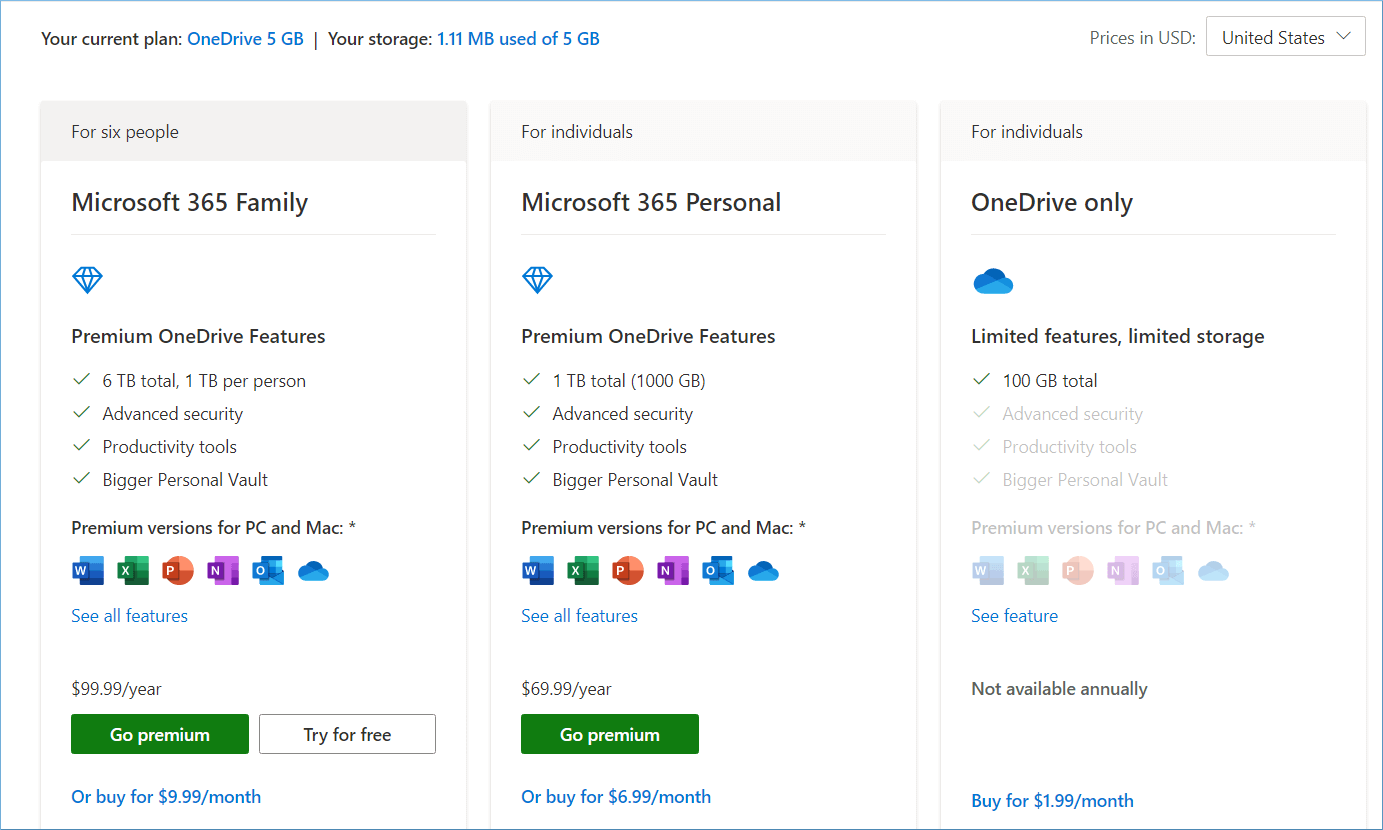 3-Security features
Microsoft and Google have the most secure data centers in the world. Both platforms offer some sturdy security features and proper encryption methods to save data.
OneDrive: : OneDrive encrypts each file with AES256 keys for secure content protection. These keys are unique, encrypted, and placed in the Azure Key Vault. There is a minimum chance to penetrate such security. Microsoft also has Virus scanning on download, suspicious activity monitoring, password protection, ransomware detection, and recovery.
4-Desktop Availability
The data available on OneDrive and Google Drive is not only accessible through the web browser or mobile apps but also on the Windows desktop.
Google Drive: Google has an application named Google Drive for Desktop that you can install in the computer system to directly access your Google Drive data. The tool's shortcut is present in the Favorites, and you can use it to check the data.



OneDrive: The modern Operating System like Windows 10 has an inbuilt link for OneDrive. You can add it to the default account and access all the data.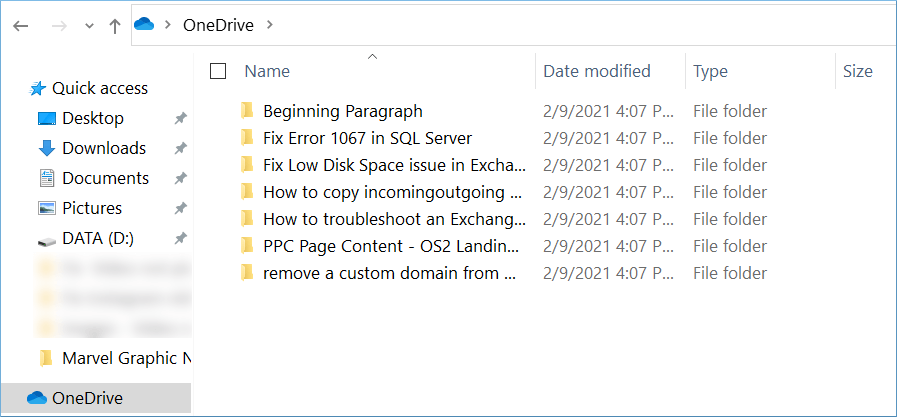 5-Data Sharing
OneDrive and Google Drive are not only used to store files but also for file syncing, sharing, and retrieving. There is a sharing option available on both platforms. The users can choose any file or folder and share it with anybody. The sharing is not limited to the same platform accounts, but you can share with any email address.
Google Drive: Choose any file or folder and right-click on it. Then choose the Share option.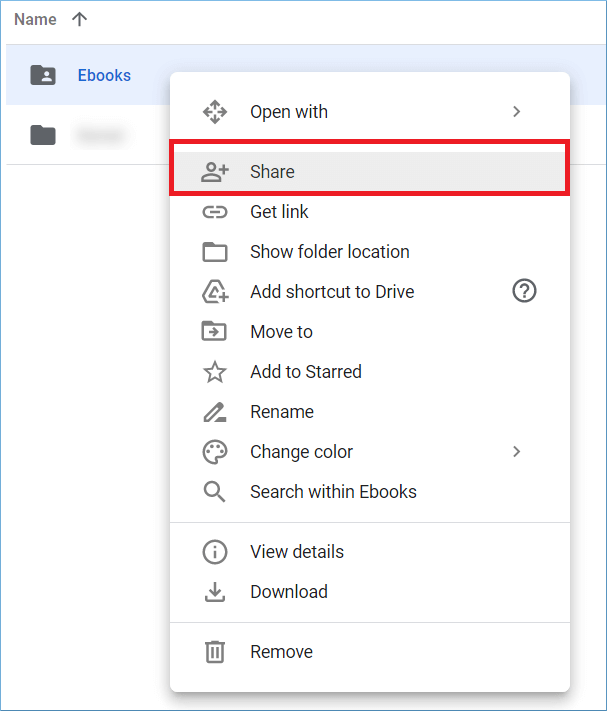 OneDrive: In OneDrive, when you select any file, then all the options become active. The first one is Share, and you can choose to share the file.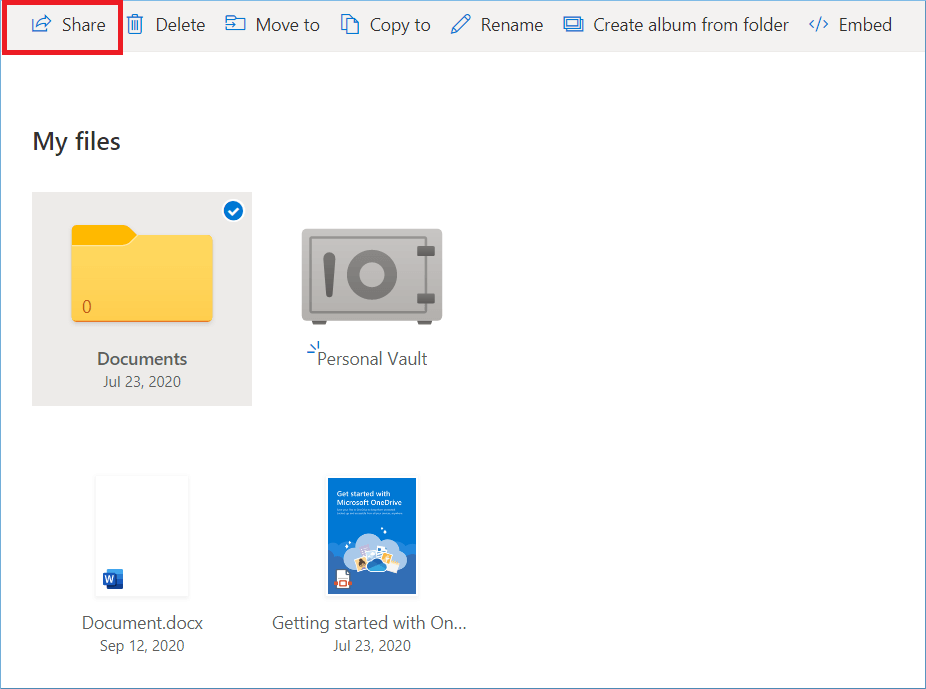 When you share the file and folders with other users, the files remain in the same account, but the user can only access them.
If you want to migrate the content completely, you should use professional migrator software for secure migration.
Kernel Migrator for SharePoint
SharePoint Migration is a special migration-related software that allows a resourceful migration between OneDrive and Google Drive for Business. The tool helps you create a CSV file for bulk migration of data. There are multiple features like filters, permission migration, scheduling, and migration reports that allow the user to migrate the content with full control.
[popupbox_btn]
Conclusion
I hope you find this blog helpful in understanding the difference between OneDrive and Google Drive. After the above discussion, the OneDrive vs Google Drive battle remains tied because it depends on your business requirements with a cloud storage service provider. Suppose your priority is effective file sharing and syncing with advanced security features. In that case, OneDrive is a great option, but if you are worried about the pricing and looking for more storage options and services at a low price, you can go with Google Drive.
Lastly, we recommend professional migration software, which you can use to quickly migrate OneDrive and Google Drive data. To learn more about the tool, download its free demo version.