Read time 8 minutes
Zoho Mail, a web-based email client, is popular for its advanced search features, filters, eDiscovery operations, and more. But this email client is suitable for use in small, micro, or medium businesses only. As the businesses grow, there is a need for migration to a more secure platform suitable for large businesses, i.e., Office 365.
Differences Between Zoho Mail and Office 365.
Zoho Mail's features are not limited to email communication, but it can be used as a collaborative service for a business. Let's check a comparison of Zoho Mail with Office 365 that offers more services and storage.
| | |
| --- | --- |
| Zoho Mail | Microsoft 365 |
| Main objective of Zoho Mail is to create emails, send and receive emails, and monitor the mailbox of the user account. | Office 365 covers various services in its subscription. For email task, there is Outlook. OneDrive provide ample cloud storage; entire MS Office Suite is present here and multiple additional application work differently. |
| Major features are email monitoring, email archiving, data recovery, shared inboxes, routing, spam blocker, whitelisting, blacklisting, etc. | Major features are web development, social networking, online meetings, eDiscovery center, blogs, Wikis, business domain, file sharing, calendar, project-based mailboxes, voice calls, video calls, PC-to-PC calls, internal and external file sharing. |
| Integration is reached through Zoho CRM, Projects, Docs, Creator, Asana, Zapier, HubSpot CRM, and Cliq. | Integration is scattered with various applications like SharePoint, OneNote, Outlook, Word, Excel, OneDrive, Skype for Business, Bookings, StaffHub, and Invoicing. |
| Customer service is provided through email, phone, and live chat. | Customer service is provided through email, phone, live chat, and tickets. |
Why Migrate Zoho Mail to Office 365?
Office 365 cloud platform has many advantages to its users to other email servers and email clients like Zoho Mail. Some of the common reasons behind migrating Zoho Mail to Office 365 are:
Office 365 is an enterprise-grade suite of applications from Microsoft
Integrated with many applications for collaboration – SharePoint, OneDrive, Lync, Yammer, Exchange Online, etc.
Flexible subscriptions and plans
Expansion or growth of business which necessitates a better application
More data storage plans in Office 365 subscription plans
Can We Perform this Migration Manually?
There are no easy methods to migrate Zoho Mail to Office 365 manually. But there is a workaround which includes exporting the Zoho Mail mailbox folder to .eml file format with the Import/Export option. Before exporting, one can specify the period and include subfolders as per the needs.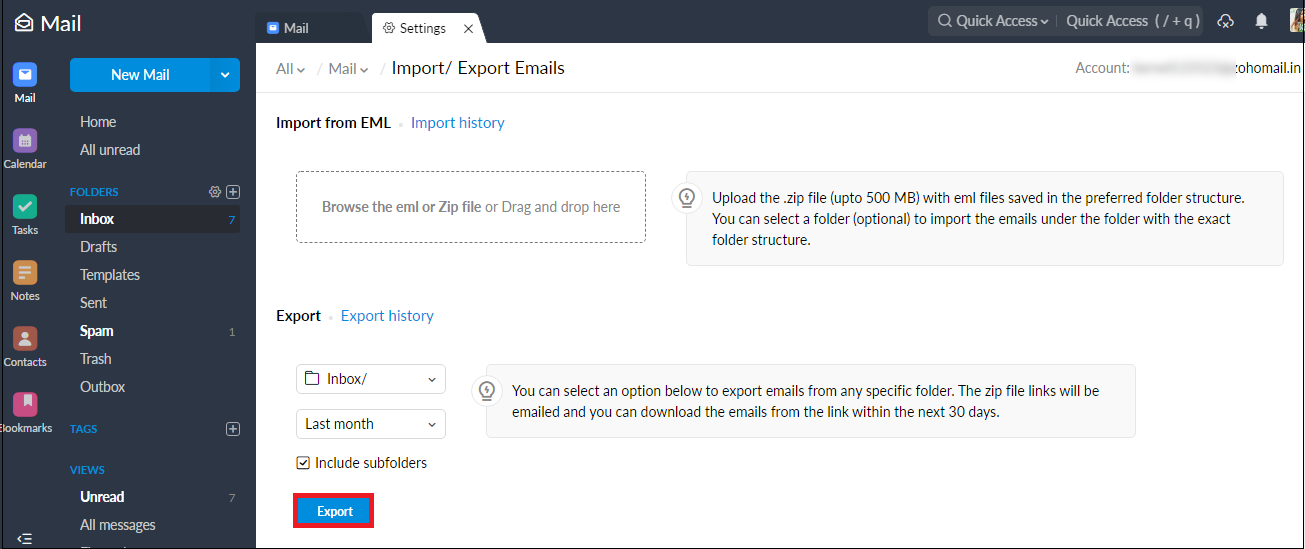 Then this exported .eml file can be imported or dragged & dropped to the Outlook application in which an Office 365 account is configured. But this method is limited to the migration of a single user only.
Also, IMAP migration in Office 365 Admin Center is a feasible manual way to move Zoho Mail to Office 365 but a complicated, time-taking process limited to a certain number of mailboxes migration only.
It can be easily concluded that the manual way to perform this migration is difficult, complex, and indirect. There are chances for users to make multiple mistakes during the migration, making it a completely unreliable way. So, better try an alternative method, i.e., a professional migration solution.
How Kernel IMAP to Office 365 Tool Helps to Migrate Zoho Mail to Office 365?
Kernel IMAP to Office 365 tool accomplishes direct migration of IMAP server data to the cloud destination following a simple process. It does support migrating data from the Zoho Mail email client to the Office 365 platform, and the users have the choice to move only selective content from the source to the desired Office 365 mailbox, public folder, archive mailbox, group, or shared folder. It offers batch migration also. Unlike any manual solution, the process is short and performs precise migration without any errors.
Let us look at the working process of the tool to migrate Zoho Mail to Office 365 to get a clear understanding.
Launch the Kernel IMAP to Office 365 tool.
Under the Add Source section, click on the Add option to add the Zoho Mail account.

Provide the Zoho Mail account details like server name, user name, and password (the information about the IMAP server name and port number is available on the right panel of the interface also). Click Add to add this account.

Now, you can see that the source Zoho Mail account is added. Now, under the Add Destination section, click Add to add the Office 365 account as the destination.

Here, provide your Office 365 account login credentials like mailbox login ID & password, select the checkbox underneath to assign impersonation rights. Click Add to continue.

Now, both source and destination accounts are added successfully; map the destination account against the source as shown and click Set Filter and Migrate.

Choose the destination Office 365 account folder from – mailbox, archive mailbox, and public folder. Click Migrate.

Apply the desired filter options like folder selection, date filter, item type filter, folder filter, etc. Click I am OK, Start Migration then.

The data migration from Zoho Mail to Office 365 account will be started, showing the live progress.

The migration from Zoho Mail to Office 365 is completed successfully with a confirmation message.

The process is completed. You can save the migration report in the CSV file format with the given option.
So, we have just realized that choosing the Kernel IMAP to Office 365 tool is the best way to move Zoho Mail to the Office 365 platform with a range of flexible options. The tool is available as a free trial version for the exploration of its features and functions.
FAQs Related to Zoho Mail to Office 365 Migration
Q- Is there any easy manual way to move Zoho Mail to Office 365 directly?
A- No, there are no easy manual ways. Zoho Mail users can export their mailbox folders into .eml file format and then import them to Office 365 account through Outlook.
Q- What are the advantages of the free trial version of the Kernel IMAP to Office 365 tool?
A- The free trial version of the Kernel IMAP to Office 365 tool lets users understand the interface and features of the tool before actually purchasing the full version. Additionally, this version lets users migrate 10 items per folder free to the cloud destination.
Q- Do I need to sign in to Zoho Mail and Office 365 accounts while performing the migration?
A- No, not at all. You are just required to have login credentials of both the accounts along with you to perform the migration using Kernel IMAP to Office 365 tool.
Q- Does this tool also support the migration of Gmail account mailboxes to Office 365 destination?
A- Yes, definitely. It supports the swift migration of almost all IMAP server accounts to Office 365 in minimum steps.