Read time 6 minutes
The constantly growing popularity of Microsoft's cloud platform (Office 365) has persuaded many Exchange admins to switch over from their current environment to the cloud. But moving their on-premises Exchange to Office 365 is not at all an easy task with native options.
Express Migration – A Noteworthy Entry in the Native Options
There are a number of native options (like cutover migration, hybrid migration, staged migration) available for the admins to move from their on-premises Exchange Server to Office 365. Express Migration, which is considered a better alternative to the cutover migration in small and medium organizations, is the latest entry to the list of native options.
According to Microsoft, there is no downtime for the users with Express Migration, as it allows mail flow continuity throughout the entire migration process. Express Migration is quick, and cost-effective.
Benefits of Express Migration
Moving from Exchange Server to Exchange Online may sometimes become a headache for small businesses. Native options (like hybrid and cutover) usually demand complex infrastructure and server setups. But Express Migration perfectly suits the requirements of small and medium organizations, with many benefits like:
User names/passwords syncing from on-premises
No need to recreate and rebuild Outlook profiles
Zero downtime during the entire migration process
Pre-requisites for Express Migration
Use this method to migrate emails if you:
Have any of these environments – Exchange 2016, Exchange 2013, and/or Exchange 2010 server on-premises.
Don't require directory synchronization to manage your users.
Target to migrate to Office 365 over a short period of few weeks or less.
Step 1- Preparing Express Migration (Verify Domain)
Before proceeding towards the migration process, make sure you've already signed up for Office 365 subscription and have a verified domain. The external domain name has to be added as an Alternative UPN suffix in 'Active Directories Domains & Trusts'.
Use the following instructions to do so:
Right-click Active Directory Domains and Trusts, and select Properties.

To add an alternative UPN suffixes, provide your verified email domain name and select Add. Click OK to save the settings.

Doing this will ensure that your on-premises users are assigned their UPN suffix to their matching email domain name. In Active Directory Users & Computers, select properties, and click Account tab and provide the relevant domain name against the user logon name.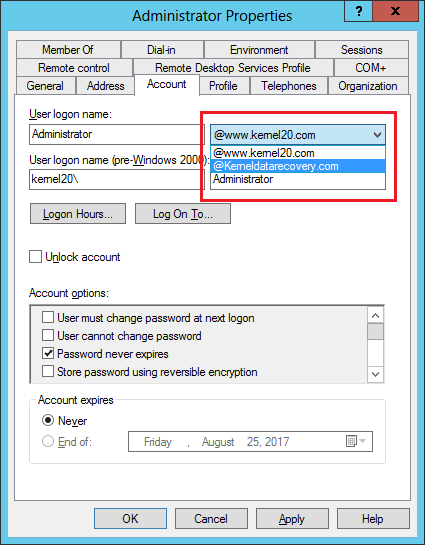 Step 2- Begin Express Migration from Office 365 Portal
Get into the Admin Center of Office 365 portal, and navigate to Users, and then to Data Migration.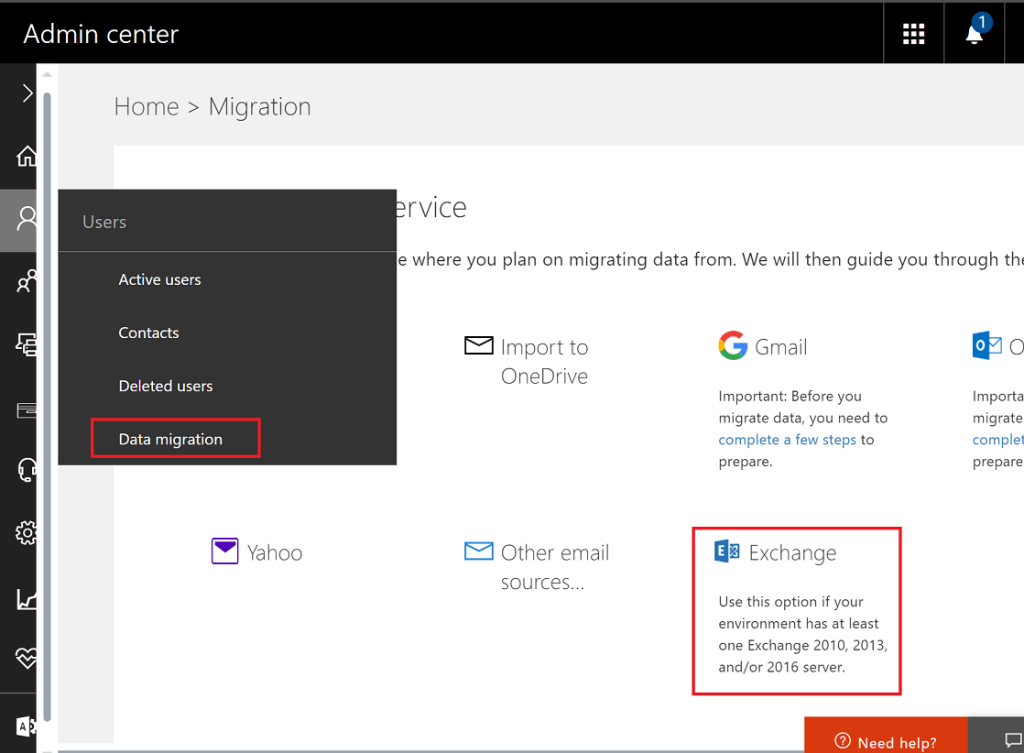 Make sure you've Exchange 2016, Exchange 2013, Exchange 2011 or SBS 2011, before downloading and executing Hybrid Configuration Wizard. This wizard helps you to establish hybrid deployment in on-premises Active directory. It also lets you define and configure various parameters for your hybrid deployment. To do this, it first creates the HybridConfiguration object and gather existing Exchange and Active Directory topology configuration data. You can also learn to create and configure a new hybrid deployment here.
Step 3- Run Directory Synchronization
To perform migration for small enterprises, select Office 365 Minimal Hybrid Configuration, and then select Synchronize users & password one time option to quickly move your user mailboxes (around 50 or less), without any fuzz. This will install Azure AD Connect for data migration and sync. Select the default Express settings and the synchronization to complete. Once you are done with the migration, you can manage the users with the following options.
Cloud-only – A Method to manage new users and passwords in Office 365 portal, but has no connection with on-premises accounts.
Azure AD Connect – This method includes all the operations related to synchronization identity data (including passwords) between Azure AD and the on-premises environment.
Microsoft Essential Dashboard Integration – A centralized location to administer Office 365 mailboxes, and distribution groups without Exchange Server.

Step 4- Assign Office 365 Licenses to Users
Once Azure AD Connect has synchronized the mailbox users (with their passwords), then you have to assign Office 365 licenses to migrate their on-premises mailboxes.
In Admin center, select Users > Active Users > Edit to assign product licenses.
Step 5 – Begin Mailbox Data Migration
After assigning the licenses, you can begin the mailbox migration, with the following steps:
Select Users > Data migration, and select Exchange as your data service on the Migration page.
On Data migration page, select Start migration to allow moving the user mailboxes that you want to migrate.
Note: It is a good practice to run a migration test for two or three users, before migrating them all at once. It is advised to ensure that everything works perfectly as expected.
Step 6 – After Migration, Update DNS Record
DNS record is useful for email systems to track where the emails have to be delivered. Now when migration of on-premises Exchange to Office 365 is completed, you've to finish setting up your DNS record as well.
In Admin center > Settings > Domains and them update domain name.
Limitations of Express Migration
No doubt that Express Migration is a simplified migration method, but it does have certain limitations like:
Performs one batch at a time.
Supports only one migration endpoint.
Migration can be performed only on licensed Office 365 users.
Some elements (like a user changes the password manually, or new user is created) may not be synchronized with Office 365 during the migration – and hence creating unexpected troubles.
The 'Express' method is not an ideal choice for bigger organizations as only one endpoint and a single batch migration would be a too time-consuming process for them. However, a third-party Exchange migration tool is a better alternative for larger organizations to recover Exchange databases and restore them to live Exchange and online Exchange portals.
Conclusion
Express migration is a great choice for small business to migrate Exchange to Exchange online (Office 365) within a couple of weeks or less.