Read time: 4 minutes
Microsoft Teams is the communication application of Office 365. It offers a safe and productive space for chats, video conferencing, file sharing, and audio calls. It has surpassed other communication tools like Skype for Business and Microsoft Classrooms. As of 2022, more than 200 million active users access Microsoft Teams daily.
Users who have not installed Microsoft Teams on their computers can access the application on a web browser. They can use their Office 365 credentials and access their chats, groups, and channels completely. On rare occasions, when users try to log in to MS Teams using a web browser, they get an error that Microsoft Teams Web Client is disabled.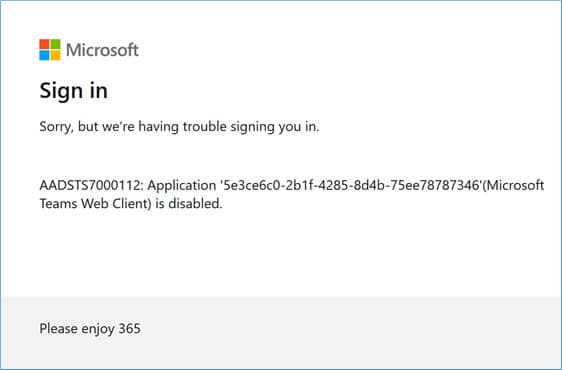 The error does not show the cause of the error, and you require to run some troubleshooting to check the cause of the error.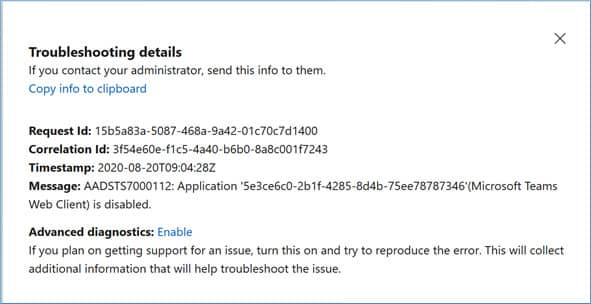 After troubleshooting, you will get the details that Advanced diagnostics are required to Enable the MS Teams web client.
Enable Microsoft Teams Web Client
You can enable Microsoft Teams Web Client service in Azure Active Directory and access your Teams in the browser again.
Log in to the Office 365 account and go to Azure Active Directory Admin Center.
Under the favorites category, select Enterprise applications. Choose All applications and Type 'Microsoft Teams Web Client.' Click on Microsoft Teams Web Client when it appears as the search result. Don't apply other filters.
In Properties of Teams Web Client, it shows that it is not enabled for the user to sign in.
Change the status from No to Yes by moving the toggle button.

The changes will take some time to apply, and later you can open Teams in a web browser easily.
Browser support for MS Teams web
There are a few important points that you should remember while accessing MS Teams in different browsers. Each browser has some limitations related to the functionality of Teams, and you should plan your meetings accordingly. Such planned management of meeting and calls will help to improve MS Teams performance by multiple folds.
Google Chrome
The support for calling in MS Teams is not available till now. Google has promised that newer versions of chrome will support it gradually. Regular meetings will happen as usual.
Microsoft Edge
Being a Microsoft product, the Edge browser supports calling, meetings, and other activities of Teams web. You can open the app and perform all the available actions.
Mozilla Firefox.
Mozilla Firefox lacks calling and meetings support. If you try opening MS Team web in Firefox, it will redirect to MS Teams desktop client download page.
Apple Safari
Apple Safari does not support MS Teams too. It will also redirect you toward MS Teams desktop client download page. Upcoming versions of the browser may support Teams.
Backup MS Teams Data
As MS Teams data is very important, many organizations like to backup MS Teams data. By backing up the Teams data, one can ensure that important information is not lost or deleted. And some professional backup tools that support MS Teams can save its data. MS Teams Migration tool is an easy-to-use tool that organizations can use to backup MS Teams data with all the minute details.
Conclusion
The main benefit of using MS Teams web is that it is available universally. You can use any device with an Internet connection and a web browser. And you can access MS Teams easily. And you can backup MS Teams data using Kernel Migrator for SharePoint if needed.