Read time: 4 minutes
"As someone who has attended countless meetings, both in person and virtually, I know the importance of taking good notes. However, organizing, sharing & editing those notes can be a challenge, especially in a remote work setting. That's why I was excited to learn about Microsoft Teams Meeting Notes. This feature helps you to create a collaborative workspace for your meeting, complete with an agenda, notes and tasks for all attendees to see & edit in real-time. If you need to access those notes later, they're conveniently stored in Office.com within the Loop document."
But it's important to note that not everyone may have access to these meeting notes, especially if they weren't directly invited. To get the best experience for all attendees, it's recommended to edit the notes before or after the meeting from your Teams Calendar or web browser. Let's get to all the details of Microsoft Teams Meeting Notes & see how this tool can benefit your team.
How to create a meeting with meeting notes?
Conducting a successful meeting requires proper planning, preparation & organization. One way is by creating a meeting with meeting notes. Here are the steps to follow to create a meeting with meeting notes:
Begin by planning your meeting: Create an agenda that outlines the topics you intend to discuss, the goals of the meeting & the expected outcomes.
Prepare attendees: Share your agenda with all the users before the meeting to give them some time to prepare.
Schedule your meeting: The next thing to do is to schedule the meeting. In Microsoft Teams, go to the Calendar & tap on'+ New meeting'.
Add an agenda to the meeting: Under the Details tab, choose 'Add an agenda others can edit.' This helps the participants to view & make changes to the agenda as necessary.
Add notes or tasks: You can also add notes & tasks to the meeting to provide additional context & clarity to the agenda items.
Send the meeting invitation: After all the necessary details are in place, send the meeting invitation to all participants.
Adding & changing the notes in existing meeting
But can we add & change meeting notes in an existing meeting? Yes, you can. Look at the details below.
Go to your Teams Calendar & select the meeting you want to edit.

Important: At times, you can also face the issue of calendar missing in Microsoft Teams, so make sure your teams is up-to-date.

If the meeting is part of a series, select 'View series' to make changes to the entire series.
Add or edit meeting notes or agenda items as necessary.
Select 'Send' & 'Update' to save the final changes.
It is crucial to know that changes made to the meeting series will apply to all future meetings & changes made to a single meeting will only affect that meeting.
How to take meeting notes during a meeting?
Proper notetaking assists you to document important information, track progress & stay on top of things. Here is how to take meeting notes during a meeting effectively.
Firstly, join the Teams meeting.
Tap on the Notes button.
Add a task, agenda, or notes now.
How to take meeting notes after a meeting?
In addition to being automatically saved, Microsoft Teams meeting notes can be viewed & edited afterwards. Steps to access the meeting notes after a meeting are here below:
Navigate to the Teams Calendar.
Choose the meeting from where you want to view notes.
Go for the option Expand meeting details.
Tap on Details & click on Notes.
Lastly, click on Send update to save & send changes. You can also view the notes in full screen after the meeting has ended within the meeting chats group.
Note: Using recap feature, you can access meeting notes, transcripts & more detail on your meeting. Check out Microsoft Teams Premium's Intelligent recap for more information.
Winding up
After reading this post, we hope you have a better understanding of what Microsoft Teams Meeting Notes are & why they can be beneficial for your business. We strongly encourage you to utilize the Kernel Microsoft Teams Migration tool, as it offers a simple yet precise system to migrate your content quickly & accurately. Moreover, with its ability to migrate attachments of chats and store them safely & securely, it is undoubtedly the best way to go when it comes to migration needs.
FAQs
Q. How to use sticky notes in Microsoft Teams?
A. To use the sticky notes in Microsoft Teams, follow the steps below.

Tap on the Share Content option, choose Microsoft Whiteboard.
Among the many options available, find the sticky notes option on the extreme right.
Tap on it and you can use the sticky notes in meetings now.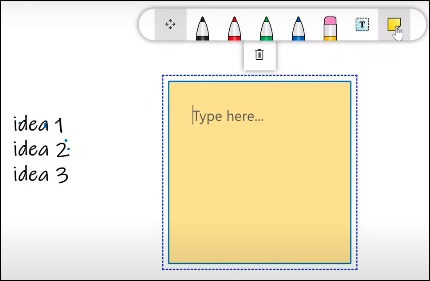 Q. Are meeting notes in Teams private?
A. Meeting notes in Teams are not automatically private. They are only accessible to those who are invited to the meeting before the notes are created. But, others can request access to the notes & the owner will receive an email notification.