Read time: 5 minutes
Microsoft List is one of the newest entries into the Microsoft 365 subscription plans. It is a tracking service that lets you administer information, track others' tasks, and share data with others. It allows you to synchronize data across SharePoint and MS Teams. The lists app is a central location to view and manage all your lists—whether you are at home, on the move, or working with coworkers in Teams.
Microsoft termed Lists as the evolution of SharePoint list, and it encompasses several things like-
SharePoint lists
Microsoft List home page
Microsoft List mobile page
List app for MS Teams
Whether it's Microsoft Teams, the Lists mobile app, a SharePoint site, or the new Lists home page (which will collect all of your lists, new and current), Microsoft Lists will offer great value to users allowing them to create and access a list from outside of SharePoint. It helps to improve MS Teams performance and makes it more independent.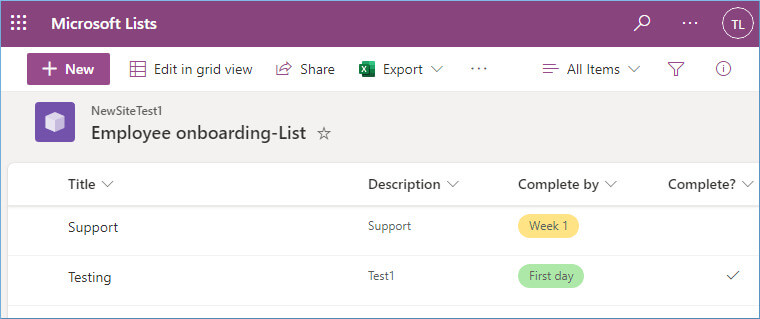 How to organize data with Microsoft List
A list has columns and rows like an Excel table. A list may contain names, images, links, expiration dates, and file attachments. To group, categorize, and keep track of information, you may add columns for various forms of data, such as text, numbers, currencies, dates and times, or drop-down lists of multiple options. To show data more efficiently, you can also construct list views that filter and sort the data in your List.
Use one of the list templates provided by Microsoft 365 to create a new list if you don't want to start from scratch. To assist you in frequent use, templates use layouts with pre-configured columns, color formatting, and data structure. Additionally, even when making a list using a template, you can alter it to suit the unique requirements of your business.
How to import MS Excel sheets into Microsoft Lists?
Microsoft list has an inbuilt facility that helps you import an external MS Excel sheet to the List app with its complete table formats, including columns and rows. Here is the whole process-
Prepare your Excel sheet by checking that columns are filled properly.
Login to Microsoft List apps and click on the New list option.
Click on the 'From Excel' option.
Click 'Upload file.'
After browsing the Excel file, you can select the table and check the columns of the file to add. You can also create more columns and edit them too. Click Next.
Provide a name, description, color theme, icon, 'Save to' location to the new list and click the Create button.

To highlight the data that matters to you the most, add filtering or sorting or create a private view that is hidden from the rest of your team; you may also create and preserve custom views. And to save time and perform bulk edits, use the upgraded Quick edit feature.
List customization with additional features
Make use of flows, forms, and rules to give your data personal:
Establish guidelines and alerts to keep everyone informed.
Personalize Power Map list data to your business processes using automated flows.
Set up list forms so that you can add more details.

Users can more easily explore your List's content and keep up with any changes when you personalize it. It's also a great technique to increase your users' interest in the information in a list.
Conclusion
Microsoft List is a crucial part of SharePoint and MS Teams. In MS Teams, it is pre-installed for all users and can access on all channels and various teams. It is stored on a SharePoint site. They inherit their permissions from the respective site too. While making the complete plan for SharePoint migration or MS Teams Migration, you must keep the focus on the data present in Microsoft List too. Kernel Migrator for SharePoint will migrate a SharePoint site, including the List data and its associated permission too. It is a professional tool that lowers the burden of a heavy SharePoint Migration through its advanced features that facilitate selective migration and migration scheduling.