Read time 5 minutes
The Gmail account is accessible in various web browsers. The only thing is that the users need to log in each time they open their accounts. But there are some email clients like MS Outlook, Mozilla Thunderbird, and Apple Mail that help them manage Gmail accounts more conveniently. To connect the account, the client requires the email server name of Gmail that is 'imap.gmail.com.'
IMAP (Internet Message Access Protocol) is an Internet protocol that helps email clients access Gmail messages using TCP/IP connection. Its default port number is 993, and there is no problem with account connection generally. Sometimes, the email server for Gmail 'imap.gmail.com' does not connect to that account, and the email client does not access new messages.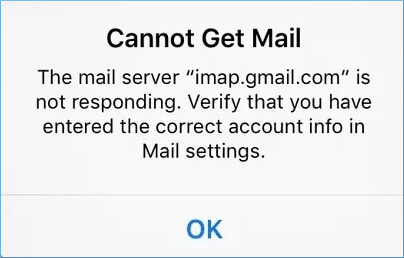 Causes of Non-responsive imap.gmail.com Server
Generally, the error related to the IMAP protocol is due to the wrong settings, improper connection, slow Internet speed, or the outdated version of the email client. You should check all these aspects and use the correct method. Then, the Gmail account will work correctly.
Check Internet Connection
The email clients download the messages from the server to the mailbox and show them to you. It requires an optimal internet speed to finish the process. You should check the internet cable, Wi-Fi router, Hotspot connection, or other media that you use. Later, you can restart the email client and check your Gmail account.
Check Email Client Version
Sometimes, there is nothing wrong with your Gmail account, but the issue is with your email client itself. The client application like Outlook and Mozilla Thunderbird can have multiple email accounts. They also use different modules and variables. If any other account is corrupt or the client version is old, it will also create issues for the accounts.
For Outlook, you can click File, then go to Office account. If any updates are pending, it will show you the updates option. You can use it to update Outlook to the latest version.

Additionally, the email client may become corrupt due to a faulty state and cannot connect with any web server. If you can find the signs of corruption, you should not update the application but try to remove corruption and save the account's data.

Bad SSL Settings
The SSL certificate provides the necessary security to the incoming/outgoing messages. If there are any bad changes in the settings or the license for a professional SSL certificate is expired, you should check the current SSL certificate and update it. There are several third-party vendors that provide multiple types of certificates for professional usage. You can purchase anyone and add it to your email client app.
Enable IMAP settings in Gmail
The IMAP setting in Gmail is enabled by default, but the user can disable it also. If you have disabled your IMAP settings, then it will show the imap.gmail.com error. You can enable it using the below steps-

log in to the Gmail account and go to its Settings.
In the Forwarding and POP/IMAP tab, then click the Enable IMAP option.

Click Save changes. Now, you should reconnect your Gmail account with the email client.

Disconnect and reconnect the Gmail Account
It is the final way to remove the error related to the IMAP accounts. When the account shows an error, you can delete it and reconnect it.
Delete Gmail Account in Outlook.

Click File >> Account Settings >> Account Settings.
Choose the account and click Remove.
A warning message will appear that if you remove the content, its offline cached content will also get deleted. Click Yes.

Connect Gmail Account in Outlook.

Click File >> Account Settings >> Account Settings.
Click the New option.
Under Advanced options, you need to provide an email address and password. Let the account connect with Outlook.
Under Manual options, you need to provide an email address, password, incoming web server, outgoing web server.
After connecting your account, you can click Send/Receive All Folders and check if it receives new messages.

This way, you can sync your G Suite account with Outlook that is an important web server using IMAP connection.
Conclusion
If you are using Google Workspace (earlier known as G Suite), then your Gmail account will also have IMAP settings. When such accounts face problems related to the IMAP settings, it has maximum chances of some corruption. Therefore, you should take a regular backup of G Suite constantly. Kernel G Suite Backup software is a highly useful software that saves mailboxes to PST from healthy files. It saves all the mailboxes in individual PST files with the same name as the mailbox. It retains all data, including files, folders, settings, and properties.