Read time 6 minutes
Apple Mail is the email service in various Apple products like MacBook, macOS systems, iPhone, iPad, etc. It provides the threaded messages feature where the user can directly reply to the message without creating a new mail. The messages are arranged as conversations, and when you click on a message, it shows the entire discussion.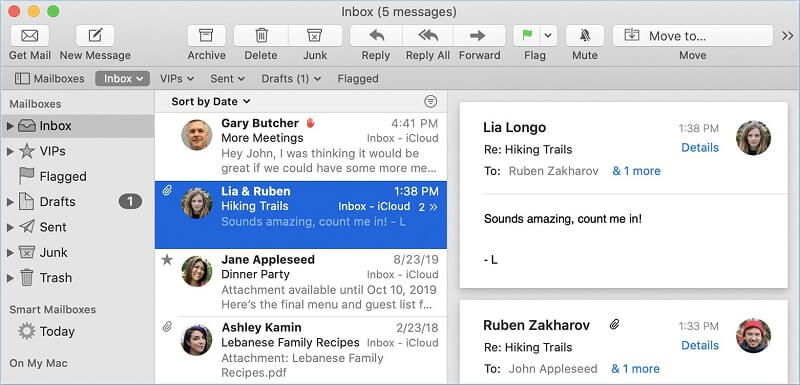 If you purchase a new Windows device and want to move the email to a new platform, you should change the email to a Windows-supported application like Outlook. It needs you to transfer files from Apple Mail to Outlook, which rely on MBOX and PST format respectively to store the user's data.
The task of MBOX file to PST – Apple Mail to Outlook migration— can become confusing and complex for most of the users, as there is no direct way or method for such a migration.
In this article, we'll list two specific methods- manual and automated- to migrate from Apple Mail to Outlook.

Manually Migrate from Apple Mail to Outlook
For manual migration, a few other email clients must complete the process. As mentioned earlier, Apple Mail stores the mailbox data in the MBOX format file, and Microsoft Outlook stores mailbox data in the PST file. In Outlook, support for directly importing MBOX files is not allowed. That is the reason tools like Eudora, and Outlook Express are needed.
Manual Apple Mail to Outlook migration is a multi-step process, so we'll go through each step one after the other respectively.
Step 1: Import Apple Mail MBOX File
With this manual method, you can convert mailboxes from Apple Mail to Outlook and its different versions available such as Outlook 2010, Outlook 2013 & Outlook 2016 on a Microsoft Windows system; follow the steps below:
Launch Apple Mail.
Click on File > Import mailboxes.
In Import Data From the list, select Files in .mbox format, and click Continue.
Browse the MBOX file in the specific path on your Mac system.
Select MBOX and click Continue.
Upon the process completion, click on Done.
Step 2: Create the MBOX File
At this stage, you need to install the Eudora application for Windows to create Apple Mail to Outlook PST format file.
Change the extension to .mbx.
For example, XYZ to xyz.mbx.
Move the file (.mbx) to Eudora's directory.
Navigate through this path to move the file to Eudora's directory.

C:\Documents and SettingsApplication Data OualcommEudora

Open Eudora application > select .mbx file.
Close the application; the file will be created.
Step 3: Import Messages to Outlook Express
Launch Outlook Express.
Click on the File tab, click on Import, and then click on Messages.
Select Eudora from the list of email clients > click Next.
Browse the XYZ.mbx file (for presentation), select it, and click Ok
Click Next > Next and click Finish.
Step 4: Import Mailbox from Outlook Express to Microsoft Outlook
Open Microsoft Outlook for Windows,
Click on the File tab, and click on the Open section.
Select Import and Export.
Choose Import Internet Mail and Addresses and click Next.
Select Outlook Express 6.x, 5.x, 4.x, or Window Mail option.
Checkmark the Import-Mailbox checkbox and click Next.
And that's all! Migration from Apple Mail to Outlook via the manual approach has been completed, and you can continue using the same mailbox in MS Outlook that you used with Apple Mail on Mac.
Limitations of manual migration
It is a lengthy process and consumes much time for the whole migration process.
There is a need to download extra tools like Eudora & Outlook Express.
Any error or mistake on the user's end can result in severe data loss.
It requires sound technical knowledge because any error or mistake on the user's end can result in severe data loss.
This process contains many steps and going through each step one after the other is difficult.
Migrate from Apple Mail to Outlook – with Automation
The manual method works correctly, provided you are ready to deal with its limitations. In the end, you would get the expected result, but the drawback of free methods to convert MBOX to PST file is, that it will consume much time for the whole migration process to complete, and you would need to download extra tools – Eudora & Outlook Express. And setting these added Windows applications would take more of your precious time, making the process even longer.
As stated above, you get the expected result with the manual migration method, but it doesn't ensure maintaining the integrity and hierarchy of the MBOX file.
Thus, to avoid all these situations where chances of data loss are often possible, it is recommended to use a professional for the migration process. The tool would not only help with data loss and file integrity but will save a lot of your time with ample functionalities to enhance your overall migration experience.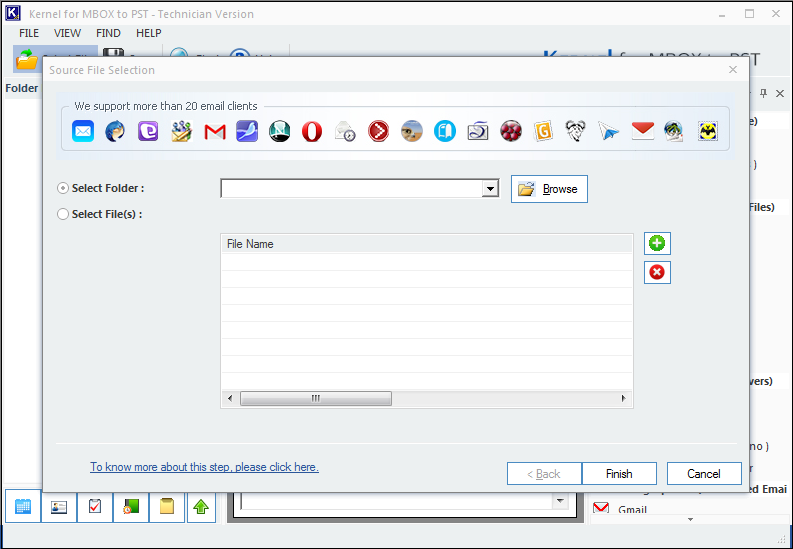 Kernel for MBOX to PST is a fascinating find on the Internet. The tool turns migration tasks into easy tasks that can be completed within a few clicks. With the option of selecting a single MBOX file or multiple for migrations at once, the total time required for migration decreases effectively.
Also, you can apply the filter(s) on mailbox folder(s) as per the importance, which helps narrow down the overall file size after migration. The tool offers support for all versions of Microsoft Outlook.
Conclusion
Mail and MS Outlook are two platforms that have stark differences. The migration job from Apple Mail to Outlook is not a cakewalk. The manual migration process requires various sub-steps, which doesn't make it suitable for users, especially beginners. Step-by-Step execution in the given order is recommended to avoid an uncertain loss. Alternatively, you can try a professional Apple Mail to MS Outlook Migration tool.