Read time 10 min
Mac and Windows are the two most popular computer operating systems in the world. While Windows is widely used, the user base of Mac continues to grow at a high rate. Further, Mac leads in terms of revenue and profile. Both these operating systems are different from each other in almost every sense. While Mac is lauded for its GUI and high stability, Windows provides flexibility and interoperability. One can go on talking about the differences between these OS's, but that is a never-ending conversation. So, let us move forward to Apple Mail and MS Outlook and why one might need to export contact.
Apple Mail is the default mail client on a Mac machine, and Microsoft Outlook is a widely used email application that is also a part of the Microsoft Office suite. Both these applications are very efficient. There might be different reasons due to which a user may need to move contacts from Apple Mail to Outlook.
If a user is switching from macOS to Windows and wants to use Outlook as an email client on Windows
A user may need to share contacts from a Macintosh machine to a Windows user.
A user may be trying to switch from Apple Mail to Outlook on the Mac OS itself. Outlook application is also available on the Apple store that is compatible with Macintosh (but uses OLM file for storage).

Instant Solution
Download Kernel for MBOX to PST Converter tool to export contacts, calendar, emails and other items from Apple Mail MBOX file to MS Outlook with ease.


Now, let us begin on how to move your contacts from Apple mail to MS Outlook. There are two parts to this process — first, export contacts from Apple Mail in a format that can be imported in Outlook. Second, import the contacts to MS Outlook.
Export Contacts from Apple Mail
Apple Contacts application provides the option to export your contacts in only two formats: VCF and ABBU. ABBU format is only Apple compatible and is not supported in Outlook application. So, we are not going to export our file in ABBU format.
Firstly, we need to add the Apple Mail contacts to the Contacts application, and then we will export them. Follow the steps below to add to contacts.
Import the Contacts into MS Outlook
In the above column, we covered two different ways to export contacts from Mac. Based on the method you chose, you should have a VCF file or CSV file. You can move this file from one machine to another by using a removable storage device such as an external storage disk, a USB pen drive, etc. Alternatively, you can simply send this file as an email and download it on your Windows machine. Also, you can use any of the cloud sites to save and share the file. Before moving forward, you should have this file moved to your Windows machine to a known location.
Thanks to widely recognized file formats, we are able to export and import contacts from Apple Mail on Mac to MS Outlook on Windows. But this process can be fairly complex and time taking to follow for many individuals, not to mention dull and uninteresting too. We have a better solution for such users who would rather like to get it over with quick and easy steps. Proceed further to know more about it.
Use Kernel for MBOX to PST Tool
You can use Kernel for MBOX to PST converter to avoid all this hassle and import all Apple Mail items, including contacts to your Outlook. You can totally customize your export and import process using the different options of the tool. You need to export the required data to MBOX file in Apple mail and convert it to PST using Kernel for MBOX to PST tool. This converted PST file can then be easily imported to Outlook.

Below is the home screen of the tool to give you a glimpse of the simple yet effective GUI.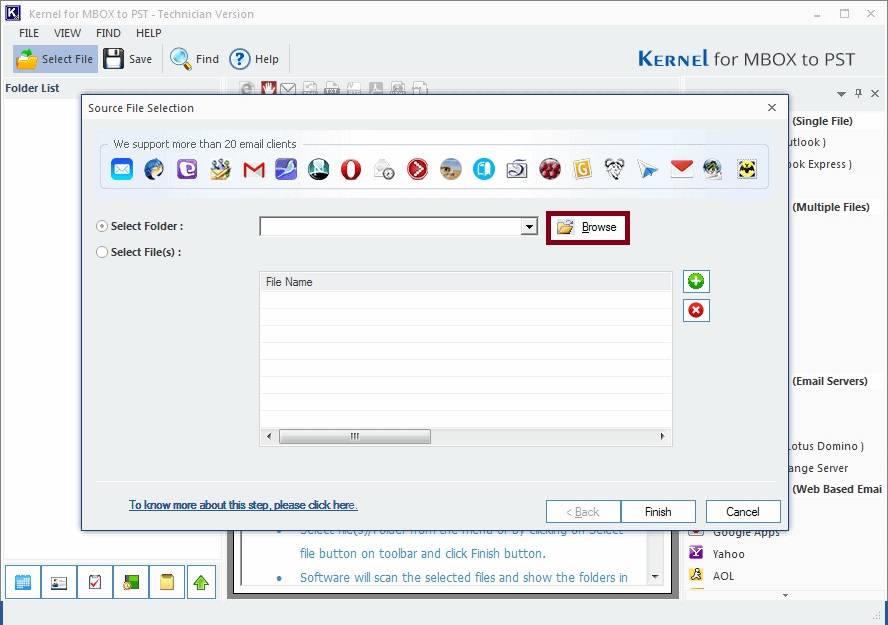 Conclusion
We started the blog by giving a brief idea about the Mac and Windows operating systems. Then, we covered the Apple Mail and Outlook applications and gave a few scenarios when one might need to copy contacts from Apple Mail to Outlook. We divided the problem into two parts – exporting from Apple Mail and Importing into Outlook. Before exporting the contacts, we quickly covered how one can add their Apple Mail Recipients to the Contacts list. Then, we gave a detailed step by step guide on how to export your Apple mail contacts in VCF format. We also covered a hack to export these contacts in CSV format. Next, we covered the methods to import the VCF file and CSV files into Outlook. In the end, we recommended a brilliant tool, Kernel for MBOX to PST, to help you move not just your contacts but other email items as well to Outlook.