Read time 10 minutes
Summary: This content discusses the need to transfer Mac contacts to Outlook, detailing a manual process involving exporting contacts from Apple Mail in VCF or CSV format and importing them into Outlook. It also recommends a third-party tool, Kernel for MBOX to PST converter, as a more convenient solution due to the complexities involved.
Contemporary operating systems come equipped with numerous built-in applications that minimize the reliance on external internet resources. For instance, email communication, which relies on web services, is seamlessly facilitated by Windows through Outlook and by macOS via Apple Mail. These applications efficiently establish connections with diverse web servers and streamline email communication through threaded messages.
Apple Mail serves as the primary email client on Mac computers, while Microsoft Outlook is a popular email application integrated into the Microsoft Office suite. These two programs offer distinct features and efficiencies. However, there are compelling reasons why a user might find it necessary to transfer their Mac contacts to Outlook, and a few of these reasons include:
If a user is transitioning from macOS to Windows and intends to utilize Outlook as their email client on the Windows platform,
A Macintosh user may want to exchange contact information with a Windows user.
A user may be trying to switch from Apple Mail to Outlook on the Mac OS itself. Outlook application is also available on the Apple store that is compatible with Macintosh (but uses OLM file for storage).

Instant Solution
Download Kernel for MBOX to PST Converter tool to export contacts, calendar, emails and other items from Apple Mail MBOX file to MS Outlook with ease.
Understanding the need to import Mac contacts to Outlook
Mac and Windows are widely adopted platforms in the corporate and business world, yet they operate independently and lack compatibility with each other. Additionally, MS Outlook employs the PST format on Windows, whereas on Mac, Outlook generates OLM format files. Consequently, if you decide to transition from one platform to the other, be it from Windows to Mac or vice versa, you'll need to migrate your data from one environment to the other. The same scenario applies when transferring Mac contacts to Outlook or any other distinct platform.
Let's kick off the actual procedure for importing Mac contacts into Outlook. This process consists of two parts:
Export your Apple Mail contacts into a compatible format for easy import into Outlook.
Transfer your Mac contacts to Microsoft Outlook.
Export Contacts from Apple Mail
The Apple Contacts app offers two export formats for your contacts: VCF and ABBU. However, it's important to note that the ABBU format is exclusively compatible with Apple and cannot be used with the Outlook application. Therefore, we will opt to export our file in the VCF format.
To begin, let's incorporate the Apple Mail contacts into the Contacts application, and subsequently, we'll proceed to export them. Please follow the steps outlined below to add these contacts to your list.
Import Mac Contacts to Outlook
In the preceding section, we discussed two approaches for exporting your Mac contacts. Depending on your preferred method, you should now possess either a VCF or CSV file containing your contacts. To transfer this file from one device to another, you can utilize removable storage options like an external storage disk or a USB pen drive. Alternatively, you can easily send the file via email and download it onto your Windows machine. Another option is to utilize cloud storage platforms for saving and sharing files. Prior to proceeding further, ensure that you have successfully transferred this file to a known location on your Windows machine.
Import from a vCard File (VCF)

Launch the Outlook application, then navigate to the menu bar and select "File." From there, opt for "Open & Export," followed by clicking on "Import/Export."
The Import and Export wizard will be launched. Choose "Import a VCARD file (.vcf)" and then proceed by clicking "Next."
Navigate to the export file directory, choose the "VCF file," and then click on "Open."
Your contacts have already been imported for your convenience. To access them, either click on the "People" tab in your Outlook or click the ellipsis icon (three dots) and choose "People" from the dropdown menu.
You can now observe the imported contacts within the "My Contacts" section of Outlook.

Import from a Comma Separated Value (.CSV) File

Launch the Outlook application and access the File option from the menu bar.
To proceed, select "Open & Export" followed by "Import/Export."
Within the wizard interface, choose the 'Import from a different program or file' option and then proceed by clicking 'Next.'
I would like you to choose the file type by selecting the option for "Comma Separated Values" and then proceed by clicking on "Next."
Please click the "Browse" button and choose the CSV file that has been exported from Apple Contacts.
Now, you have the flexibility to select from three different options for adding contacts.

Substitute any identical items with those brought in from an external source.
Enable the creation of duplicates (Default).
Do not import duplicate items
Select a suitable option and click on Next.

Choose the Contacts folder within your preferred email account as the destination directory, then proceed by clicking on the "Next" button.
In the following window, select the checkbox to bring in the preferred file from the Contacts folder, then proceed by clicking on Finish.
After clicking on the People button, you will find the imported contacts listed under "My Contacts."
You can seamlessly transfer your Mac contacts to Outlook on a Windows system using commonly accepted file formats. However, this task can prove to be quite intricate and time-consuming for many, not to mention rather unexciting. For those seeking a faster and more straightforward solution, we have just the answer. Continue reading to learn more about this hassle-free alternative.
Limitations of the manual process of exporting contacts
In the manual approach, numerous steps must be meticulously executed, and the slightest error can disrupt the entire procedure, potentially rendering the original file unusable. Furthermore, the file's inherent structure may undergo alterations during the conversion, leading to distorted and unmanageable data.
Import Apple Mail items to MS Outlook Using Third-Party Tool
To simplify the process and seamlessly transfer all your Apple Mail items, including contacts, to Outlook, consider utilizing the robust capabilities of the Kernel for MBOX to PST converter. This versatile tool offers extensive customization options for both export and import procedures. With this tool, you can streamline the process by exporting your desired data to an MBOX file within Apple Mail and subsequently converting it into a PST format. The resulting PST file can then be effortlessly imported into Outlook.
Below is the tool's home screen to give you a glimpse of the simple yet effective GUI.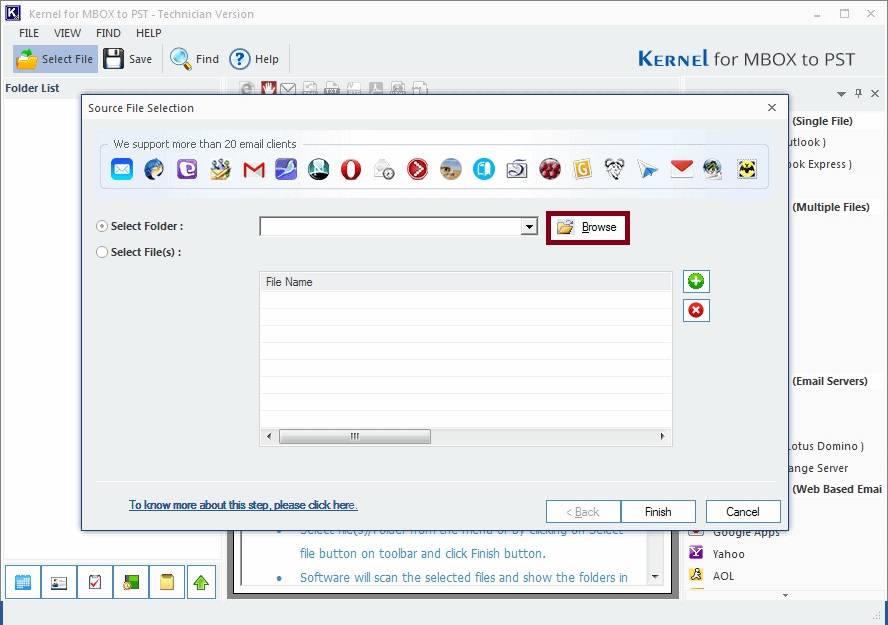 Conclusion
The blog commenced with a concise overview of the Mac and Windows operating systems. Subsequently, we delved into the functionalities of Apple Mail and Outlook applications, and explored various scenarios in which users might find it necessary to transfer contacts from Apple Mail to Outlook. To tackle this task effectively, we divided it into two distinct phases: exporting from Apple Mail and importing into Outlook. Prior to exporting contacts, we provided insights on incorporating Apple Mail Recipients into the Contacts list. We then presented a comprehensive, step-by-step guide on exporting Apple Mail contacts in the VCF format, including a handy workaround for exporting in CSV format. Following this, we outlined the procedures for importing both VCF and CSV files into Outlook. Lastly, we recommended the use of an exceptional MBOX Converter tool, designed to facilitate the seamless migration of contacts and other email elements to Outlook.