Read time 7 minutes
An IMAP account in Apple Mail Mail gets sizeable storage for 18.25 Gigabytes, enough to maintain a professional mailbox and store more emails. When the account size reaches its peak, you should eliminate older emails and other content. If your computer does not have decent storage space to handle a large backup, you can store the backup Apple mail on an External Hard drive. The External Hard drive can be connected/disconnected using the USB cable and it is simple to keep files in it.

You must note that to move Mail data to an external hard drive, first you have to export its emails to an MBOX file which can then be transferred to any destination drive, either external or internal.
Fortunately, Apple Mail facilitates a direct approach for exporting its data to an MBOX file. But the problem is every application; specifically, Outlook, cannot access MBOX files. Therefore if you want to convert your Apple Mail data and save it in PST format, you have to choose a reliable converter tool to convert the resultant MBOX file to PST format and then save it to an external hard drive. Later in this section, we will highlight an efficient tool for such conversions.
Now, you need to know how to backup Apple Mail items to an external Hard Drive and, most importantly, why users require moving their emails to external storage.
Here are some common reasons why users need to save their Apple Mail data on external drives.
Perks of backing up Apple Mail
In our day-to-day life, we must back up our critical data to keep them safe from corruption and deletion because, at the end of the day, "Data is Everything." So as a user, I consider mail backup a backbone for any business.
In case the data is lost, one can easily restore the data with the help of backup without going for an expensive professional solution.
Apple users have their size limitations with each email client. Therefore, after reaching its limits, having a backup is the only solution to help in saving the data.
Having a backup in an external hard drive can save you from tragic situations like physical damage, and accidental loss.
In Apple Mail there is always a high risk of hacking; therefore, the backup data is extremely useful when an email account is hacked, and you want to restore it.
Reasons to backup Apple Mail Data to External Hard Drives
Backing up emails is a much-needed task for both professional and individual users. Many times emails get affected by virus infections and unauthorized accesses; ; in such scenarios, your backed-up data is the only hope left. However, some other advantages of keeping your emails on external devices are-
Retrieving data from backup is much cheaper and convenient than using other data recovery means.
If your email account gets hacked, you will lose all your essential data from your email platform. In such cases, a USB flash drive will help you get back all your lost data.
Email platforms, whether web or desktop applications, have limited storage capacity, so, moving your data to an external hard drive will optimize the memory space of your respective email clients.
It ensures protection from external threats and physical damages

.

Now, we will go through the actual procedure of moving your Apple Mail data to external hard drives. You can perform the migration manually via the client itself

.
Manual Method to Export Emails from Apple Mail to an External Hard Drive:
Launch Apple Mail on your Mac machine.
Select the mailbox folder you wish to export.
Then, click Mailbox from the menu bar options.
Select Export Mailbox… option from the list.
Now, choose to select a destination drive to save the required MBOX file and click the Choose button.
Upon execution of the above steps, your selected data gets successfully exported to the specified location. However, this native method has limitations in terms of usability and platform of the data.
Limitation of Manual Method to backup Apple Mail
The manual method to export emails from Apple Mail to an external hard drive comes with the following limitation-
There is only one file format available to export email data to the hard drive i.e., MBOX. Hence, you will be restricted because professional email clients like Outlook do not support the MBOX format.
If you have large mailbox file, then it will become a time-consuming process.
While using the manual method, there is a chance that you will encounter data loss after the completion of the method.
In such scenarios, you will have to convert MBOX files to PST format to access your data in MS Outlook.
Alternative solution
With so many online resources, finding the exact tool that satisfies your requirements is challenging. Well, you don't have to indulge in this long quest of Internet search to get the right one. We recommend Kernel for MBOX to PST converter for your conversion tasks.
The MBOX to Outlook PST converter is embedded with robust algorithms that helps users convert their MBOX files to PST format with ease. This tool also facilitates conversion of MBOX files to DBX, MSG, EML and other file formats. You just have to download and install the software on your machine to get started.
The home page allows users to select the required MBOX files from their local directories, load them, view the detailed content of each mailbox folder, and save to the desired format.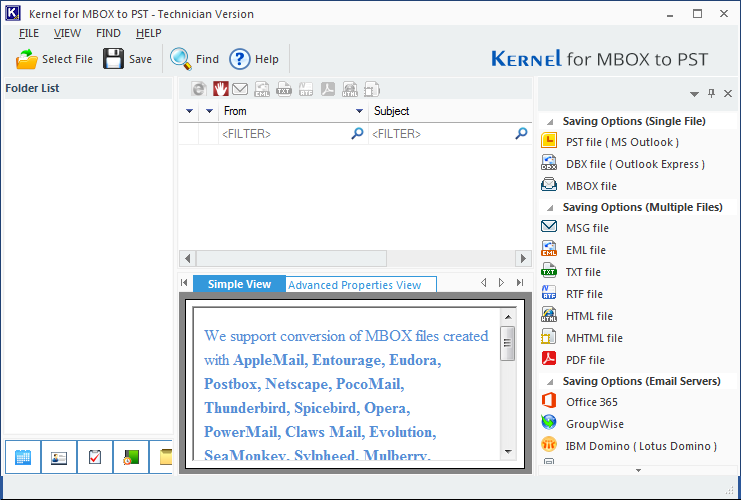 Final Words
Whether you are a professional or an individual user, creating a backup for your important emails will have significant advantages over time. Mac users are always looking for diverse methods to protect their data. Therefore, this blog has covered all the necessary information on creating backup Apple Mail emails on external hard drives.
MVP Reviews
"It is a simple software to migrate MBOX files to Outlook. From Apple Mail, you can export emails to an MBOX file, convert the MBOX files to PST using this tool, and then import the PST files to Outlook. Thus, it helps you migrate emails from Mac to Windows."

William Diaz
Microsoft MVP
El Salvador, Central America

"Migrating MBOX files (of any email client) to Outlook PST is a tedious task, but this tool makes it easy. Many of my friends are using it on my recommendation. It supports Apple Mail and many other MBOX email clients."

Daniel
England