How to Fix Video Stuttering and Glitching Issue on Windows 10?

Read time 8 minutes
Many times upgrading to the most recent version of OS invites new issues and glitches, probably because of the product is still in the development phase. Likewise migrating to the most recent version of Windows i.e. Windows 10 can affect the configurations of some existing programs.
In this section, we are going to discuss one such issue that occurs mostly on Windows 10 platform that is "The video stuttering or glitching issue." It has been reported by a majority of Windows 10 users that their video files fail to play via media player apps or even they encounter lagging issues while streaming videos on the net. What could possibly cause such issues?
Causes behind video stuttering and glitching issue on Windows 10-
If we talk about the reasons that lead to such fatal errors, there can be many. For better understanding of all the users, some of them have been mentioned below-
An outdated media player on which you are trying to play the video
Not installed latest updates from Windows
Outdated graphics driver
Issues with the system configurations
Incorrect settings of the system or media player
Mild to severe level of corruption in the video file
Heavy virus attack on the system
Manual Fixes for Video Stuttering
In order to get rid of the video stuttering and glitching issue, we need to perform a couple of troubleshooting techniques that are based on configurational changes and upgrading your software products. Here is the list of troubleshooting techniques that one must execute:
We will go through each of them in a more detailed manner.
Fix 1: Scan for Hardware Changes OS
Windows receives updates or patches periodically, the latest updates mostly target common bugs and errors. Although Windows automatically detects recent updates and installs them, sometimes updates may get interrupted. The best way is to check for the updates by yourself. To do that, all you have to do is:
Go to Start and enter "Windows Update" in the search box.
Click on the Windows Update Setting option.
Click the Check for updates button. If the recent update is current, you can skip this part.

Fix 2: Update Display Drivers
There is always a high probability that outdated display drives can cause video playback issues. We suggest updating your display drivers should be the first priority when you encounter video stuttering issues on your Windows 10 platform. To update your recent display drives, first, you need to boot your system in the Safe Mode. After that, follow the steps stated below:
Right-click on the Windows icon and select Device Manager.
In the Device Manager dialogue box, expand Display adapters, right-click the currently installed display driver and select Uninstall device option.
Reboot your PC. Go to Windows Update Settings and click the Check for updates button.
Windows will update the most recent drivers.
Now, reboot your system and check whether the issue persists or not.
It is also recommended to have your web browsers, media players, system, antivirus, scanner, etc. updated for the latest facilities and bug fixers.
Fix 3: Scan for Hardware Changes
Scanning your hardware for possible changes might help you resolve the issue quickly. You can scan your hardware components via the Device Manager panel. Here is how you can do a quick scan on your hardware components:
Press Win + R to launch the Run Command dialog box.
Type "devmgmt.msc" and hit enter.
It will launch the Device Manager dialogue box.
In the Device Manager dialogue box, right-click on the topmost category and select Scan for hardware changes.

Once the process is complete, close the Device Manager window and try playing the files again.
Fix 4: Check the Power Management Settings
Every computer has a Power Management control system and allows its users to make changes to their Power plans. Certain changes to the power settings may interrupt specific functionalities of your computer system. We suggest changing your Power Management settings to the default might sort out video playback issues. To make changes to your system's Power Management settings, follow the steps stated below:
Right-click on the battery icon located at the extreme right bottom of the desktop screen.
Select Power Options.

In the Power Options dialog box, click the Change Plan Settings link.
Click Restore default settings for this plan.
Click Yes to restore changes back to the default.
Once you successfully have made the changes, reboot your system and try accessing the videos again.
Fix 5: Change Your Windows 10 Wallpaper Settings
Many users reported that when they enable slideshow for their desktop background for a short interval and play a video; every time the background changes, it skips a frame in the playing video. This probably can be considered as a bug in Windows 10. Fortunately, it can be sorted by just changing the settings for your desktop background.
Follow the steps given below to change the appearance settings on your Windows 10 machine.
Go to Start and enter "Wallpaper" in the search box.
Click Background image settings.
Select the Background tab.
Change the Background mode by either selecting Picture or Solid color.
You can also change the frequency of your slideshow by changing the time interval to a considerable period like 30 minutes or 1 hour. Thus, resolving to shutter and glitching issues.
Fix 6: Alter the Number of Processors in MSConfig
Changing/limiting the number of processors (in the System Configuration settings) also helped many users to get rid of the video playback/stuttering issues. Though it may not work on every system, it's worth giving it a try.
Follow the steps given below to change the number of processors from the System Configuration setting:
Press Win + R to launch the Run Command dialog box.
Type "msconfig" and hit enter.
Select the Boot tab and click on Advanced options.
It will open the Boot Advanced Options dialog box. Limit the number of processors to either one or two. Then, click OK to save the changes.
Note: Other minor solutions to fix stuttering and glitching issues include clearing browser cookies and temporary files on the system, checking the internet connection, switching browser, reducing video size and resolutions, etc.
Fix 7: Use a Third-party Repair Tool
If you are done with almost every measure to fix the video inaccessibility issues and noting seem to be a help, chances are that videos have gone corrupt. Corrupt videos will never become playable until the corruption or damages are completely fixed. In order to fix this, the best way is to try third-party repair tools. We recommend the use of Kernel Video Repair to repair your corrupt or damaged videos. The tool is well equipped with every advanced technology that brings back the original state of corrupt videos and makes them playable again.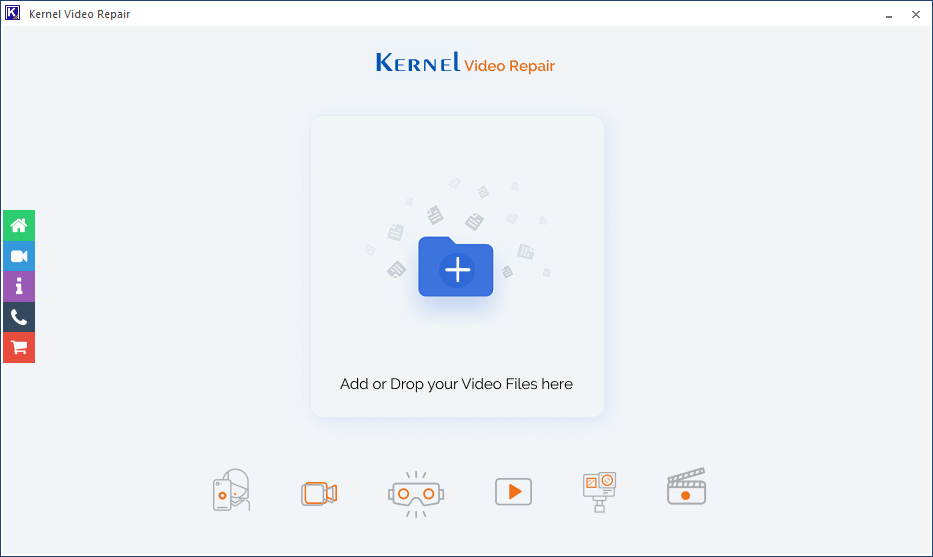 Moreover, the tool offers support to a wide range of video file formats like MP4, MOV, MPEG, M4V, MKV, AVI, etc.
Wrapping Up
This article contains all information you require to fix stuttering and glitching issues in your Windows 10 environment. Make sure you follow all the fixes precisely; any irrelevant changes can lead to the scenarios becoming even worse. In case of corruption to the files, you can opt for third-party repair tools like Kernel Video Repair.