Read time 8 minutes
Summary: Upgrading to the latest OS, such as Windows 10, can lead to video stuttering issues. This article outlines causes, including outdated software and drivers, and offers manual fixes. These solutions include updating drivers, checking hardware, and adjusting power settings to resolve video playback problems on Windows 10.
Frequently, transitioning to the latest operating system release can introduce fresh problems and bugs, often attributable to the fact that the product is still undergoing development. Similarly, making the switch to the most recent iteration of Windows, namely Windows 10, may impact the settings of certain pre-existing programs.
In this section, we will explore a prevalent problem primarily affecting the Windows 10 platform, known as the "The video stuttering or glitching issue." Numerous Windows 10 users have reported difficulties playing video files using media player applications or experiencing performance hiccups while streaming online videos. What factors might be responsible for these issues?
Causes behind video stuttering and glitching issue on Windows 10-
When discussing the factors contributing to these critical errors, numerous reasons can be identified. To enhance comprehension for all users, a selection of these factors is detailed below.
An outdated media player on which you are trying to play the video
Not installed latest updates from Windows
Outdated graphics driver
Issues with the system configurations
Incorrect settings of the system or media player
Mild to severe level of corruption in the video file
Heavy virus attack on the system
Manual Fixes for Video Stuttering
To resolve the problem of video stuttering and glitching, a series of troubleshooting methods should be applied. These methods involve making configuration adjustments and updating software components. The following is a list of the troubleshooting steps that should be undertaken:
We will go through each of them in a more detailed manner.
Fix 1: Scan for Hardware Changes OS
Go to Start and enter "Windows Update" in the search box.
Click on the Windows Update Setting option.
Click the Check for updates button. If the recent update is current, you can skip this part.

Fix 2: Update Display Drivers
Outdated display drivers can frequently lead to video playback problems, posing a significant risk. When confronted with video stuttering concerns on your Windows 10 system, we highly recommend making the update of your display drivers your topmost priority. To accomplish this, initiating Safe Mode for your system is the initial step. Subsequently, follow the provided instructions:
Right-click on the Windows icon and select Device Manager.
In the Device Manager dialogue box, expand Display adapters, right-click the currently installed display driver and select Uninstall device option.
Reboot your PC. Go to Windows Update Settings and click the Check for updates button.
Windows will update the most recent drivers.
Now, reboot your system and check whether the issue persists or not.
It is also recommended to have your web browsers, media players, system, antivirus, scanner, etc. updated for the latest facilities and bug fixers.
Fix 3: Scan for Hardware Changes
Performing a hardware scan can expedite issue resolution. You can initiate this scan through the Device Manager panel. Below are the steps to swiftly scan your hardware components:
Press Win + R to launch the Run Command dialog box.
Type "devmgmt.msc" and hit enter.
It will launch the Device Manager dialogue box.
In the Device Manager dialogue box, right-click on the topmost category and select Scan for hardware changes.

Once the process is complete, close the Device Manager window and try playing the files again.
Fix 4: Check the Power Management Settings
Each computer is equipped with a Power Management control system, granting users the ability to modify their Power plans. Alterations to these power settings could potentially disrupt specific functionalities of the computer system. We recommend reverting your Power Management settings to their default configuration as a potential solution to address video playback problems. To adjust your system's Power Management settings, please adhere to the following steps:
Right-click on the battery icon located at the extreme right bottom of the desktop screen.
Select Power Options.

In the Power Options dialog box, click the Change Plan Settings link.
Click Restore default settings for this plan.
Click Yes to restore changes back to the default.
Once you successfully have made the changes, reboot your system and try accessing the videos again.
Fix 5: Change Your Windows 10 Wallpaper Settings
Numerous users have experienced an issue where, upon activating the slideshow feature for their desktop background and concurrently playing a video, a frame is skipped in the video playback each time the background switches. This issue appears to be a potential bug within the Windows 10 operating system. Fortunately, resolving this problem can be achieved by simply adjusting the desktop background settings.
Follow the steps given below to change the appearance settings on your Windows 10 machine.
Go to Start and enter "Wallpaper" in the search box.
Click Background image settings.
Select the Background tab.
Change the Background mode by either selecting Picture or Solid color.
You can also change the frequency of your slideshow by changing the time interval to a considerable period like 30 minutes or 1 hour. Thus, resolving to shutter and glitching issues.
Fix 6: Alter the Number of Processors in MSConfig
Changing/limiting the number of processors (in the System Configuration settings) also helped many users to get rid of the video playback/stuttering issues. Though it may not work on every system, it's worth giving it a try.
Follow the steps given below to change the number of processors from the System Configuration setting:
Press Win + R to launch the Run Command dialog box.
Type "msconfig" and hit enter.
Select the Boot tab and click on Advanced options.
It will open the Boot Advanced Options dialog box. Limit the number of processors to either one or two. Then, click OK to save the changes.
Note: Additional potential remedies for addressing stuttering and glitch-related concerns encompass tasks such as purging browser cookies and temporary files from the operating environment, scrutinizing the status of the internet connection, exploring alternative web browsers, and adjusting video dimensions and resolutions, among others.
Fix 7: Use a Third-party Repair Tool
If you've exhausted nearly all attempts to resolve video accessibility problems and none have proven effective, it's likely that the videos have become corrupted. Corrupted videos cannot be played unless their corruption or damage is fully remedied. To address this issue, the optimal approach is to utilize third-party video repair software. We suggest using Kernel Video Repair a tool equipped with advanced technologies designed to restore corrupt videos to their original state, rendering them playable once more.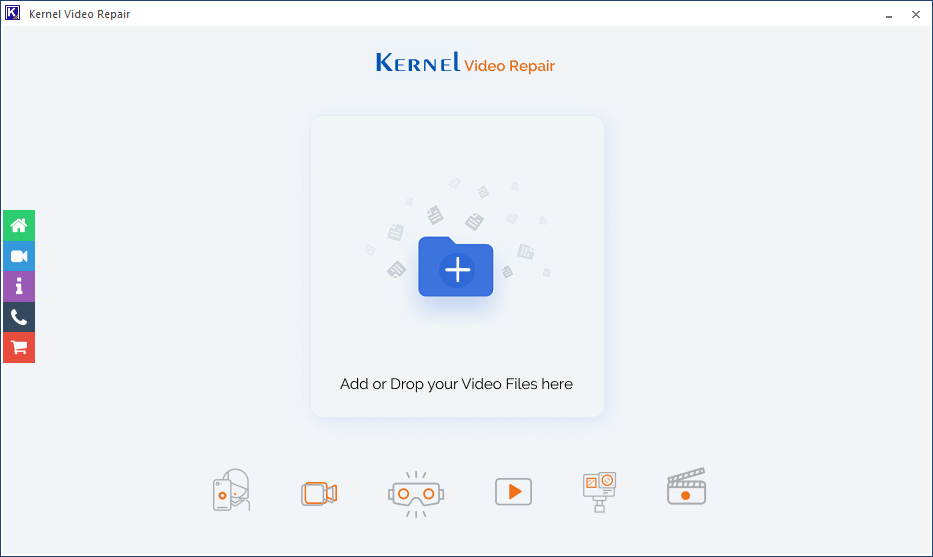 Moreover, the tool offers support to a wide range of video file formats like MP4, MOV, MPEG, M4V, MKV, AVI, etc.
Wrapping Up
This article provides comprehensive guidance for resolving stuttering and glitch problems within your Windows 10 operating system. It is crucial to meticulously adhere to each recommended solution, as making unrelated modifications may exacerbate the existing issues. If file corruption occurs, you have the option to utilize third-party repair utilities such as Kernel Video Repair.