Read time 5 minutes
Drones are popular and are widely used for capturing or recording aerial footages nowadays. It is a remote-controllable flying video recording device to capture high quality videos from any direction or angle with a full 360-degree video. Owing to its high flexibility and advanced functions, these drones are being used in scientific research, explorations, military programs, legal investigations, and geographical explorations all over the world. Also, many users use this device at marriages, functions, ceremonies, or vacations. These drones are of high importance as both government and commercial institutions use them in variety of fields for their works.
Hubsan H501 drones are the widely used drone devices across the globe as they provide the best quality aerial view at any desired angle to its users. But sometimes using these drones can be an issue due to different reasons. The causes could be different, but ultimately affect the videos quality or accessibility.
Some general issues faced by the Hubsan H501 drones' users are stated here:
Failure in recording videos
Low to poor quality videos
Crashed, broken or damaged videos
Because of all these issues, the recorded videos may not be accessible to the users. We have to find the causes behind each issue and fix them. Let us move ahead in that direction to find some effective solutions for each type of issue faced the by users of Hubsan H501 drones.
Solutions to Fix Hubsan Video Files Issues
Change/Format the SD card

If you are facing a certain issue like failure in recording or writing to your SD card, then we recommend you first to check your SD card. Check for the below SD card specifications based on the drone model.

For Hubsan H501S model – storage between 16GB and 64GB, Class 4 or higher and exFAT file system
For Hubsan H501SS/H501A model – storage between 16GB and 64GB, Class 10 or higher and FAT32 file system

If you are not using the SD card with these specifications, then you need to change your SD card at once. If you are still getting the issue, you can try formatting your SD Card and then try recording videos again.

To format the SD card, you need to connect it with your computer and right-click on the SD card drive.
Select the Format option from the list.
In the opened Format window, select the file system allocation size (recommended size is 32 KB); do not enter any value in the Volume Label section.
Click on Start to start the formatting process.

Confirm the process and wait till the formatting is completed. Next, check again if this method was helpful for you or not.

Check Hardware Properly

If you are receiving poor quality, blurry, patchy videos while recording, then you need to check the hardware, i.e. Drone model, SD card, charging device, etc. Make sure you are using the good quality hardware for the video recordings. If there is any issue in the hardware, fix it or replace it. Also, these issues of poor and distorted quality of videos could be due to bad handling of the device by the users while recording the videos. So, take care of this as well while recording the video.

Repair Corrupt Hubsan Video Files

If your video recordings crash or throw an error when you try to open them, then your video files may be corrupted. The reason behind this corruption could be battery issue, incomplete recordings, power fluctuations while charging the device, or any other programming error in the device.

Here, you need to use a helpful professional utility to repair your corrupt Hubsan Video files. To make your search easy, we suggest you try the most effective and easy-to-work-with the solution – Kernel Video Repair.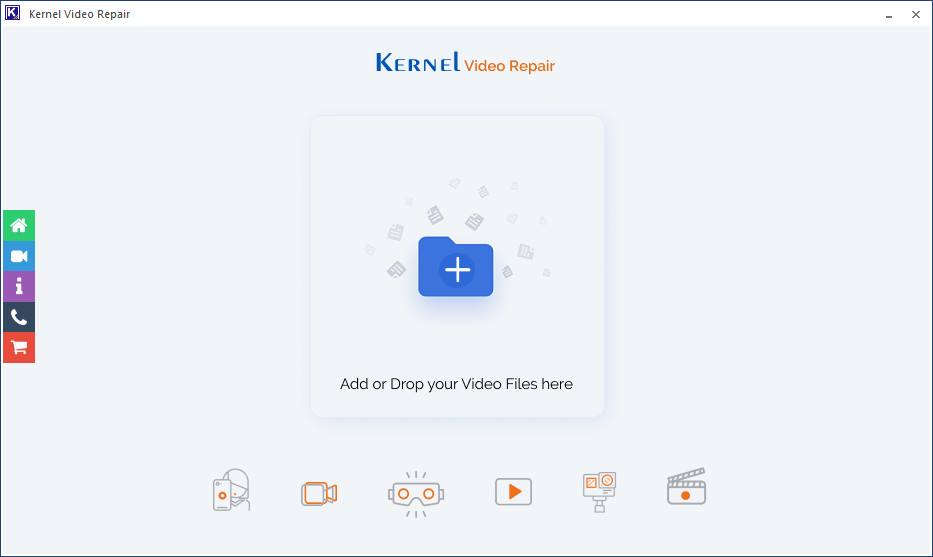 The tool comes with a simple and interactive GUI which repairs corrupted video files. You just need to move your Hubsan video files to the computer drive with the help of SD card reader. Once the files are exported, just add the files to the solution and repair them within minutes.
Some useful and intelligent features of this solution are listed here:
Repairs corrupt, inaccessible, crashed, broken, distorted video files
Repairs multiple videos at a time
Add multiple videos with ease using drag/drop action
No limitation on file sizes
Supports all video file formats from all kinds of video recording devices including drones
Maintains properties, quality, print and file structure of the original video files
Compatible with all versions of Windows Operating Systems
So, the best way to handle corrupted Hubsan or any video files is to repair them with the proficient product . It is the best tool to fix video not playing issue.
Conclusion
For multiple issues on Hubsan video files, some effective native solutions are described here. However, corruption in video files, being the most popular issue, is dealt with an advanced tool.