Read time 5 minutes
Summary: Drones like the Hubsan H501 are popular for aerial video recording. Users face issues like video quality problems, crashes, and corruption. Solutions include SD card checks, hardware inspection, and using tools like Kernel Video Repair for file corruption.
Drones have gained immense popularity and are now extensively employed for capturing aerial footage. These remote-controlled flying video recording devices are capable of capturing high-quality videos from any angle, offering a full 360-degree view. Their remarkable flexibility and advanced features have led to their widespread utilization in various domains, including scientific research, exploration missions, military operations, legal inquiries, and geographical surveys worldwide. Moreover, individuals often employ these devices to document events such as weddings, functions, ceremonies, and vacations. Drones hold significant importance in both governmental and commercial sectors, as they find applications in a wide array of fields.
Hubsan H501 drones are globally renowned for delivering exceptional aerial views from various angles, making them a popular choice among drone enthusiasts. However, users may encounter occasional challenges when operating these drones, stemming from various factors. These issues can vary, but they ultimately impact the quality of videos or the ease of accessibility.
Some general issues faced by the Hubsan H501 drones' users are stated here:
Failure in recording videos
Low to poor quality videos
Crashed, broken or damaged videos
Due to the various problems at hand, users may encounter difficulties accessing recorded videos. Our objective is to identify the root causes of each issue and implement solutions. Let's proceed in this direction to discover effective remedies for the challenges faced by Hubsan H501 drone users.
Solutions to Fix Hubsan Video Files Issues
Change/Format the SD card

If you are facing a certain issue like failure in recording or writing to your SD card, then we recommend you first to check your SD card. Check for the below SD card specifications based on the drone model.

For Hubsan H501S model – storage between 16GB and 64GB, Class 4 or higher and exFAT file system
For Hubsan H501SS/H501A model – storage between 16GB and 64GB, Class 10 or higher and FAT32 file system

If you are not using the SD card with these specifications, then you need to change your SD card at once. If you are still getting the issue, you can try formatting your SD Card and then try recording videos again.

To format the SD card, you need to connect it with your computer and right-click on the SD card drive.
Select the Format option from the list.
In the opened Format window, select the file system allocation size (recommended size is 32 KB); do not enter any value in the Volume Label section.
Click on Start to start the formatting process.

Confirm the process and wait till the formatting is completed. Next, check again if this method was helpful for you or not.

Check Hardware Properly

If you're experiencing subpar video quality characterized by blurriness and patchiness during your recording sessions, it's essential to inspect your hardware components. This includes assessing the drone model, the quality of your SD card, your charging device, and other relevant equipment. It's imperative to ensure that you are using high-quality hardware for your video recordings. If any hardware issues are detected, promptly address them by either fixing or replacing the affected components. Additionally, it's worth noting that issues with video quality may also arise from improper handling of the device by users during recording. Therefore, exercise caution and attentiveness while capturing your footage to avoid such distortions.

Repair Corrupt Hubsan Video Files

If you encounter difficulties opening your video recordings due to crashes or error messages, it is possible that your video files have become corrupted. This corruption can stem from various sources, such as battery problems, incomplete recording sessions, power fluctuations during device charging, or potential programming errors within the device.

Here, you need to use a helpful professional utility to repair your corrupt Hubsan Video files. To make your search easy, we suggest you try the most effective and easy-to-work-with the solution – Kernel Video Repair.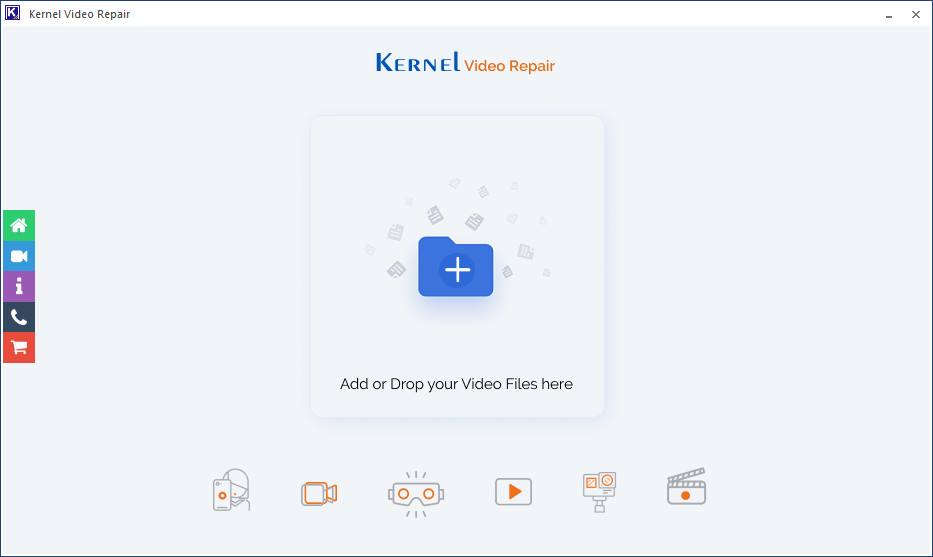 The software is equipped with a user-friendly and interactive graphical user interface (GUI) that efficiently fixes damaged video files. To use it, simply transfer your Hubsan video files to your computer using an SD card reader. Once the files are imported, you can swiftly add them to the program and initiate the repair process, which typically takes only a few minutes.
Some useful and intelligent features of this solution are listed here:
Repairs corrupt, inaccessible, crashed, broken, distorted video files
Repairs multiple videos at a time
Add multiple videos with ease using drag/drop action
No limitation on file sizes
Supports all video file formats from all kinds of video recording devices including drones
Maintains properties, quality, print and file structure of the original video files
Compatible with all versions of Windows Operating Systems
So, the best way to handle corrupted Hubsan or any video files is to repair them with the proficient product . It is the best tool to fix video not playing issue.
Conclusion
This paragraph discusses various problems related to Hubsan video files and provides solutions. While native solutions are effective for several issues, addressing video file corruption, the most common problem, requires the use of an advanced tool.