Read time 8 minutes
Gmail, one of the most popular services offered by Google for both businesses and individuals, is an important part of the Google products ecosystem. Earlier, Google services weren't as popular as Microsoft's, specifically for businesses, but the search engine giant is now pacing up. Google has defined Gmail as a platform for individuals and businesses to fulfill all their basic needs like email, calendar, contact list, and more.



Among various Google features, Contacts is one. You can create, delete, update contacts in Gmail via a smartphone or on the web using a PC. And you can also export/import contacts in Gmail; it allows the user to export contacts from other email clients such as Microsoft Outlook 2016, 2019 (for desktop).
When a user wishes to export Outlook 2016 contacts and add them to Gmail, the question remains, how do they do that?
In this article, we'll show you how to export Outlook 2016 contacts to Gmail via different approaches, emphasizing on details to make the process user-friendly.
You can export Outlook 2016 contacts to Gmail via two different methods in which the first method includes the use of Google Contacts and the second utilizes an advanced Outlook PST software.
Thus, starting with the first method, follow the steps given below to export Outlook 2016 contacts to Gmail:
Export Outlook 2016 Contacts to Gmail Manually
Before you start the manual export process, it is necessary to keep the CSV File ready with all Outlook 2016 contacts stored inside.
To create the contacts CSV file, go through our guide on best practice to export Outlook 2016 contacts to CSV file.
Now that you have the CSV file, open gmail.com and log in.
At the top right click on more apps sign and select Google Contacts.
In the menu bar at left, click on Import.
Click Select File.
Browse the CSV file and click Open.
Now, click on the Import button.
Done.
Refresh to see the imported Outlook 2016 contacts. Also, you can access these contacts by clicking on Gmail's contacts label.
As aforementioned, the second method makes use of an advanced Outlook Repair software, which is Kernel for Outlook PST Repair, a software with multiple features packed within.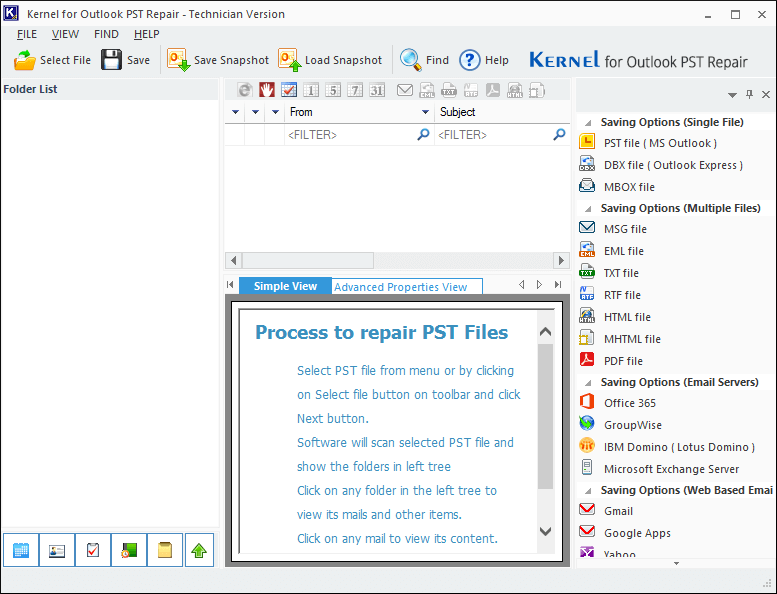 It focuses on PST file repair & data recovery from corrupted or damaged PST data files and provides the option to export the data (such as Contacts alone) from corrupt/damaged/healthy PST(s) to different email platforms for both web & desktop such as, Office 365, GroupWise, IBM Domino, Microsoft Exchange Server, Gmail, AOL, iCloud, and more.
The tool has an upper-hand over the manual approach, as there stands no need to create the CSV file. Thus, the whole process of exporting Outlook contacts to Gmail happens in flow, leaving no room for mistakes or doubts as with the steps in the manual method.
Export Outlook 2016 Contacts to Gmail With Outlook PST file Repair
For hassle-free and smooth export of Outlook contacts to Gmail, download the tool and follow the steps provided below. This process comprises of two parts, as follows:
Export Outlook 2016 Contacts to Gmail
Launch the tool.
Inside the Source File Selection window, click Browse to select Outlook PST file,
Click Next.

Note: In this step, select the PST data file from which you wish to export the contacts to Gmail.
Select the PST file, and click on the Open button.
Read the process related information and click Finish.
Once the PST file is loaded successfully, the tool's UI will refresh and load all the mailbox items including Contacts. Click on any folder (here, Contacts) to generate live preview before proceeding to export, as shown below:

Note: Upon clicking on the Contacts folder, all contacts inside the folder will be listed in the preview area, similar as above. Make sure to unselect all other folders in this step, to export only the contacts.
Now that you're ready with contacts folder selected already click on Save button to proceed to the export step.
From following given Output Types, select Gmail and click Next.
In case of many contacts, you may apply advance filters before jumping onto the next step, for this guide we've applied none; click Next.

Note: Advanced filters are useful to reduce the size of the data. You can also use it to export specific Outlook 2016 contacts to Gmail.
Inside Login details wizard, enter your Gmail login ID and password, same as below,
Click Next.

Note: Let other options be untouched in this step.
Wait for the export process to complete.

Note: To re-select contacts or define filters then, click Cancel to halt export immediately.
Your Outlook 2016 contacts are now exported to Gmail successfully.

Checking Contacts After Exporting to Gmail
Open gmail.com, enter your Gmail login ID and click Next.
Now, enter the Password and click Next.
Once Gmail is open in the browser (Chrome, Firefox, Safari, etc.), click on Contacts.
All Outlook 2016 Contacts that you've selected in step-5 are now available in Gmail.
Done, you've exported Outlook 2016 contacts to Gmail successfully.
Wrap
Out of the two distinct approaches to export Outlook contacts to Gmail, we'd suggest going with the second method, as it not only simplifies the whole export process, but also minimizes the number of clicks you would need to make, and it all happens inside the interface of our Outlook PST software. And in case if your Outlook 2016 contacts are missing from the mailbox or lost/deleted by mistake then, go through our article on tips to recover deleted contacts in Outlook 2016 to restore contacts.