Read time 5 minutes
Summary: Master the optimal method for exporting Outlook 2016 contacts to CSV files. Uncover the versatility of CSV format, allowing seamless use across Windows programs. Simplify your PST data file concerns, from fixing corruption to merging files, with the all-in-one Kernel for Outlook PST tool.
Microsoft Outlook 2016 offers a seamless method for exporting your mailbox contacts to a CSV file, facilitating their use with various other programs. In this comprehensive article, we will guide you through the step-by-step process of exporting your Outlook 2016 contacts to a CSV file, ensuring clarity and ease of execution.
Important Note: CSV, which stands for 'Comma Separated Values,' is a file format that enables data to be easily accessible across a wide range of programs. For instance, users can open and work with CSV files using popular applications like Microsoft Excel, Notepad, Open Office, Libre Office, and numerous other Windows-based programs.
To initiate the export process, no additional or specific requirements are necessary. However, it is imperative that Outlook is correctly configured on your system and contains a list of contacts.
Export Outlook 2016 Contacts to CSV File
For exporting Outlook contacts to a CSV file, follow the steps given below:
Launch Microsoft Outlook for desktop.
Click on File > Open & Export.
Select Import/Export option.
Import/Export wizard would open now. Select Export to a file option and click on Next.
Inside Export to a file window, select Comma Separated Values and click Next.
In this step, expand the Outlook mailbox, and select Contacts; click Next.
Now, select the file saving location using the Browse button; click Next.
Checkmark Export "Contacts" from folder: Contacts and click Finish.

Note: You may define the specific contact items you want to export by clicking on the Map Custom Fields button.
Wait for the export process to complete.
The CSV file with all the contacts will be available at the location chosen in Step-7.
You've successfully exported all contacts of selected Outlook mailbox to CSV file.
Unlocking the Power of Kernel for Outlook PST Repair
Kernel for Outlook PST Repair stands as an advanced tool designed to be a reliable solution in scenarios involving PST file corruption or damage. This versatile tool is engineered to address a wide range of PST data file issues, including corruption, damage, inaccessibility, inability to open the PST file, and more. Alongside its array of useful features, the tool empowers users to recover deleted or lost mailbox items and attachments, enhancing its utility and value.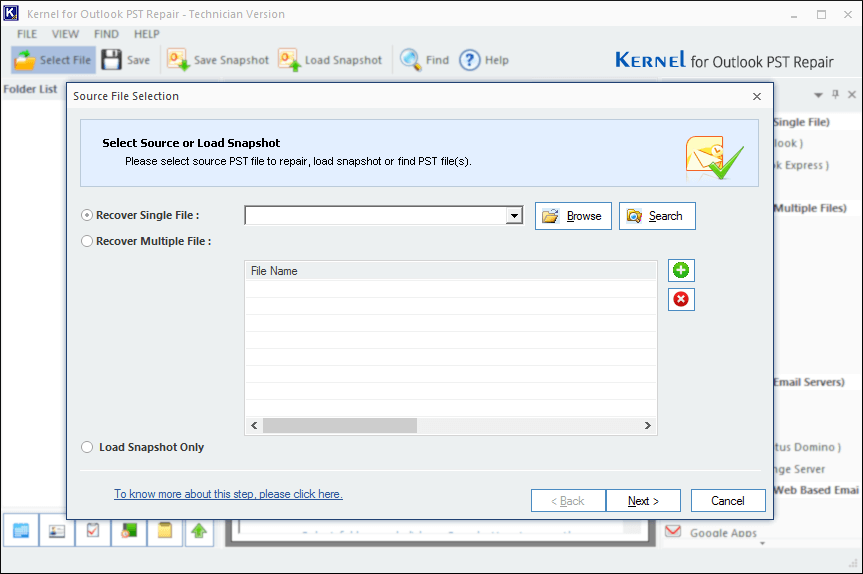 It additionally provides users with the flexibility to select from a variety of file formats for saving recovered data, including PST, DBX, MSG, EML, TXT, RTF, HTML, and more. With advanced filters, export options to Office 365, email servers, and webmail services, and comprehensive compatibility with various Outlook and Windows operating system versions, it ensures a seamless and comprehensive recovery experience.
Conclusion
Above, we've demonstrated the simplicity of exporting Outlook 2016 contacts to a CSV file. The advantage lies in the ability to open the CSV file with any Windows program of your preference. Furthermore, for all queries related to PST data files, such as resolving corrupt PST files, merging multiple Outlook PST files, and more, you can streamline your solutions by downloading and installing the all-in-one Kernel for Outlook PST tool.