Read time 8 minutes
Google Workspace (G Suite) has always been an excellent platform for setting up email accounts with your domain. In addition, it gives you access to multiple exceptional features that are not available with other email platforms, especially Google Drive, Google Sheets, Docs, and other Google applications. But ever since Microsoft's introduction of Outlook 2019, many organizations are planning to use Outlook for their email operations.
The debate between Google Workspace and Outlook has been going on for a while. But it is really dependent on the requirements of the organization. Google Workspace is an ideal platform for small businesses and startups, as it is less expensive and comes with flexible subscription plans. But, when an organization starts growing, it prefers using an application like MS Outlook, which is easy to use, convenient, and flexible.
Extracting data from G Suite and migrating it to PST is not simple. Although you can export a single IMAP mailbox to MBOX format, it is not worth it if you have to export multiple G Suite mailboxes to Outlook.
Here, we will discuss how you can export G Suite mailboxes to PST with manual methods and an automated solution designed for the same.
Why are users exporting G Suite emails to PST?
PST files have wider accessibility.
You can enable password protection in PST files which adds another protection layer to the data involved.
It is an excellent option to keep a backup of all your precious data.
PST files bring along many additional features helpful in managing the entire mailbox data.

Instant Solution
Try Kernel G Suite Backup an automated tool to export G Suite Email, Contacts, Google Drive Data, Hangouts chat, etc to Outlook PST in quick time.
Methods to Export G Suite to PST
To export G Suite mailboxes to PST, you can rely on two methods, and both require some technical expertise and G Suite admin credentials.
Method 1: Using G Suite/Google Workspace Admin Console
Using the G Suite Admin console is one of the best methods to export G Suite mailboxes to PST. From here, you can use the Data Export tool to export your mailboxes. Before using this utility, you need to make sure of the following things:
Have an account in your domain for more than 30 days
Credentials and permissions of Super administrator for your domain
Activation of 2-step verification on your account
Have less than 1,000 users on your Google Workspace account
Only after confirming these requirements can you move on to use the Data Export tool with the following steps:
Step 1: Open the Data Export tool in the G Suite admin console by clicking Open at the top-right; click Data Export under the Tools.
Step 2: Now, click Start Export.
The tool might take up to 9 days to export your data based on the size of the mailboxes. After exporting the data, you can even check the export report to see the data. Once the data is exported successfully, you will get an email with the information to export it to an alternative service.
Limitations of using Data Export Tool
You cannot export specific data with the Data Export Tool
You can repeat data export 30 days after the last export
It does not support exporting data of all types
The time can vary according to the size of the data
The data will be stored in zip format in the Google Cloud
Method 2: Using MS Outlook
Most of you might already know that you can export Outlook data to PST using the import/export feature. You might not know that if you configure your G Suite account with Outlook, it is easier to export that data to PST.
However, before doing so, you will have to keep in mind the following pre-requirements:
You need to configure the G Suite account with Admin credentials
You will have to backup G Suite mailboxes one-by-one
Make sure your G Suite doesn't contain more than 100 mailboxes
After confirming all these, you can configure your G Suite account with Outlook and then export data from Outlook to PST file format.
Limitations of exporting data using Outlook
It can export data from a single account only.
It can create only two files of data – PST and CSV.
PST file is accessible in Outlook only.
Sometimes the cells in CSV files are empty due to improper arrangement of data.
It can export the data from an active account only.
Outlook can only create a data file upto 15 GB, which is too little for G Suite mailboxes.
Alternative Method
If you don't want to trouble yourself with any hassle that comes with manually exporting the G Suite mailboxes, there is a straightforward solution – Kernel G Suite Backup. It is an extensive utility that is developed to help users export their G Suite mailboxes to PST. Besides, it allows you to export all the mailboxes of G Suite at once with a smooth working process.
With this backup tool, you can export single as well as multiple mailboxes at once. Here, we will discuss how you can export various G Suite mailboxes.
Step 1: Download and configure the software, and launch it on your system. From the tool interface, click Add to add the G Suite account.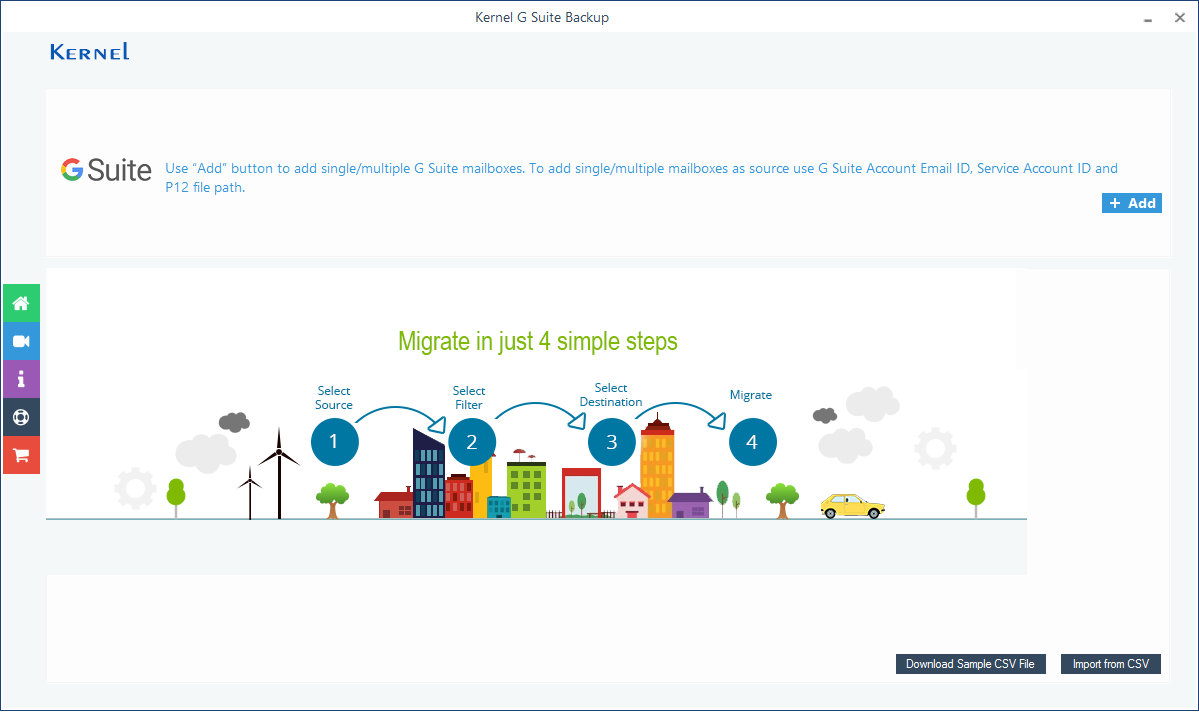 Step 2: Provide the G Suite login details like email ID, service account ID, and P 12 file path. Select the option 'List all mailboxes with above credentials,' and then click Get User Mailboxes.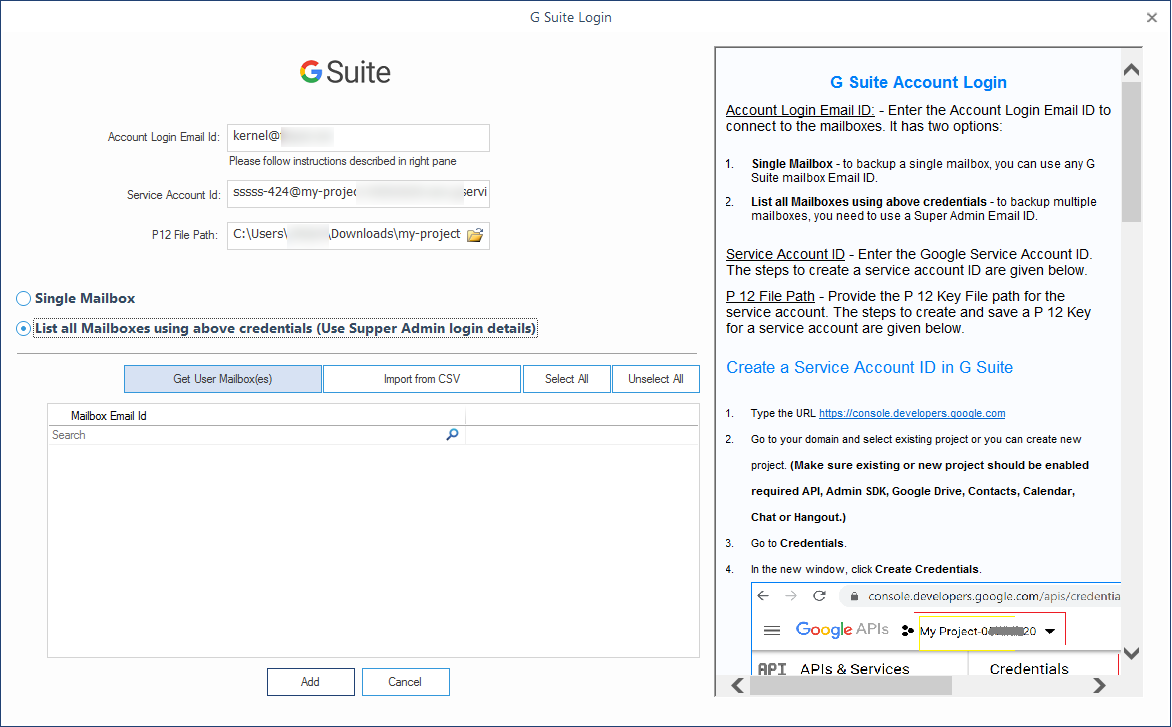 Step 3: The tool will display all the mailboxes, select the required mailbox, and click Add.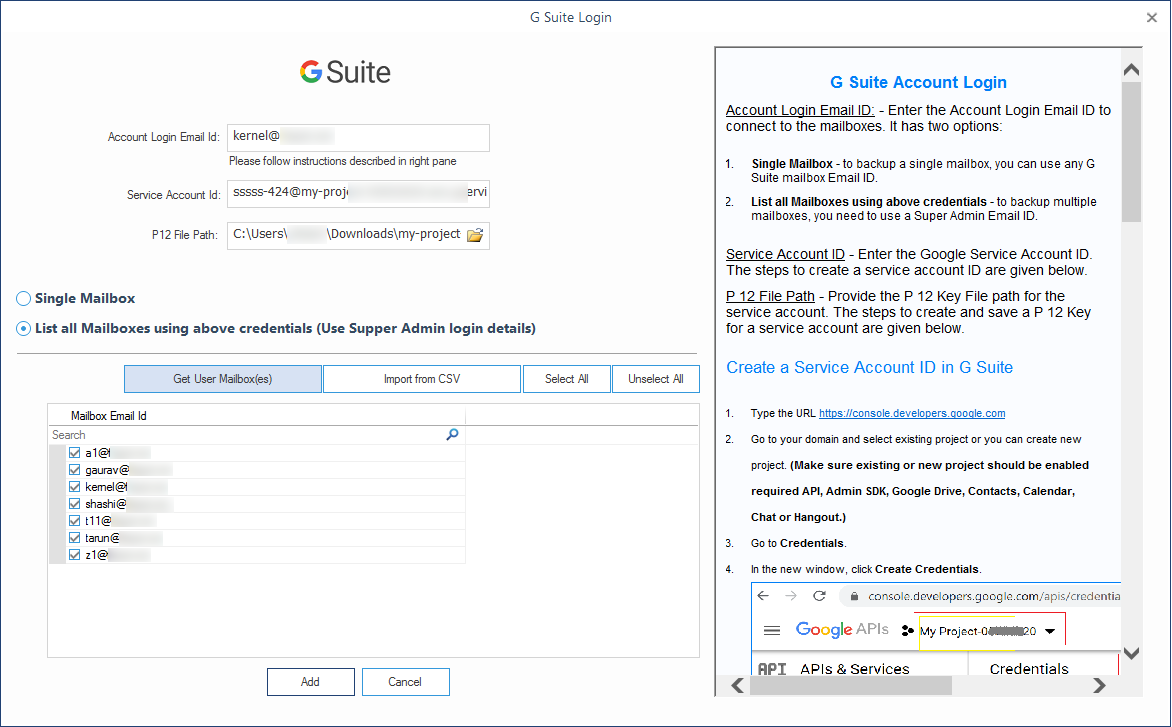 Step 4: Once the selected mailboxes are added, click Set Filter and Migrate.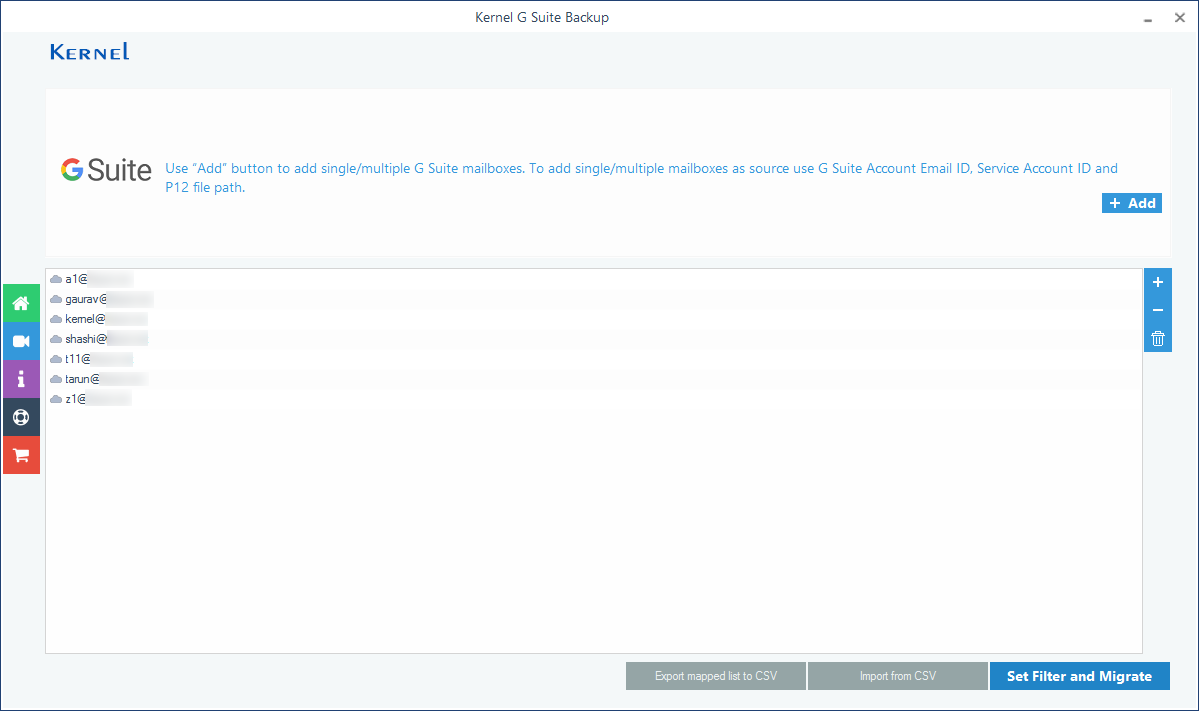 Step 5: In the filter section, apply specific filters to the G Suite mailboxes and click I am Ok, Start Migration.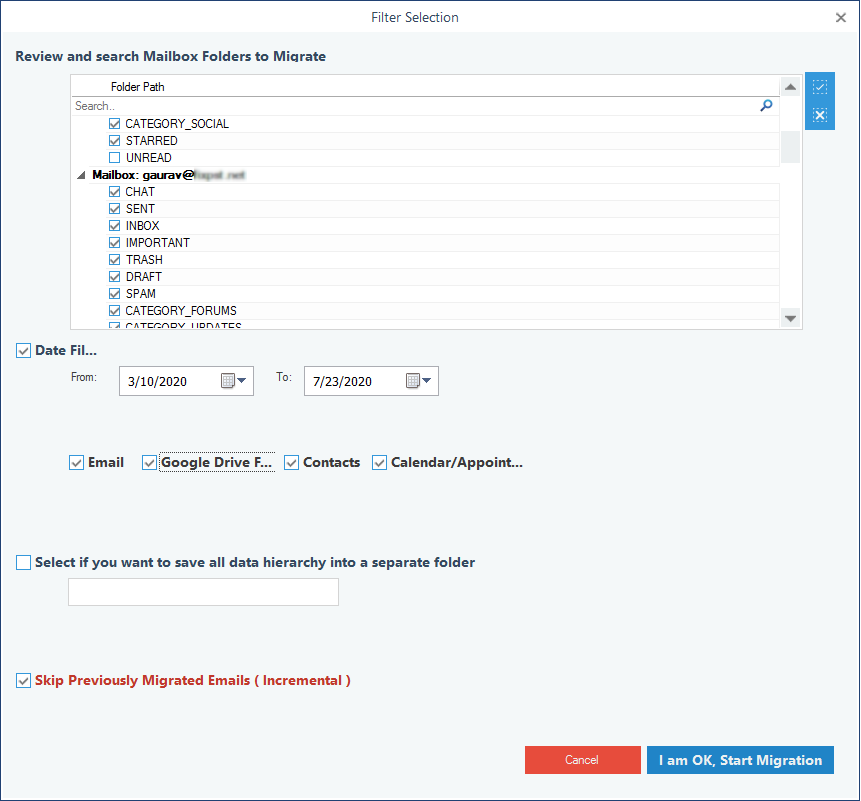 Step 6: Select the specified format as PST for saving the G Suite mailboxes.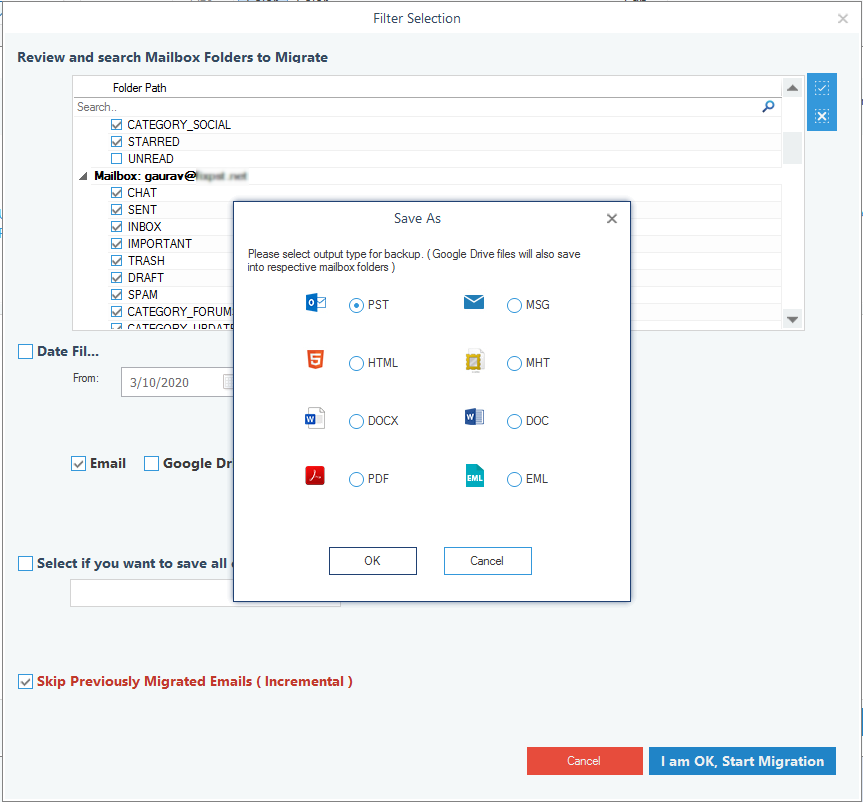 Step 7: Choose a location to save the backup PST file on your system.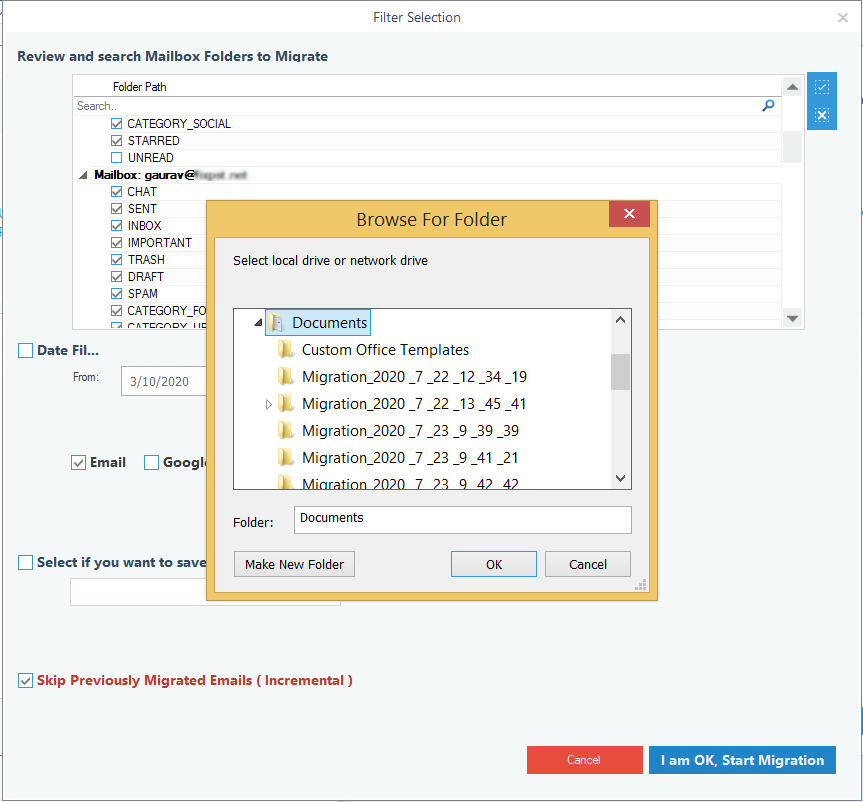 Step 8: The tool will start exporting the G Suite mailboxes to PST format.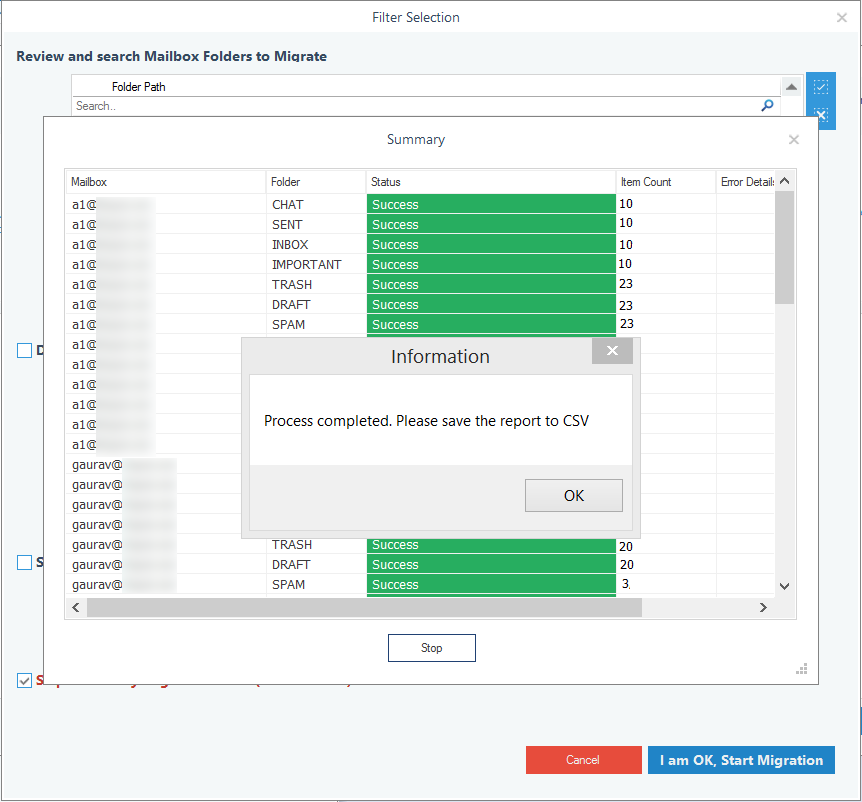 Once it is complete, a message will appear on the screen. Later, you can save the export report in CSV format.
Conclusion
Both the platforms, G Suite and Outlook, have their set of advantages. Without a doubt, exporting G Suite emails to PST files is beneficial in many ways. It can be conducted using the G Suite admin console and Import/Export feature in MS Outlook. Due to the drawbacks of manual methods, Kernel G Suite/Google Workspace Backup software becomes a better approach. It has incredible features that support unlimited backup from multiple mailboxes by providing simple login options and adaptive filters. Apart from PST format, you can save data in various other formats like MSG, PDF, EML, HTML, MHTML, etc.
Video – How to Export G Suite Emails to PST