Read time 8 minutes
Read this blog thoroughly to get the procedure to create a team in Microsoft Teams. It also gives a brief description of the most popular and efficient Teams migration tool – Kernel Migrator for SharePoint.
What are Microsoft 365 Teams, Channels, and Tags?
Before learning how to create a Microsoft Team and related channels and tags, let us briefly introduce these three terms for a quick overview.
Microsoft Teams is a product of the Microsoft 365 platform (with Office 365 subscription productivity suite), which offers services like group chats, video conferencing, application integration, and file storage; it offers integrations with non-Microsoft products also. It is a collaborative and communication platform for the added group of people within or outside the organization.
Team channels are specific sections where conversations are organized based on specific topics, projects, disciplines, etc. Channels space can be opened for all or kept private for specific members. The files shared by members in a channel are stored in SharePoint. It can be extended to applications with tabs, connectors, bots, etc.
With Tags in a Microsoft Team, users can categorize added members or people by different attributes like project, role, skill, training, or location. It lets organization as well as easy identification via defined category for quick access and communications.
Stepwise Procedure to Create a Team in Microsoft Teams
Only Microsoft 365 administrators or users with administrative rights can create a Team, and here are the steps to create a team.
Log in to your Microsoft 365 account.
Click on the Teams icon on the left panel.
On the opened page, click Join or create a team option at the bottom of the left.
Click Create team option again on the next page.
On the next page, you have multiple options to create a team such as – From scratch (to create a basic, fresh team), From a group or team (team creation with a Microsoft 365 group which user own already or from another team) and Select from a template (using already available templates for the Team). Here, we are selecting the first option – From scratch.
Select the access permission type for the Team from Private (permission is required by users to join the Team), Public (anyone in the organization can join the Team), and Org-wide (everyone in the organization joins this Team automatically). We are selecting the Public access permission here.
Provide any name to the Team, add a description if you want, and click Create to create the Team.
The Team will get created.
Next, type down any name, distribution list, email address of an external organization (as a guest) or security group to add to your Team and click Add.Note: Users can also skip this step using the Skip option at the bottom of the page.
Click Close once the members are added to the Team.
The Team will be created and is available in the Microsoft Teams list now.
By right-clicking the three dots or More options besides the newly created Team, users can perform multiple actions like – Managing team, Adding channel, Adding member, Leaving team, Editing team, Getting link to the team, Managing tags, and Deleting team.
Manage Team: If users choose this option for a team, they can add/create members, channels, tags, check analytics and use the Settings tab to add a team picture, set member permissions, guest permissions, share team code, allow emojis, etc. and manage tags.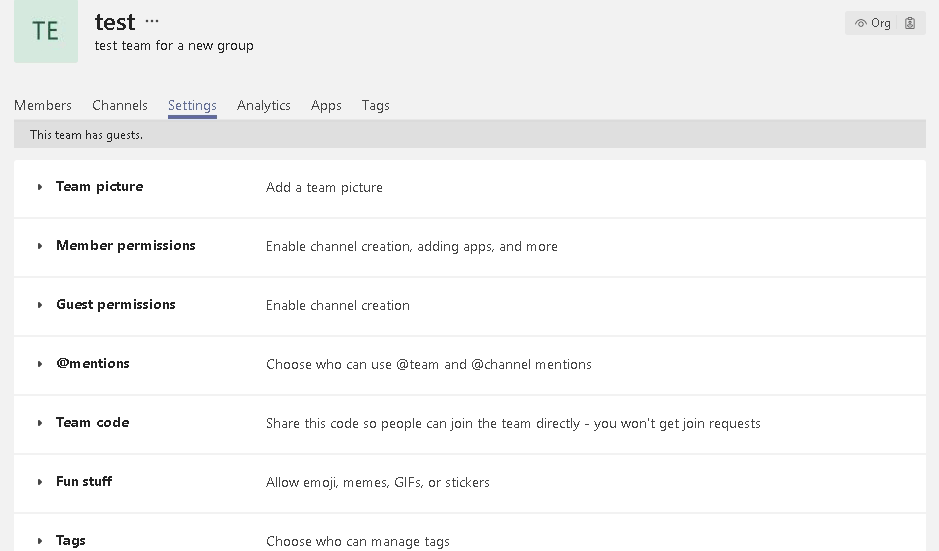 Add channel: If you choose this option, you can create a channel for the Team with a name, description, and privacy settings with further steps.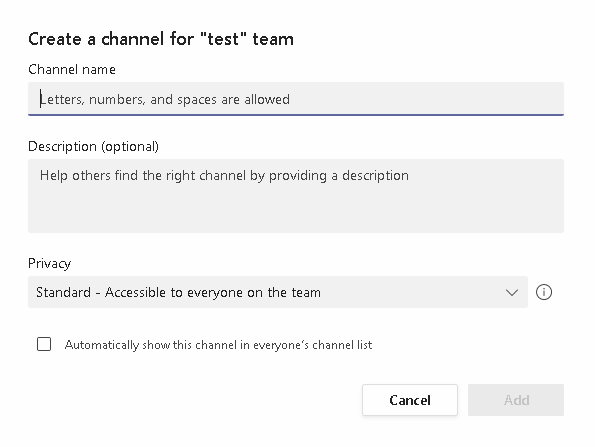 Add member: Using this option, you can directly add members to your created Team.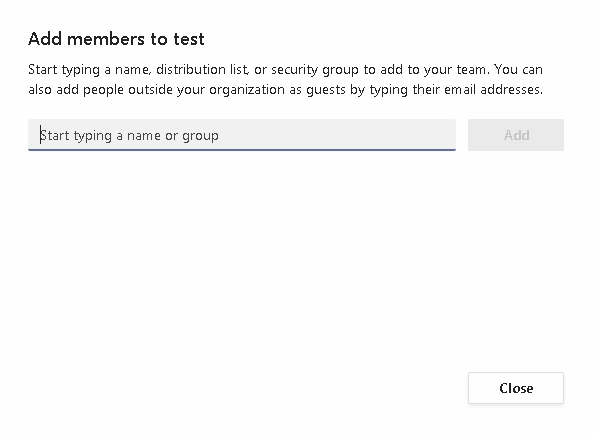 Leave the team: If you want to leave the Team, you must not be the last owner; there should be another owner for the Team.

Edit team: Use this option to edit team name, privacy settings, description, etc.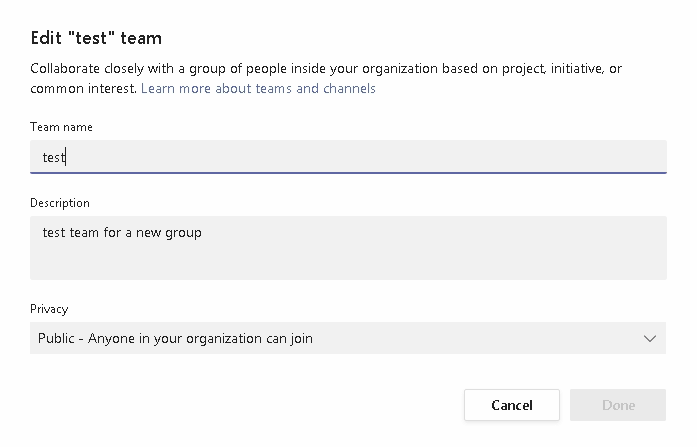 Get link to team: This option will offer the link to the Team which user can copy and share it to internal as well as external users directly.
Manage tags: This option lets the user create tags for a group of people at once with a designated notification.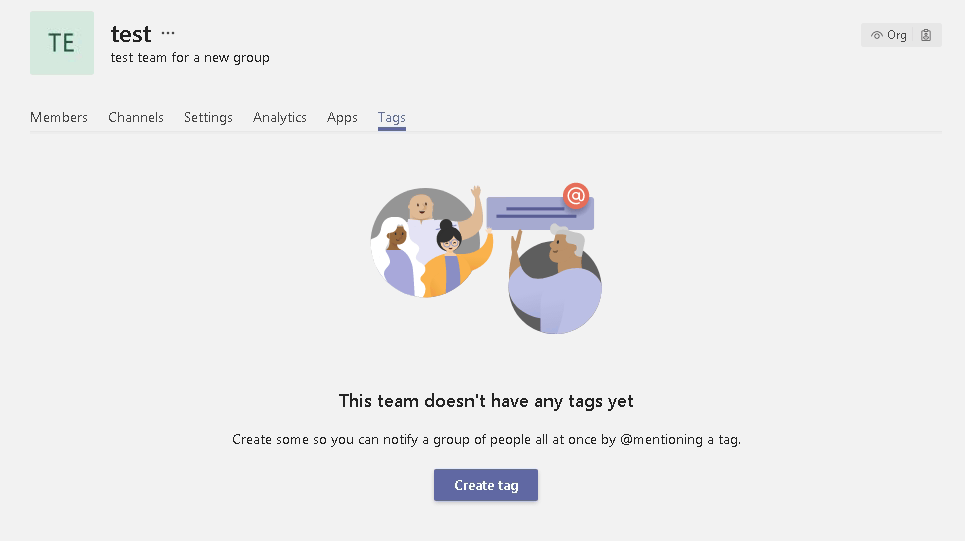 Delete the team: If you wish to delete the existing Team, select this option from the More options section of the Team. Select the checkbox for confirmation and click Delete to complete the action.

Hence, now we know how to create a team in Microsoft 365, manage it and utilize certain actions over it.
Microsoft 365 users often require Teams data migration from one tenant to another for specific reasons. To ease this requirement, we propose the perfect Microsoft Teams migration tool known as the Kernel Microsoft Teams Migration. It supports migrating Teams chats, channels, permissions, and everything from one Microsoft 365 account to another directly and specifically with integrated features and options. The advanced tool supports more migrations such as SharePoint on-premises to Online migrations, Google Drive to Google Drive, OneDrive to OneDrive migration and more. Visit the software website to get complete information about this all-in-one migrator tool.

Final Words
It is easy to create a Team in the Microsoft Teams application of Microsoft 365 and manage it as per requirements using the integrated features. And to migrate Microsoft Teams, users now have the best option, i.e., Kernel Microsoft Teams Migration, the best Teams migrator tool in the market.