Read time: 7 minutes
A poll is conducted to gather opinions, ideas, suggestions, or feedback from a group of people on a particular topic. Often organizations also require time-to-time feedback from all their employees on various matters. Instead of physical forms, Microsoft has made things easier by introducing various ways to create a poll in Microsoft 365. This provides an instant and easy response from all participants without effort. The results are collected, data is analyzed, and then better decisions at the workplace are made. Many companies are making most of this feature, and even you should start using it. These are the most useful methods which can help you to create a poll in Microsoft 365-
Microsoft Forms.
Poll in MS Outlook.
Poll in Microsoft Teams.
Poll in Yammer.
Method 1- Microsoft Forms
Microsoft Forms is the only platform in Office 365 that is solely dedicated to creating polls, surveys, and quizzes. The results are presented automatically in real-time and can be easily exported to an Excel sheet.
Standout features:
A user can add various types of questions, including multiple Choice, Text, Rating, Date, Ranking, Likert, and Net Promotion Score.
The responses are summarized with visual charts and can be shared with others.
There are many available options of themes that can be chosen for the form.
It seamlessly integrates with other applications.
You can use it for business, education, or personal learning purposes.
These steps are used to create a poll in Forms:
Select the 'Forms' application from the list.
On its Home page, click on '+ New Form.'
Now, select '+ Add New,' and a list of options will be displayed. Choose the one you prefer.
Type the question and its options. Similarly, you can add more questions and view all the answers in the Responses section.
Method 2- Poll in Outlook
Outlook also allows its users to create a single-question poll in its web and application consoles. In addition, due to all the exemplary features it offers, many users often configure a Microsoft 365 account in Outlook.
Standout features:
This is a one-time poll that cannot be edited after it has been sent.
The results are displayed in detail in the same format as in the Forms application.
The question is sent to participants via an email message.
You can add multiple options and allow multiple correct responses.
The process of creating a poll in Outlook:
Open MS Outlook and open a new message window. Click on the 3 horizontal dots.
Click on the 'Polls' option at the bottom.
Enter the details and click 'Add to email' to send the poll to others.
Method 3- Poll in Teams
You are in an important meeting or taking an online class, and a quick query needs to be addressed where everybody's ideas are required. That's exactly when a poll in Teams is needed the most. Microsoft Teams allows users to create a poll on the spot due to its integration with Forms.
Standout features-
The poll can be generated even while a meeting or class is ongoing.
A multiple-choice question with multiple selections can be added.
The creator has the choice to view the names of all the respondents.
The results can also be shared with all the participants.
The responses can also be viewed in the Excel format for better understanding or in the Forms application.
Follow these steps to create a poll in Teams:
Launch 'Teams' and start a new conversation. Click on the 3 dots present below.
The option of 'Forms' will appear; select that.
Type the question and options.
Method 4- Poll in Yammer
Yammer is a social networking service within the organization that enhances communication by collecting all the ideas and feedback of employees. You can consider it as social media for the corporate world. It has a special feature where polls can be easily generated.
Key features-
Increases the engagement among employees.
The poll is targeted toward a larger set audience.
Links, attachments, GIFs, and pictures can be incorporated along with the questions.
A poll can be created only for a specific community.
This is unique to this platform only and has no integration with other Microsoft applications.
Steps for generating polls in Yammer:
Choose 'Yammer' from Microsoft.
Click the downward arrow and select the 'Polls' option.
Simply write the query and click on 'Ask.'
With all these methods, you can create a poll with much ease, collect all the required information, and then make better decisions for the organizations.
Since the data in Office 365 is critical, you can use professional software like the Kernel Office 365 Backup and Restore to take a secure backup of all the Office 365 data. It is a powerful utility that can export Office 365 mailboxes to PST and many other preferred output format. It has a simple yet effective process.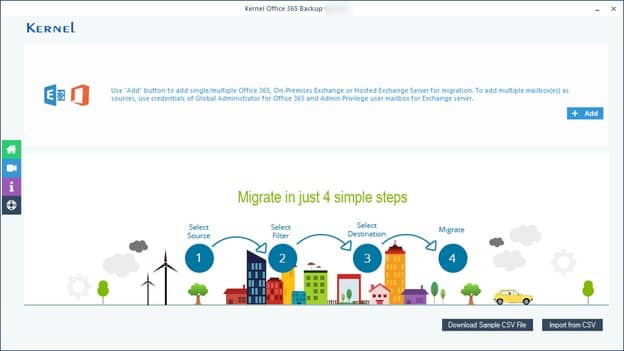 Conclusion
A Poll is an easy way to gather information from a large group of people. They are often used by companies, teachers, restaurants, hotels, etc. In contrast, some individuals and companies rely on other third-party platforms. A better choice is to make use of Microsoft 365. Polls can be created in Office 365 using 4 techniques- Forms, Yammer, Outlook, and Teams. They all have simple methods, and the right one can be chosen based on their features which have been explained in detail above. And to protect the Office 365 data, you can take a backup of it using a professional utility. It will also make it easier for you to find old emails in Office 365 without wasting any time and energy.