Read time 8 minutes
Google Workspace users have increased enormously in the last two years, and many businesses are adopting this cloud platform. Though its popularity is growing steadily, many Google Workspace users are concerned about the security of their data.
This is because of their concerns like data loss due to accidental data deletion, undesirable activities by insiders, program errors, ransomware/malware/phishing attacks, online hacking attempts, application outages, failed 3rd party integrations, etc. So, they are always eager to back up their data regularly.
Other reasons for Google Workspace backup include unavailability of native backup solutions, email archiving requirements, GDPR compliances, etc. This often leads to a discussion on why and how backup is done. To help our readers in this discussion, especially related to professional Google Workspace solutions, we have performed extensive research on some efficient third-party solutions and selected the most popular ones in the year 2021. Now, we are presenting the best solutions before you for further analysis.
Top 7 Google Workspace Backup Solutions
Below we have provided a brief overview of the top 7 Google Workspace backup solutions available in the market in 2022. Check each solution to analyze and determine the most suitable one for your business.
1- Kernel G Suite Backup
Website URL: https://www.nucleustechnologies.com/g-suite-backup/
Tool Preview: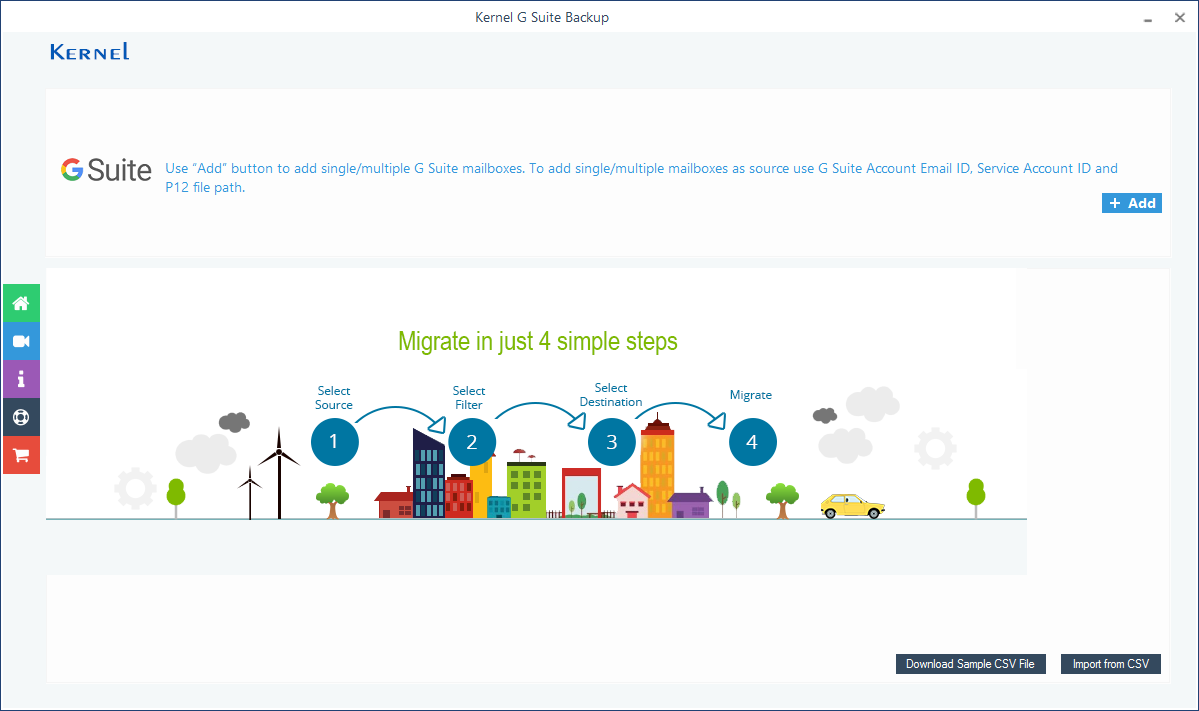 It is a proficient utility to backup single or multiple G Suite or Google Workspace mailboxes, Google Drive files, Contacts, Calendars/Appointments, etc., easily. The tool is solely designed for backup at the desired destination. Complete backup and easy process with security and integrity of data are its strong points.
Salient Features
Very simple GUI with the backup in 3 simple steps only viz: Add G Suite account > Filter > Backup
Items it can backup: G Suite mailboxes (with metadata and read/unread status), calendar/appointments, contacts, Google chat and Hangout conversations, Google Drive data, etc.
Simultaneous backup of multiple mailboxes using a CSV file or a super admin account.
Easy G Suite account addition with email ID, service account ID, and P12 file path
Intelligent and useful filter options – folder, date range, item type, and more
Backing up Google Workspace emails in PST, PDF, MSG, MHT, HTML, DOC, DOCX, and EML file formats at any location.
Backs up multiple mailbox content from a G Suite account
Splits the output PST file into multiple files to ensure the security and integrity of data.
Pros
Cons

Simple tool – to install and use
Made for naïve as well as technical users
Multiple output file formats
Easy, efficient, and flexible Google Workspace backup
No loss of data during or after backup
A completely secure backup process
Runs multiple instances at a time to save time
Free backup of 10 items per folder of G Suite account and 5 documents per Google Drive account

Focuses only on Google Workspace backup
Does not show a preview of backed-up contacts, calendar/appointments in the list view of G Suite folders
No post backup maintenance facility
2- SpinOne for Google Workspace
Tool Preview: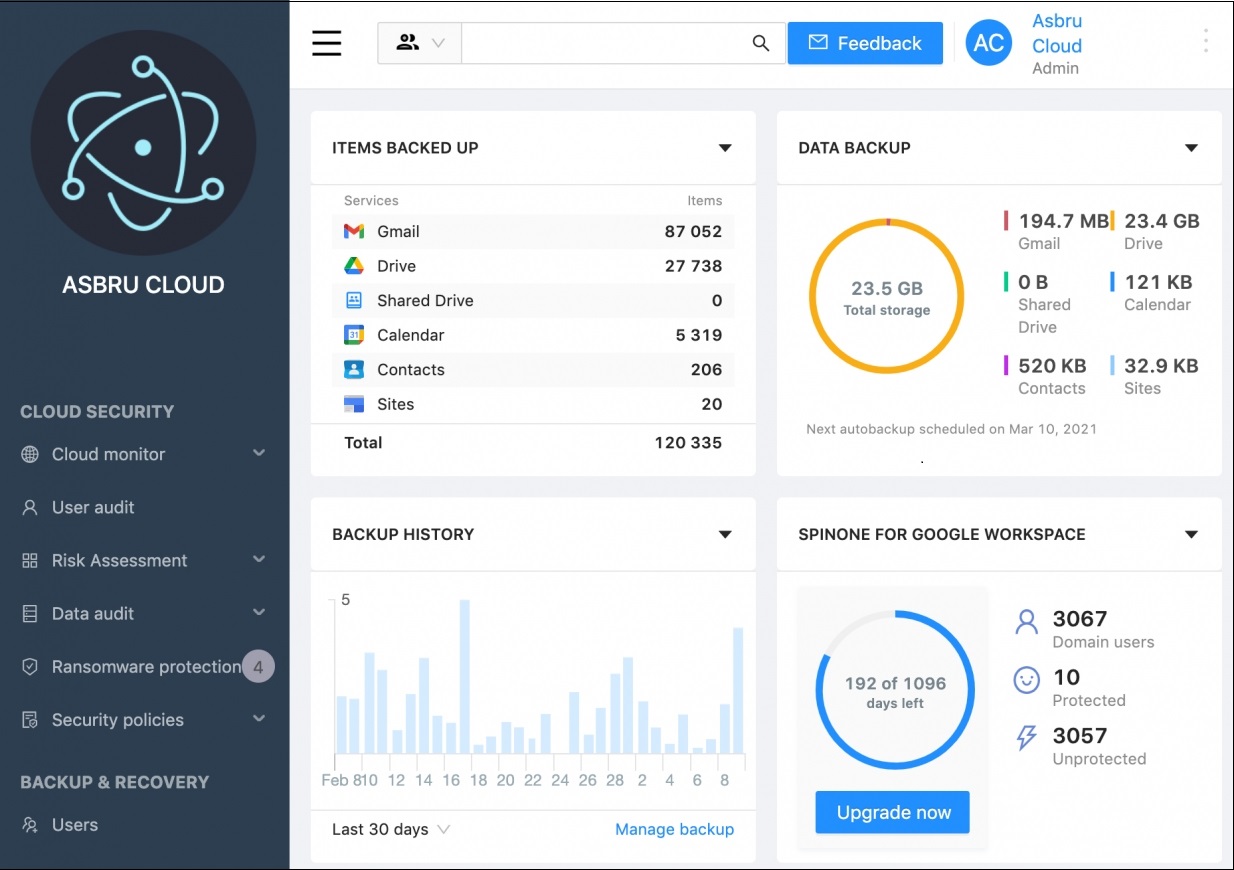 SpinOne for Google Workspace is a backup utility meant to backup Google Workspace & Office 365 content to other cloud platforms like Azure, AWS, etc. It also facilitates the restore of files in a matter of seconds.
Salient Features
Backup Google Workspace Gmail, Contacts, Drive, Sites, Calendar, Shared Drive to AWS, Azure, GCP, or Custom Cloud storage location
Supports complete recovery with version control
Offers both data migration and local file downloads
Integrates advanced features for GDPR compliance, EU Privacy Shield, SOC 2, etc.
Delivers advanced reports for backup and all process, along with search option
Pros
Cons

A complete suite of backup, recovery, and maintenance solution for Google Workspace
Offers a range of services apart from just backup
Includes features for risk assessment, ransomware, and security policies
Cloud to cloud backup provision for multiple platforms

Need technical skills to run & manage tool
Complexity in user-interface
3- SysCloud Backup
Tool Preview: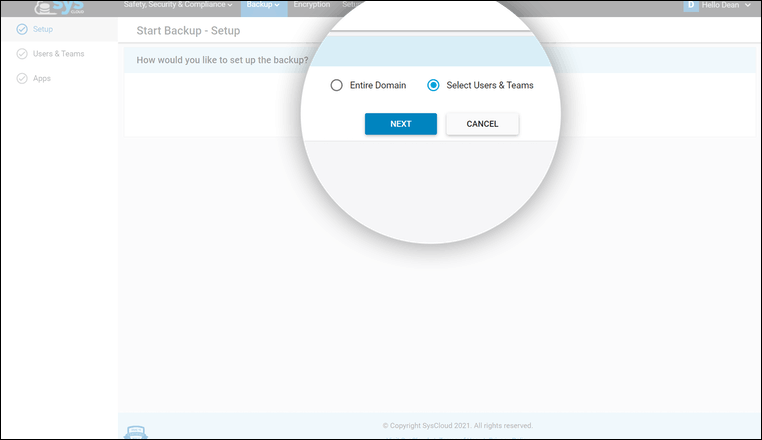 Syscloud Backup solution is the ultimate solution to backup Google Workspace Apps – Gmail, Contacts, Sites, Drive, Shared Drive, and Calendar to PST, EML, MBOX format, AWS, Azure, Google Cloud, and download to a local system. It secures businesses from phishing, ransomware, accidental deletions, outages, etc., through intelligent data backup insights approach.
Salient Features
Backs up multiple domains in a single account or platform
Automatic addition of new users with provision for exceptions
Comprehensive backup protection with backup snapshots, automated API management, unlimited versions
Offers advanced search options along with flexible restore options
Inspects backup archives for phishing, data compromise, and ransomware
Pros
Cons

Secures backup with multiple management tools and options
Includes both backup and restore processes for Google Workspace
Automatic audits and inspections for external threats
Boon for businesses relying on Google Workspace as the data storage medium

Not user-friendly
Requires technical person or administrator to run the tool
4- Nexetic (Shield Backup G Suite)
Tool Preview:


Shield Backup G Suite from Nexetic helps in the automatic backup of Google Workspace content along with other services like efficient and quick data recovery, protection from malware/ human errors, and GDPR compatibility, thus protecting critical business data available on the Google Workspace platform.
Salient Features
Performs continuous backup with twice-a-day automatic backup facility
Data restore facility to system or back to G Suite platform
Integrates a single view for the status of all G Suite users
Backs up all applications and supports granular, incremental backups
Provides centralized management with flexible restore options
Pros
Cons

Quick performance, no need to install the software
Supports Google Workspace backup, recovery, and restore
Integrates a restore portal which user can log in with G Suite credentials
Fully automatic backup with centralized management

Works on web browser only, need strong internet connection always
Needs technical supervision
5- Afi.ai
Tool Preview: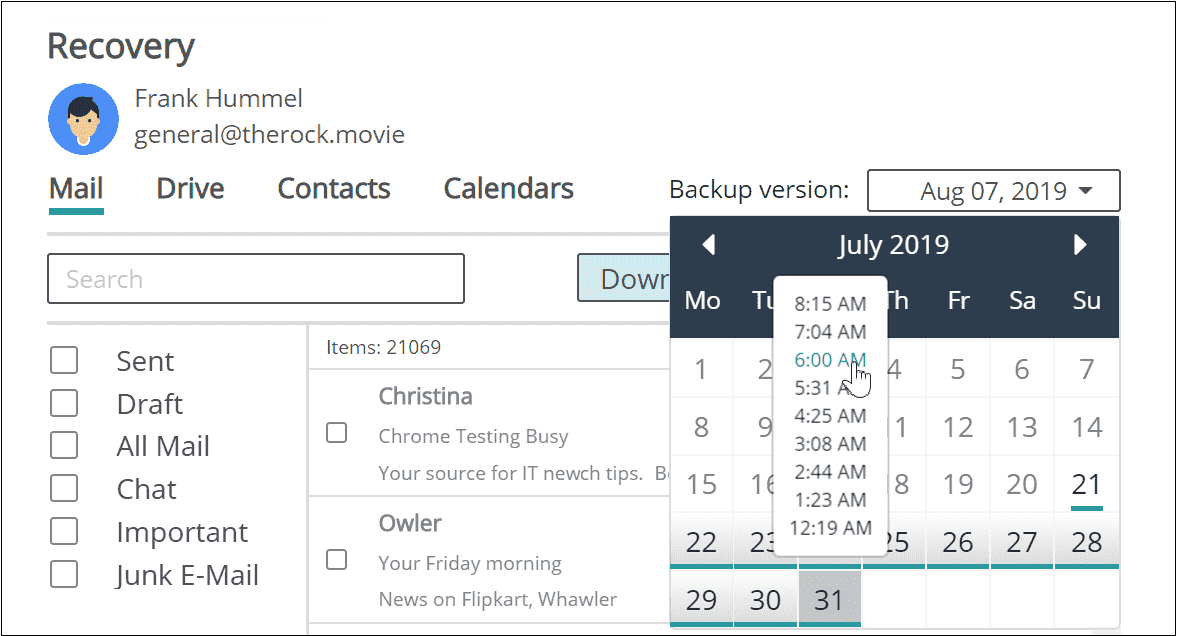 Avi.ai is a complete Google Workspace backup solution for backup of all the inclusive applications instantly with flexible data restore options and smart ransomware protection.
Salient Features
Quick offline download or export of G Suite accounts or individual items
Backup access permissions, Gmail nested labels as well as drive's document IDs
Automatic (backup operator) or self-user (G Suite admin) for G Suite data recovery
Automatic discovery and protection of G Suite users and Drives with backup scheduling provision
Automatic archiving of deleted G Suite users and drives with any time recovery/export
Pros
Cons

Advanced backup of complete G Suite data, permissions, and labels
Handles backup process perfectly with smart controls and algorithms
Plans as per the number of users
Installed advanced measures for access controls, ransomware protection, and backup automation

Hard to manage
Works on a console, and needs high-end training
6- Backupify
Tool Preview: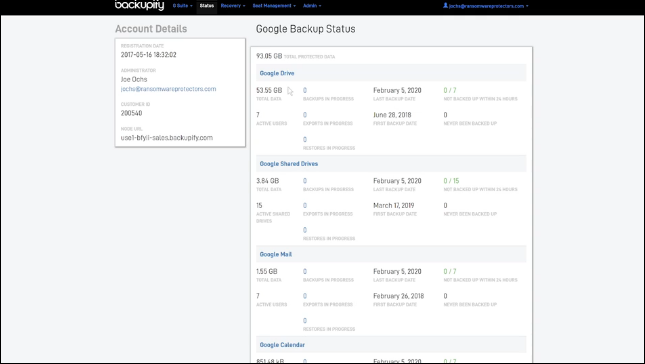 Backupify is designed for the automated backup of Google Workspace data and instant recovery of deleted Gmail emails and Google Drive files. It offers full data control through multiple services like monitoring tools, compliances, data encryption, etc.
Salient Features
Automatic backup, thrice a day for G Suite applications – Gmail, Contacts, Google Drives, Team Drives, and Calendar
Quickly recovers malicious or accidentally deleted Gmail and Google Drive files
Provision of a centralized dashboard for advanced backup restores and activity feeds previews
Delivers audit logs, uptime/availability SLAs and data export at the correct time
Supports backup of the bulk of data (in TBs) with high processing speed.
Pros
Cons

Secures backups on a highly encrypted private cloud meant for backup only
Quick and complete management of backup data
Cloud-managed backup, no need for software installation
Automatic detection of new users and data archiving of whom going to leave

Complex interface design
No provision of local backup
7- Spanning Backup for G Suite
Tool Preview: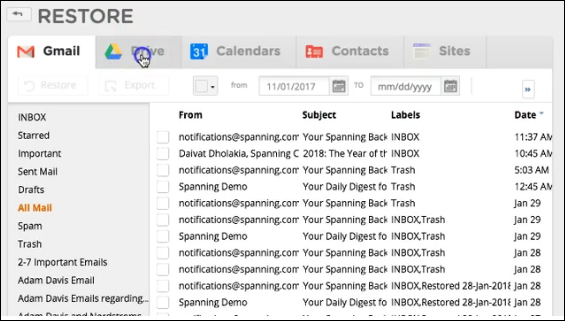 Backup for G Suite from Spanning impresses its users with the automated and instant backup of Google Workspace apps, including Gmail, Contacts, Calendars, Drives, Team Drives, and Sites. It supports unlimited Google Workspace backup with advanced data protection services.
Salient Features
Runs the backup tool in the background each day automatically. It also provides an on-demand backup facility
Backup health status monitoring dashboard for live preview of status
Audit Logs for viewing detailed record of action by user or admin for backup
Advanced backup with compliances, encryption, etc.
Multiple G Suite data restore categories – end-user, cross-user, point in time, search-based, Team-drives
Pros
Cons

Offers unlimited storage
Dark web monitoring option to detect malicious insider threats
Automatic audits and inspections for external threats
Incremental backups with everyday automatic backups

Too many operations involved
Technical training is a must
After the introduction of the top 7 Google Workspace backup solutions in the digital market, users can choose the best one for them based on their decisive insights over categories like –
Simplicity of GUI
Operation requirements – backup, restore, recovery, management, or all
Desirable features, success rate, backup/restore speed
Technical skills and competence of the users
Affordability, costs, and budget
Number of G Suite account users in the organization
Need for scheduled or automated backup
Conclusion
Many Google Workspace backup solutions are available in the market, and choosing one for your organization is challenging. As different businesses can have different factors to consider before the final choice of the G Suite Backup solution, we recommend you try each solution before buying. Get ready to secure your Google Workspace applications data with the right backup solution!