Read time 6 minutes
Summary: The content discusses the importance of backing up G Suite Contacts and Calendars and recommends using the Kernel G Suite Backup tool for this purpose. The article outlines the steps to perform the backup efficiently and highlights the drawbacks of manual methods.
Formerly called Google Apps, G Suite is a Google offering comprising tools like Gmail, Google Drive, Calendar, Hangouts, and Google+. Individuals with G Suite accounts can efficiently manage tasks such as email communication, document collaboration, file storage, chat, contact management, and calendar scheduling. While it offers numerous benefits, users must remain vigilant to safeguard against potential data security risks. Because of this, data backup is needed for the G Suite accounts. Each component of G Suite is important as each contains vital information just like backup Google Hangouts/Chats, or backup Contacts and Calendars to PST file.
This blog primarily centers on the process of backing up G Suite Contacts and Calendars to Outlook PST format.
Users find the backup of G Suite Contacts and Calendars essential due to the following reasons:
Users may encounter situations such as server outages when they require access to data offline.
Disruption of internet connectivity leading to the unavailability of data.
Users should be able to reach their Contacts and Calendars using an alternative platform, such as a desktop client.
Data that has been accidentally or erroneously deleted can be effortlessly recovered using a backup.
Backups can serve as a lifeline in the face of cyberattacks.
Backing up your G Suite Contacts and Calendars is a prudent practice that should be consistently followed to prevent potential challenges. With this in mind, let's proceed to explore the available solutions.
Manual solution – Why is it a "no-no"?
We offer manual methods for backing up G Suite Contacts and Calendar to Outlook PST. You can export your Contacts from G Suite to an Outlook CSV format and your Calendar to an ICS format, and then import them into Outlook at your convenience.
Nevertheless, this approach is discouraged when dealing with a substantial number of G Suite accounts due to time inefficiency and limited adaptability. Even a minor manual error could necessitate restarting the entire process, resulting in further time consumption. Additionally, there is a risk of data loss. Therefore, it is advisable to explore alternative solutions.
Since the manual approach doesn't show much promise, we recommend considering a reliable and professional backup solution for G Suite as a preferable alternative.
Back Up G Suite Contacts or Calendars/Appointments
If you want to backup G Suite Contacts and Calendars information to Outlook PST file directly in minimum steps, then the best option for you is the Kernel G Suite Backup tool, which is also capable of converting G Suite Emails to PDF.
This specialized tool is designed for backing up G Suite mailboxes, contacts, calendars, and appointments to Outlook PST files. Additionally, it can safeguard your Google Drive data. Users have the flexibility to selectively back up specific item types, such as calendars and contacts. This advanced backup solution streamlines the process by offering automated mailbox backups through CSV files and supports incremental data backup for added convenience.
The software offers a complimentary trial version that allows users to explore its interface and functionalities. Additionally, it provides free backup services for up to 10 items per folder and 5 documents per drive.
How to backup G Suite Contacts and Calendars/Appointments to Outlook PST File?
Initiate the tool and, upon reaching the software's Welcome Screen, select the "Add" option in order to incorporate the G Suite account.

Please enter your account details on the G Suite login page, including your Account Login (email address), Service Account ID, and the path to the P12 file. To add a single mailbox from your account, choose the "Single Mailbox" option. If you wish to add multiple mailboxes, select the second option and click "Get User Mailbox(es)" to choose the necessary mailboxes. To complete the process, click on the "Add" button.

Note: Users can access comprehensive instructions on generating the Service Account ID and locating the P12 File path within the software interface.
The inclusion of the G Suite account will soon be visible. To proceed, simply click on the "Set Filter and Migrate" option.

On the Filter Selection page, opt for Contacts and Calendars/Appointments, and, if necessary, make additional selections. Finally, click the button labeled Proceed with Migration.

OK button.

Provide a saving location for the backup PST file and click on OK.

The backup process will commence, allowing you to monitor the real-time progress of the Contacts and Calendars/Appointments backup. After the backup has finished, a confirmation message will appear. Simply click on the "OK" button to proceed.

To export the backup report as an Outlook CSV file, select the "Save to CSV" option.
The backup of G Suite Contacts and Calendars has been successfully executed.
If you're seeking a secure and straightforward method for backing up your G Suite Contacts and Calendars, consider using the highly advanced and dependable Kernel G Suite Backup tool. This tool enables selective data backup from your G Suite accounts to Outlook PST files. Give it a shot today for a seamless backup experience!
Software Working Video to Backup G Suite Contacts to Outlook PST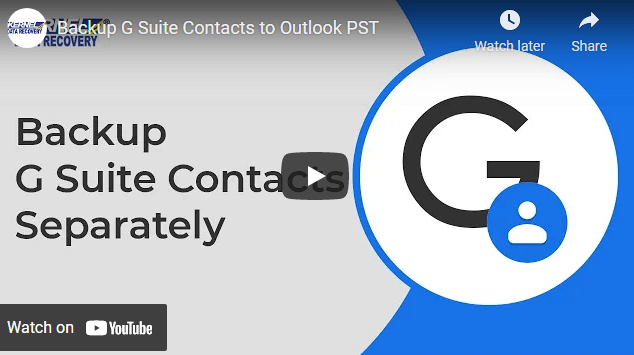 Summary
In our latest blog article, we explore the critical need to protect your G Suite Contacts and Calendars with robust backup techniques, with a particular focus on G Suite Emails to PDF conversion. We emphasize the significance of employing a trusted backup solution and provide a detailed guide to guarantee a safe and efficient backup procedure.