Kernel BKF Viewer Free
Access and view BKF files with original file formatting
*Download free software and view BKF, CTF and FD backup files
Open and read BKF files with their original content
Access and open corrupt/damaged BKF files
View BKF files of NT Backup, Veritas Backup, & Symantec Backup
Open/View BKF, CTF, and FD files
Open and view multiple BKF files in a single cycle
Search for BKF files on your system drives
Compatible with all versions of Windows including Windows 10/8.1/8
Client Testimonial

Kernel BKF Viewer is the best tool is an advanced backup file viewer tool which allows user to preview your different backup files data including .bkf, .ctf and fd files, no matter from which utility these are created.


Accessing my BKF file data was never easy, as I had no utility to open it. But, then my friend told me about Kernel BKF Viewer. I downloaded this tool immediately as it was free to download, and to my surprise, it opened all the corrupt BKF files.

Prestigious Clients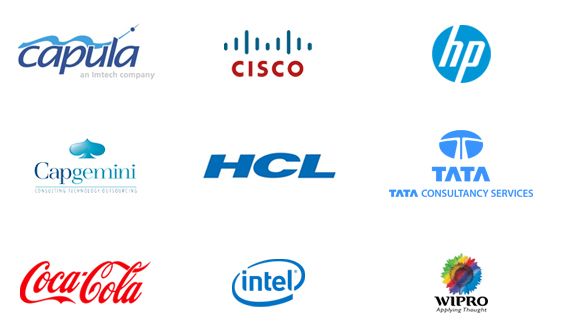 Salient Features

Open and View BKF, CTF, and FD Files
With this tool, you can easily open and view BKF, CTF, and FD files without any additional tool.

View Corrupt/Damaged BKF Files
Kernel Free BKF Viewer tool offers quick display of the content of corrupt/damaged BKF files irrespective of the reason of corruption.

Preview All Data in the BKF File
Kernel Free BKF Viewer tool gives you the freedom to view all the data of your BKF files created in Veritas Backup, NT Backup, or Symantec Backup.

Open Multiple BKF Files
Users can add multiple BKF files and see their content with the help of free BKF viewer tool.

Search for BKF Files
The advanced feature of the tool allows you to look for BKF files on your hard drives. It enlists all the available BKF files on the specified hard drive.

Wide Compatibility
Kernel BKF Viewer is highly compatible with all version of Windows operating system, including Windows 10/8.1/8.
What Is a BKF File?
Files with .bkf extension are backup files that are created by Windows Backup Utility tool. This stool is included with Windows NT and Windows XP Pro operating system. You can locate this tool by following:
Programs - -> Accessories - -> System Tools
The BKF files created by this tool contains a catalog of files or files that are preserved by the user. If data on any computer gets corrupt, erased, or overwritten, then the BKF file can be used to restore the user data. In Windows 7/8/10, you can restore data from a BKF file with NTBackup tool.
What Needs Does the BKF Viewer Tool Fulfill?
Kernel Free BKF Viewer can fulfill several needs, such as:
Repairing corrupt/damaged BKF files
Accessing every data of BKF file
Opening and viewing corrupt BKF file data
Searching for specific BKF file on your system's drive
Opening multiple BKF files at once.
Steps to Open and View BKF Files
Kernel BKF Viewer is a unique tool that is integrated with some advanced algorithms so that users can repair and preview their BKF files easily. You can simply upload any BKF file to the tool and view its data.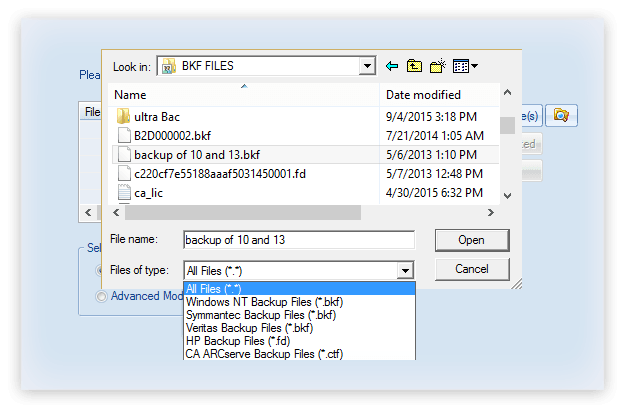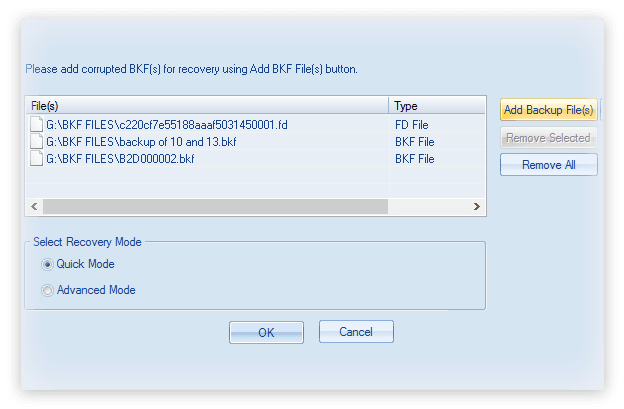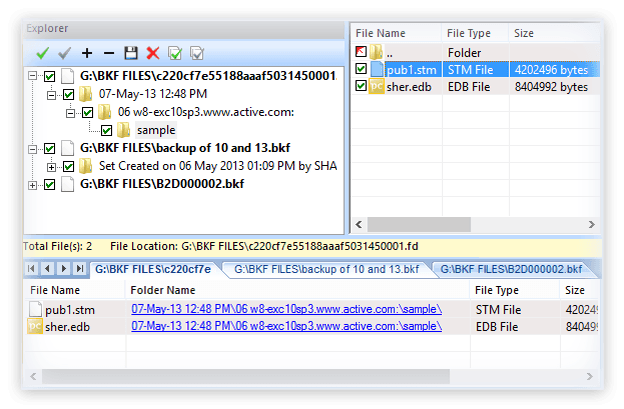 Software Specifications
Supported Versions
Backup Utilities: ARCserve Backup, Windows NT Backup, HP Data Protector, Symantec Backup, and Veritas
Operating System
Windows 10/8.1/8/7/Vista/XP/2000/98/NT and 95 and Windows Server 2016/2012/2008 R2/2008/2003 R2/2003
Processor
Pentium Class
Memory + Hard Disk
64 MB Minimum
50 MB of disk space
Upgrade to Home/Corporate License
Freeware

Home License

Corporate License

Software Features
Download Free
Upgrade $89

For Personal Use Only

Upgrade $129

For Multiple Machines

Open and view BKF file data
View files of any size & format – BKF, CTF, FD
Open and read corrupt BKF files
Open multiple files in a single cycle
Recover BKF from all backup software - NT Backup, Veritas Backup, Symantec Backup

Save recovered BKF files

Download Free
Upgrade $89
Upgrade $129