Kernel for Outlook to PDF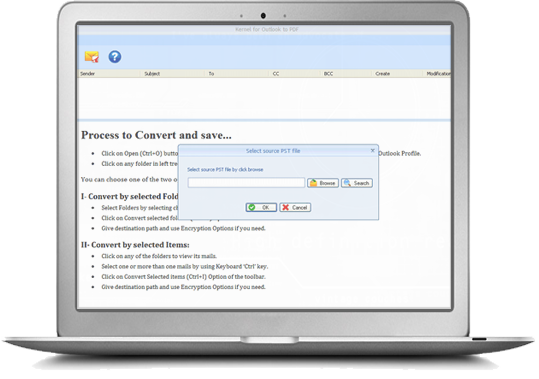 Outlook emails have accessibility issues; it's difficult to share mailbox items outside Outlook environment. When it comes to accessing and viewing mailbox data outside email system environment, users are at loss as there are also concerns about data integrity. PDF format, on the other hand, is hardware and software independent. You can store and view PDF documents on most of the system platforms. Also, there are ample security options to prevent data manipulation and unauthorized access to PDF. Converting Outlook items to PDF associates all accessibility and security features of PDF to email items. This makes sharing and archiving MS Outlook data outside email environment reliable and efficient.
Kernel for Outlook to PDF is a completely free tool that converts Outlook emails to PDF. Software is very easy to work on and has very user-friendly and intuitive interface. Ability to process mailbox items in bulk makes it even more efficient software.
Benefits of software:
Access Outlook data outside email environment in machine and platform independent format.
Archive email items without the fear of data loss and ability to easily search and view required data.
Share data outside organization without compromising data integrity.
Make your Outlook data hardware and software independent by converting it to global PDF format.
How to Use Software?
Using Kernel for Outlook to PDF is very intuitive and requires only a few easy-to-perform steps. Install the tool within seconds, launch it and your tool is ready to convert Outlook data to PDF.
Add PST and Mailbox: Search and add the PST file or the Outlook mailbox that you want to convert.
Preview PST and Mailbox: Preview the content of added PST or the Mailbox. This will help you to selectively convert mailbox items to PDF.
Convert PST and Mailbox to PDF: Select the emails that you want to convert. You can convert selectively or all items of the PST or mailbox to PDF. You can also assign password for opening and permission settings.
Completely Free Software
Kernel for Outlook to PDF is a completely free tool. You can download, install and then just start using it for Outlook to PDF conversion. It does not require you to purchase and license key to use this software. You can download and use it for unlimited period of time for Outlook to PDF conversion.
System Requirements
Basic System Requirements: Pentium Class Processor / 64 MB RAM (128 MB recommended) / 50 MB free space for software installation / Enough disk space to save results
Supported Windows OS Platforms: Windows 10/8.1/8/7/Vista/XP/2000/98/NT/95 and Windows Server 2012/2008 R2/2008/2003 R2/2003