Kernel Yahoo Archive Reader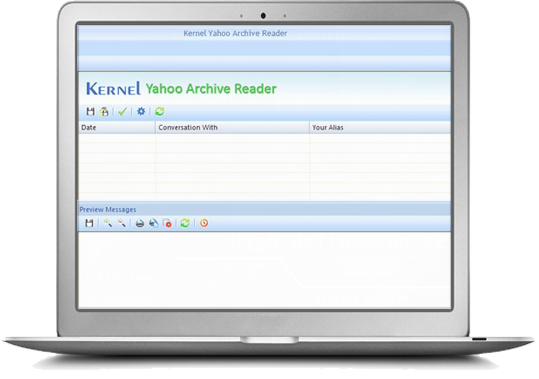 The tool is a free Yahoo archive decoder to read all Yahoo chats, conversations, and e-mails, without having the login password, and Yahoo Messenger installed on the host machine. It can extract all your mobile messages (sent from messenger), business records and other contact details that are available in your Yahoo archived directory.


Quick highlights of the tool
Decodes all Yahoo Chat conversations and Archives (.DAT file), without requiring the login passwords.
Instantly recovers all contact details, old conversations, emails, and conferences from Yahoo directory.
Import and read any external Yahoo archive file (.DAT).
No risk to data integrity – view complete details without any distortion.
Retrieves all SMS messages, sent from Yahoo messenger to any mobile numbers.
Read all Yahoo chats, even if Yahoo Messenger is in offline mode.
Supports all versions of Yahoo messengers – including Yahoo messenger 5, 6, 7 and others.
Save the decoded chat conversation in HTML format, at the user-specified location.
Compatible with all versions of Windows: 10, 8.1, 8, 7, Vista, XP, 2000, 98, NT, 95
Features of Kernel Yahoo Archive Reader
View Chat History
The Yahoo archive decoder allows you to view the entire chat history of a Yahoo messenger that has held on any particular machine. The tool can instantly extract all the past chat records, conversations, conferences, etc. without using the internet (offline mode).
No Password Required
The Yahoo archive decoder requires no login permission to view the Yahoo chats of a Yahoo account. The freeware becomes handy to view the lost Yahoo chats in case the password is forgotten.
Decode Yahoo Archives (.DAT FILE)
The Yahoo Message Archive Decoder allows to decode and view any external Yahoo archive file (supporting .DAT format) that are not present in the Yahoo archive directory of the user's PC. It can recover all SMS messages, sent from Yahoo Messenger to any mobile number.
Save Decoded Chats
You can save your decoded chats and conversations in HTML file at the specified location of your PC, to access them whenever required.
Two Decoding Options
View All Yahoo Messenger Conversations
You can decode and read all Yahoo messenger's conversations, friend lists and instant messages, that are stored on your computer.
View Archives using .DAT file
View your Yahoo messages, and other stored information, Yahoo messenger archive files that are stored in .DAT file.

Steps to Decode Yahoo Archives Using Kernel Yahoo Archive Reader

Select the file that you want to view from the Yahoo Archive Directory.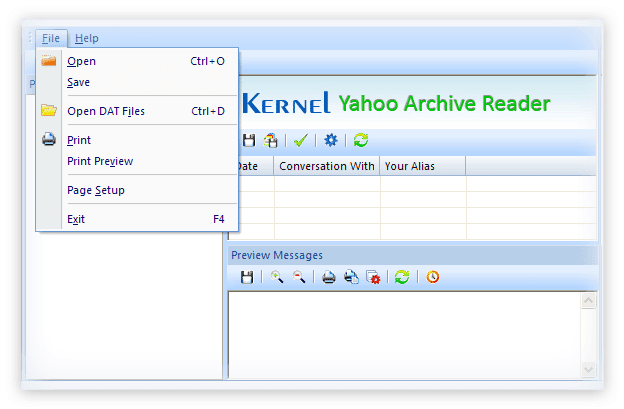 Preview Messages: View your full chat history, messages, business records, etc. from archive directory, in the preview pane.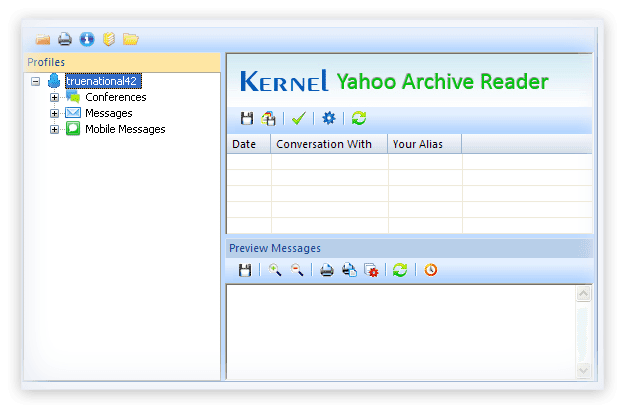 Preview DAT file: Use this option to view all archived conversation from archived file. Add your DAT file and then specify the name of the person in the conversation field.